FYI:
Regards,
Ted
November 7, 2019
Dear WEALTHTRACK Subscriber,
We are always on the lookout for the exceptional on WEALTHTRACK. It's not easy to find among actively managed mutual fund managers. Only 23% of actively managed funds in all major categories, including stocks, bonds and real estate outperformed their passive index fund rivals over the last ten years. And only about 8% of U.S. large cap funds outperformed passive, the smallest margin among all active fund categories winners. No wonder that active U.S. stock funds are experiencing substantial outflows and passive stock funds are gaining assets. In an historic shift, passive assets in U.S. equity funds recently surpassed those in actively managed ones for the first time ever.
This week's guests are bucking all of those trends. They are active managers in primarily large cap U.S. stocks. They have been beating the market and peers by substantial margins over the last decade and they are attracting more assets.
Joining us for a rare interview is Chuck Akre, Founder, Managing Member, Chief Executive Officer and Chief Investment Officer of Akre Capital Management which he launched in 1989 and moved from a suburb of Washington D.C. to rural Middleburg, Virginia in 2002.
Of the approximately $13 billion Akre Capital manages, nearly $12 billion is in the flagship, Akre Focus Fund which he launched ten years ago. Akre Focus is rated five star and carries a Silver Medalist Analyst rating from Morningstar and has a superb record, beating the S&P 500, the Russell 1000 Growth Index and its Large Growth category by substantial margins over multi-year periods, including 17% annualized returns since inception. It's done so with a concentrated group of companies, only 17 holdings currently, most of them which it holds for years.
Another key member of the Akre team is John Neff, partner at Akre Capital Management, who joined the firm as an analyst in 2009 and is now Co-Portfolio Manager of Akre Focus Fund. Neff is not related to the late great investor by that name. He is building his own reputation at Akre Focus and is off to a good start.
If you are unable to join us for the show on television, you can watch it on our website over the weekend. If you would prefer to take WEALTHTRACK with you on your commute or travels, you can find the WEALTHTRACK podcast on TuneIn, Stitcher and SoundCloud, as well as iTunes and Spotify. In this week's web EXTRA feature Chuck Akre and John Neff share some personal insights on keeping mentally fresh.
Thank you for watching. As the nation observes Veteran's Day, we extend our gratitude and admiration to all who have served, including my husband and son. Have a memorable weekend and make the week ahead a profitable and a productive one.
Best regards,
Consuelo
Video Clip: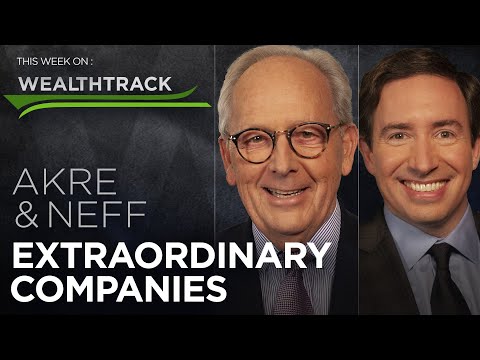 M* Snapshot: AKREX:
https://www.morningstar.com/funds/xnas/akrex/quote
Lipper Snapshot AKREX:
https://www.marketwatch.com/investing/fund/akrex
AKREX Is Unranked In The (LCG) Fund Category By U.S. News & World Report:
https://money.usnews.com/funds/mutual-funds/large-growth/akre-focus-fd/akrex