What's in a Name? | Media Mentions | Contact Us
Who's behind Mutual Fund Observer?
There's one person and a few and nine thousand.
The "one person" is David Snowball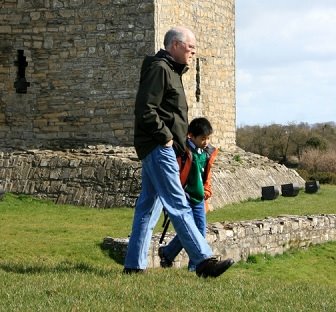 David is a Professor of Communication Studies at Augustana College, Rock Island, Illinois. Augustana is a nationally-recognized college of the liberal arts and sciences, founded in 1860. David's teaching portfolio at the college includes:
Advertising and Social Influence
Propaganda in the 20th Century and Beyond
Rhetorical Theory
Communication and Emerging Technologies
Business and Professional Communication
Persuasion Theory
For a quarter century, David competed in academic debate and coached college debate teams to over 1500 individual victories and 50 tournament championships. When he retired from that research-intensive endeavor, his interest turned to researching fund investing and fund communication strategies.
David served as the closing moderator of Brill's Mutual Funds Interactive (a Forbes "Best of the Web" site). From 2006-2011, he was the Senior Fund Analyst at FundAlarm and author of over 120 fund profiles. His monthly column was read by around 5000 people. His work has been cited in USA Today, The Wall Street Journal, Barron's, Business Week and, on the web, at Motley Fool, MSN Money, CBS Marketwatch and elsewhere.
David lives in Davenport, Iowa, and spends an amazing amount of time watching (and occasionally coaching) his son, Will, at Little League baseball, flag football and tae kwon do (no coaching on that one!).
The few
And the real brains behind the brains of the operation are . . .
Chip, the Observer's technical director, handles all of our monthly site updates and most of the programming unrelated to the discussion board.  She also coordinates the work of the Observer's volunteer experts.  As Cheryl Welsch, Chip directs information technology services at Sullivan County Community College in the beautiful Catskill Mountains of New York.  Chip's currently in search of a new hobby or two, ones which won't frighten either her college-aged son or her staff too badly.  Given her work maintaining a college network, I suggested freelance exorcism as a possibility.  She's more interested in pursuing one that helps others while still involving chocolate.  If you've got a lead, drop a note to her.
Accipiter, our chief programmer, is the author of the Falcon's Eye and The Navigator, the Observer's incredibly useful fund research tools.  He shares with Chip responsibility for making our discussion board as friendly and functional as art and science allow.  Accipiter, who prefers anonymity, has a bunch of experience in programming, network and system administration (and it shows).  When he's not tinkering under the hood here, he works to help the folks in his community, pursues bird-watching (a peculiar fascination with falcons) and grows tomatoes.  Heirloom tomatoes.  Lots of heirloom tomatoes.  I'll note, in passing, my profound jealousy.

Anya Zolotusky, the Observer's senior web designer, created and then fine-tuned the Observer's look and function.  Anya is a Seattle area web designer specializing in "elegant, aesthetic, and highly usable websites for discerning businesses." By her own admission, she has designed sites for artists, realtors, do-gooder lawyers, mountain guides, and others who wanted a website their clients would love.  She's remarkable (physicist, mountain climber, ski instructor, web designer and owner of Darn Good Farm) and remarkably talented. Folks interested in seeing her work should check out Darn Good Web Design or drop her a note: azolotusky@yahoo.com.
Junior Yearwood, contributing editor to the Observer, is author of our series, "The Best." Junior is a freelance writer, who specializes in writing reviews for consumer technology and electronic products. He's currently broadening his portfolio into finance and investing, by finding the web's best writing in those fields and bringing that information to us. In his spare time, he follows U.S. presidential politics, T20 cricket, and his beloved nieces and nephews. If you have an idea or comment for Junior, please drop him a note.
The nine thousand people are the Observer community
The Observer exists as a public service, as a place for individuals to interact, grow, learn and gain confidence. Those of us behind the scenes will do whatever we can to support and encourage you, and to provide you – within the limits of our resources – with the most useful, friendly and supportive home on the web that we possibly can.
Please take this as your invitation to join in. If you've got questions, contact me! If you find the Observer useful, please support us! There are several painless options available.
And if you're wondering about names, check out What's in a Name.