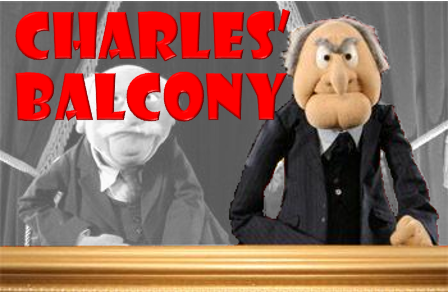 Since his debut in February 2012, my colleague Charles Boccadoro has produced some exceedingly solid, data-rich analyses for us.  One of his signature contributions was "Timing Method Performance Over Ten Decades," which was widely reproduced and debated around the web.
We're pleased to announce that we've collected his essays in a single, easy-to-access location.  We've dubbed it "Charles' Balcony" and we even stumbled upon this striking likeness of Charles and the shadowy Ed Studzinski in situ.  I'm deeply hopeful that from their airy (aerie or eery) perch, they'll share their sharp-eyed insights with us for years to come.
Follow Charles on Twitter @mfobalcony and peruse fund analytics he's helped provide subscribers of MFO Premium.
Despite pervasive skepticism based on: […]
Morningstar held its annual investment […]
This past week we upgraded […]
On Friday, 6 January, we will be […]
All fund risk and return […]
All fund risk and return […]
In our April 2021 commentary, […]
The next MFO Premium webinar […]
Numerous bear sightings occurred these […]
Our MFO Premium search tool […]
Morningstar held its annual investment […]
A quick sampling of recent […]
We've just gone live with […]
We posted month ending January […]
Refinitiv dropped month-ending December data, […]
On Tuesday, 4 January, we will be […]
One of the earliest articles […]
Last month, in "A Leap […]
The Welcome Last week Morningstar's […]
That's what Brad Ferguson, an […]
The next MFO Premium webinars […]
Rates on US Bonds have […]
MultiSearch, our main tool on […]
On Thursday, April 15th, we […]
This new tool went live […]
Our friends at Gaia Capital […]
This coming Tuesday, January 5th, […]
We introduced our Portfolio Analysis […]
The search for yield has […]
New Bull Emerges in a […]
"If you want to really […]
On Wednesday July 22st, we […]
June begins the fourth month […]
"All NAVs are opinions." ― […]
In November 2014 we published […]
"Don't trust everything you see. […]
"Go West, young man, go […]
On Wednesday January 15th, we […]
Martini: No, it's not stupid, […]
"A 'receding sea' is not […]
"Everybody has a game plan, […]
"Okay … you smoke Hoyo […]
When people have no choice, […]
We've supplanted our "Miraculous MultiSearch" […]
The Compare Funds tool displays […]
"Happy days are here again! […]
"Never risk what you have […]
On Tuesday January 15th, we […]
"The only thing that makes […]
"In God we trust, all […]
"But we in it shall […]
The folks at Litman Gregory […]
We've added Trend Metrics to […]
Ferguson Metrics help identify funds […]
*Zeo Capital Advisors, LLC […]
Charles sends his regrets for […]
"I've come loaded with statistics, […]
"In investing, what is comfortable […]
"Timing, perseverance, and ten years […]
"Two roads diverged in a […]
"If someone invented levitation tomorrow, […]
"Maybe the mind's best trick […]
"Experts often possess more data […]
Matt Hougan of Inside ETFs […]
In last month's commentary, David […]
Morningstar held its annual investment […]
At the time of publication, […]
We've eliminated load from our […]
USAA was founded in San […]
Our colleague Ed remained curious […]
The good folks at Morningstar […]
"… over the long term […]
At the recent Chicago conference, […]
During our annual (sometimes bi-annual) […]
Meb recently debuted his new […]
A family friend recently asked […]
Originally published in May 1, 2016 Commentary […]
Originally published in April 1, 2016 […]
Originally published in March 1, 2016 […]
Originally published in February 1, 2016 […]
Originally published in January 1, […]
Originally published in December 1, […]
Originally published in November 1, […]
Originally published in October 1, […]
Originally published in October 1, […]
Originally published in October 1, 2015 […]
Originally published in September 1, 2015 […]
Objective and Strategy The James […]
Originally published in July 1, […]
Originally published in June 1, […]
Originally published in May 1, […]
Originally published in April 1, […]
Originally published in March 1, 2015 […]
Originally published in March 1, 2015 […]
Originally published in January 1, 2015 […]
Originally published in January 1, 2015 […]
At the time of publication, […]
Originally published in November 1, […]
Originally published in October 1, 2014 […]
Originally published in September 1, 2014 […]
Originally published in August 1, 2014 […]
Originally published in July 1, […]
Originally published in June 1, 2014 […]
Originally published in May 1, 2014 […]
Originally published in April 1, […]
Originally published in March 1, […]
Originally published in February 1, […]
Originally published in January 1, […]
Originally published in December 1, […]
Originally published in November 1, […]
Originally published in November 1, […]
Originally published in October 1, […]
FundX Upgrader Fund(FUNDX) is now […]
Originally published in August 1, […]
From the Mutual Fund Observer […]
Originally published in July 1, […]
Originally published in July 1, […]
Revision: January 7, 2016 to […]
Originally published in June 1, […]
Originally published in May 1, […]
Originally published in April 1, […]
From the Mutual Fund Observer […]
Originally published in February 1, […]
From the Mutual Fund Observer […]
From the Mutual Fund Observer […]
From the Mutual Fund Observer […]
From the Mutual Fund Observer […]
From the Mutual Fund Observer […]