By Charles Boccadoro
Originally published in September 1, 2015 Commentary
MFO first introduced its rating system in the June 2013 commentary. That's also when the first "Great Owl" funds were designated. These funds have consistently delivered top quintile risk adjusted returns (based on Martin Ratio) in their categories for evaluation periods 3 years and longer. The most senior are 20-year Great Owls. These select funds have received Return Group ranking of 5 for evaluation periods of 3, 5, 10, and 20 years. Only about 50 funds of the 1500 mutual funds aged 20 years or older, or about 3%, achieve the GO designation. An impressive accomplishment.
Below are the current 20-year GOs (excluding muni funds for compactness, but find complete list here, also reference MFO Ratings Definitions.)
Of the original 20-year GO list of 47 funds still in existence today, only 19 remain GOs. These include notables: Fidelity GNMA (FGMNX), PIMCO Foreign Bond – USD-Hedged I (PFORX), James Balanced: Golden Rainbow R (GLRBX), T. Rowe Price Capital Appreciation (PRWCX), Vanguard Wellington Inv (VWELX), Meridian Growth Legacy (MERDX), and Hennessy Gas Utility Investor (GASFX).
The current 20-year GOs also include 25 Honor Roll funds, based on legacy Fund Alarm ranking system. Honor Roll funds have delivered top quintile absolute returns in its category for evaluation periods of 1, 3, and 5 years. These include: AMG Managers Interm Dur Govt (MGIDX), PIMCO Foreign Bond – USD-Hedged I (PFORX), James Balanced: Golden Rainbow R (GLRBX), T. Rowe Price Capital Appreciation (PRWCX), and T. Rowe Price Mid-Cap Growth (RPMGX).
A closer look at performance of the original list of 20-year GOs, since they were introduced a little more than two years ago, shows very satisfactory performance overall, even with funds not maintaining GO designation. Below is a summary of Return Group rankings and current three-year performance.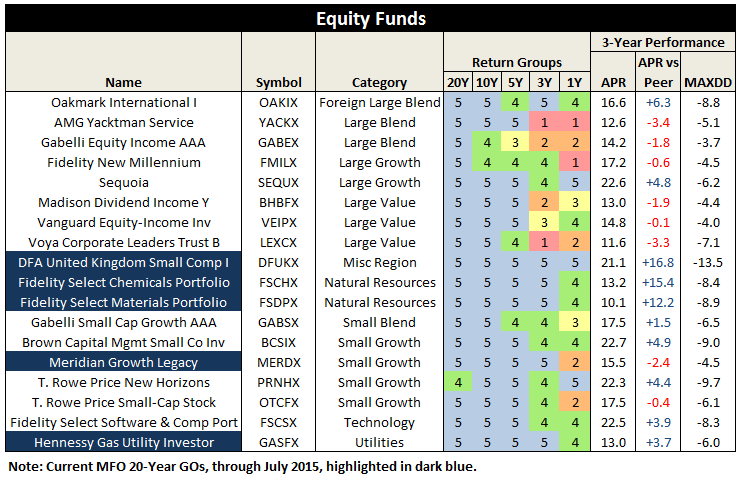 Of the 31 funds in tables above, only 7 have underperformed on a risk adjusted basis during the past three years, while 22 have outperformed.
Some notable outperformers include: Vanguard Wellesley Income Inv (VWINX), Oakmark International I (OAKIX), Sequoia (SEQUX), Brown Capital Mgmt Small Co Inv (BCSIX), and T. Rowe Price New Horizons (PRNHX).
And the underperformers? Waddell & Reed Continental Inc A (UNCIX), AMG Yacktman (YACKX), Gabelli Equity Income AAA (GABEX), and Voya Corporate Leaders Trust (LEXCX).
A look at absolute returns show that 10 of the 31 underperformed their peers by an average of 1.6% annualized return, while the remaining 21 beat their peers by an average of 4.8%.
Gentle reminder: MFO ratings are strictly quantitative and backward looking. No accounting for manager or adviser changes, survivorship bias, category drift, etc.
Will take a closer look at the three-year mark and make habit of posting how they fared over time.