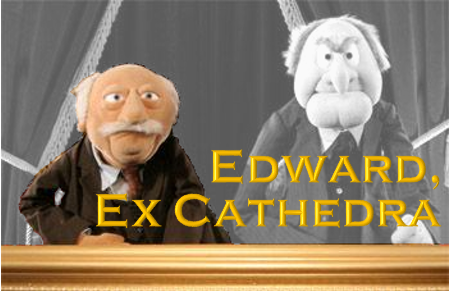 We can be certain of some things about Edward Studzinski. As an investor and co-manager of Oakmark Equity & Income(OAKBX), he was consistently successful in caring for other people's money (as much as $17 billion of it), in part because he remained keenly aware that he was also caring for their futures. $10,000 entrusted to Edward and co-manager Clyde McGregor on the day Ed joined the fund (01 March 2000) would have grown to $27,750 on the day of his departure (31 December 2011). His average competitor (I'm purposefully avoiding "peer" as a misnomer) would have managed $13,900.
As a writer and thinker, he minced no words.
The Equity and Income Fund's managers have both worked in the investment industry for many decades, so we both should be at the point in our careers where dubious financial-industry innovations no longer surprise us. Such an assumption, however, would be incorrect.

For the past few quarters we have repeatedly read that the daily outcomes in the securities markets are the result of the "Risk On/Risk Off" trade, wherein investors (sic?) react to the most recent news by buying equities/selling bonds (Risk On) or the reverse (Risk Off). As value investors we think this is pure nonsense. 
Over the past two years, Ed and I have engaged in monthly conversations that I've found consistently provocative and information-rich. It's clear that he's been paying active attention for many years to contortions of his industry which he views with equal measures of disdain and alarm. 
I've prevailed upon Ed to share a manager's fuss and fulminations with us, as whim, wife and other obligations permit. We're pleased to announce that we've collected his essays here.  We've dubbed it "Edward, Ex Cathedra," since he, like the pontiff, speaks quietly but with unquestioned authority (on this point, Ms. Studzinski demurs).
"If you sit by the […]
"There is no such thing […]
"In order to become the […]
"What is this optimism?" asked […]
"It's a scientific fact that […]
"The predicament You find yourself […]
"Look straight ahead. What's there? […]
"The idea that a nation […]
"Socialist governments traditionally do make […]
"Snow on the pines thus […]
Amateurs talk about strategy and […]
"Finance is the art of […]
"Imagine the Creator as a […]
"A genius is the man […]
"Advertising is the rattling of […]
"Why shouldn't things be largely […]
"Historian: an unsuccessful novelist."  H.L. […]
"Pessimist: one who, when he […]
"The only way to success […]
"Look straight ahead. What's there? […]
"Until life goes out Memory […]
An instance of an Inability […]
Democracy is grounded upon so […]
"The only way a man […]
"A democracy is a government […]
"Men become civilized, not in […]
"Dogs look up to you, […]
"In wartime, truth is so […]
 "Bureaucracy is a giant mechanism […]
"If more than ten percent […]
The Romans had a maxim, […]
The typical American of today […]
"Life is a predicament which […]
"Human life is punishment." Seneca […]
Snow on the pines Thus […]
"In three words I can […]
"The danger is not that […]
"A smooth sea never made […]
"If you attack stupidity you […]
"Twenty years from now you […]
The surest way to corrupt […]
"To succeed in the world, […]
"We live in an age […]
"I have to change to […]
"If you can't annoy somebody, […]
"Success is never final. Failure […]
"In wars then let our […]
"Maybe this world is another […]
"There is much to be […]
Silence is the most perfect […]