What's in a Name? | Media Mentions | Contact Us
Who's behind Mutual Fund Observer?
There's one person and a motley crew and twenty-five thousand.
The "one person" is David Snowball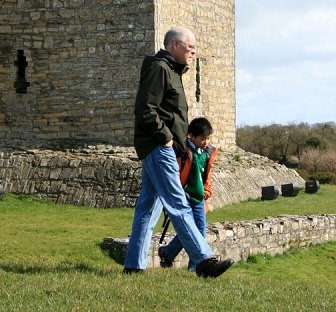 David is a Professor of Communication Studies at Augustana College, Rock Island, Illinois. Augustana is a nationally-recognized college of the liberal arts and sciences, founded in 1860. David's teaching portfolio at the college includes:
Advertising and Social Influence
Propaganda in the 20th Century and Beyond
Rhetorical Theory
Communication and Emerging Technologies
Business and Professional Communication
Persuasion Theory
For a quarter century, David competed in academic debate and coached college debate teams to over 1500 individual victories and 50 tournament championships. When he retired from that research-intensive endeavor, his interest turned to researching fund investing and fund communication strategies.
David served as the closing moderator of Brill's Mutual Funds Interactive (a Forbes "Best of the Web" site). From 2006-2011, he was the Senior Fund Analyst at FundAlarm and author of over 120 fund profiles. His monthly column was read by around 5000 people. His work has been cited in USA Today, The Wall Street Journal, Barron's, Business Week and, on the web, at Motley Fool, MSN Money, CBS Marketwatch and elsewhere.
David lives in Davenport, Iowa, and spends an amazing amount of time ferrying his son, Will, to baseball tryouts, baseball lessons, baseball practices, baseball games … and social gatherings with young ladies who seem unnervingly interested in him.
The motley crew
And the real brains behind the brains of the operation are . . .
Chip, the Observer's technical director, handles all of our monthly site updates and most of the programming unrelated to the discussion board. She also coordinates the work of the Observer's volunteer experts. As Cheryl Welsch, Chip serves as dean of curriculum at Eastern Iowa Community Colleges. Chip's currently in search of a new hobby or two, ones which won't frighten either her adult son or her staff too badly. She's more interested in pursuing one that helps others while still involving chocolate. If you've got a lead, drop a note to her.
Charles Boccadoro is an associate editor of the Observer. He's done a series of splendid, data-rich analyses for us which are permanently enshrined in Charles Balcony. By way of background, Charles describes himself as
Strictly amateur investor. Recently retired aerospace engineer. Graduated MIT in 1981. Investing actively in mutual funds since 2002. Was heavy FAIRX when market headed south in 2008, but fortunately held tight through to recovery. Started reading FundAlarm in 2007 and have followed MFO since inception in May 2011. Tries to hold fewest funds in portfolio, but many good recommendations by MFO community make in nearly impossible (e.g., bought MAINX after recent teleconference). Live in Central Coast California.
Geez, the dude's an actual rocket scientist.
Barb Bradac is the Observer's graphic designer and Mistress of the Owl. She spent years crafting Augustana's visual identity and designing its publications. She has a remarkable aesthetic sense which is manifested both in her designs and in the decision of Room, Iowa City's equivalent of House Beautiful, to feature her condo in a recent issue.
Edward Studzinski is an associate editor and senior contributor for the Observer. Ed has more than 30 years of institutional investment experience. He was a partner at Harris Associates in Chicago, Illinois, where he was co-manager of the Oakmark Equity & Income Fund (OAKBX). He has a J.D. from Duke University and an M.B.A. in marketing and finance, as well as a Professional Accounting Program Certificate, from Northwestern University. Ed has earned the Chartered Financial Analyst credential. Ed belongs to the Investment Analyst Societies of Boston, Chicago, and New York City. He is admitted to the Bar in the District of Columbia, Illinois, and North Carolina.
The twenty-five thousand people are the Observer community
The Observer exists as a public service, as a place for individuals to interact, grow, learn and gain confidence. Those of us behind the scenes will do whatever we can to support and encourage you, and to provide you – within the limits of our resources – with the most useful, friendly and supportive home on the web that we possibly can.
Please take this as your invitation to join in. If you've got questions, contact me! If you find the Observer useful, please support us! There are several painless options available.
And if you're wondering about names, check out What's in a Name.