By Charles Boccadoro
Originally published in January 1, 2015 Commentary


Cambria Funds recently launched two ETFs, as promised by its CIO Mebane Faber, who wants to "disrupt the traditional high fee mutual fund and hedge fund business, mostly through launching ETFs." The line-up is now five funds with assets under management totaling more than $350M:
Cambria Shareholder Yield ETF (SYLD)
Cambria Foreign Shareholder Yield ETF (FYLD)
Cambria Global Value ETF (GVAL)
Cambria Global Momentum ETF (GMOM)
Cambria Global Asset Allocation ETF (GAA)
We wrote about the first three in "The Existential Pleasures of Engineering Beta" this past May. SYLD is now the largest actively managed ETF among the nine categories in Morningstar's equity fund style box (small value to large growth). It's up 12% this year and 32% since its inception May 2013.
GMOM and GAA are the two newest ETFs. Both are fund of funds.
GMOM is based on Mebane's definitive paper "A Quantitative Approach To Tactical Asset Allocation" and popular book "The Ivy Portfolio: How to Invest Like the Top Endowments and Avoid Bear Markets." It appears to be an in-house version of AdvisorShares Cambria Global Tactical ETF (GTAA), which Cambria stopped sub-advising this past June. Scott, a frequent and often profound contributor to our discussion board, describes GTAA in one word: "underwhelming." (You can find follow some of the debate here.) The new version GMOM sports a much lower expense ratio, which can only help. Here is link to fact sheet.
GAA is something pretty cool. It is an all-weather strategic asset allocation fund constructed for global exposure across diverse asset classes, but with lower volatility than your typical long term target allocation fund. It is a "one fund for a lifetime" offering. (See DailyAlts "Meb Faber on the Genesis of Cambria's Global Tactical ETF.") It is the first ETF to have a permanent 0% management fee. Its annual expense ratio is 0.29%. From its prospectus:

Here's is link to fact sheet, and below is snapshot of current holdings:
In keeping with the theme that no good deed goes unpunished. Chuck Jaffe referenced GAA in his annual "Lump of Coal Awards" series. Mr. Jaffe warned "investors should pay attention to the total expense ratio, because that's what they actually pay to own a fund or ETF." Apparently, he was irked that the media focused on the zero management fee. We agree that it was pretty silly of reporters, members of Mr. Jaffe's brotherhood, to focus so narrowly on a single feature of the fund and at the same time celebrate the fact that Mr. Faber's move lowers the expenses that investors would otherwise bear.


Wesley Gray announced the launch of ValueShares International Quantitative Value ETF (IVAL) on 19 December, his firm's second active ETF. IVAL is the international sister to ValueShares Quantitative Value ETF (QVAL), which MFO profiled in December. Like QVAL, IVAL seeks the cheapest, highest quality value stocks … within the International domain. These stocks are selected in quant fashion based on value and quality criteria grounded in investing principles first outlined by Ben Graham and validated empirically through academic research.
The concentrated portfolio currently invests in 50 companies across 14 countries. Here's breakout: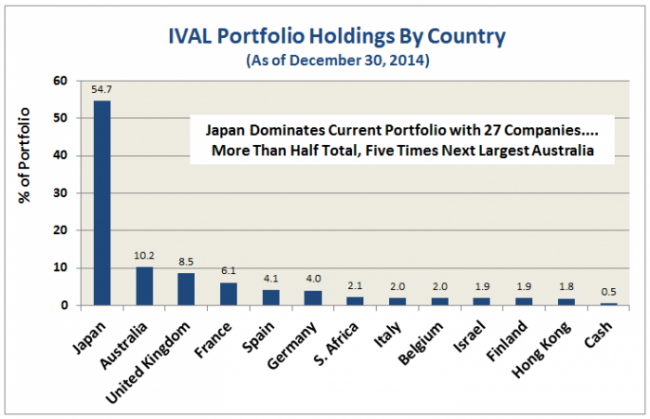 As with QVAL, there is no sector diversification constraint or, in this case, country constraint. Japan dominates current portfolio. Once candidate stocks pass the capitalization, liquidity, and quality screens, value is king.
Notice too no Russia or Brazil.
Wesley explains: "We only trade in liquid tradeable names where front-running issues are minimized. We also look at the custodian costs. Russia and Brazil are insane on both the custodial costs and the frontrunning risks so we don't trade 'em. In the end, we're trading in developed/developing markets. Frontier/emerging don't meet our criteria."
Here is link to IVAL overview. Dr. Gray informs us that the new fund's expense ratio has just been reduced by 20bps to 0.79%.