By Charles Boccadoro
Originally published in January 1, 2015 Commentary
When our esteemed colleague Ed Studzinski shares his views on an adviser or fund house, he invariably mentions location.
I've started to take notice.
Any place but Wall Street
Some fund advisers seem to identify themselves with their location. Smead Capital Management, Inc., which manages Smead Value Fund (SMVLX), states: "Our compass bearings are slightly Northwest of Wall Street…" The firm is headquartered in Seattle.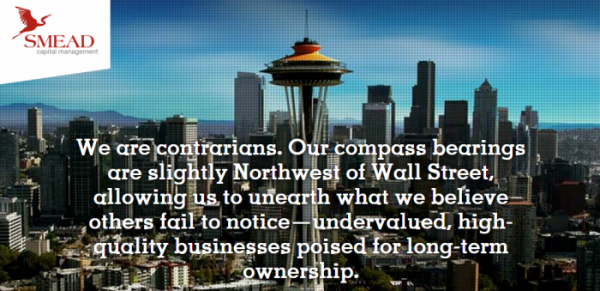 SMVLX is a 5-year Great Owl sporting top quintile performance over the past 5-, 3-, and even 1-year periods (ref. Ratings Definitions):
Bill Smead believes the separation from Wall Street gives his firm an edge.

Legendary value investor Bruce Berkowitz, founder of Fairholme Capital Management, LLC seems to agree. Fortune reported that he moved the firm from New Jersey to Florida in 2006 in order to … "put some space between himself and Wall Street … no matter where he went in town, he was in danger of running into know-it-all investors who might pollute his thinking. 'I had to get away,' he says."
In 2002, Charles Akre of Akre Capital Management, LLC, located his firm in Middleburg, Virginia. At that time, he was sub-advising Friedman, Billings, Ramsey & Co.'s FBR Focus Fund, an enormously successful fund. The picturesque town is in horse country. Since 2009, the firm's Akre Focus Fund (AKREX/AKRIX) is a top-quintile performer and another 5-year Great Owl:


Perhaps location does matter?
Tales of intrigue and woe
Unfortunately, determining an adviser's actual work location is not always so apparent. Sometimes it appears downright labyrinthine, if not Byzantine.
Take Advisors Preferred, LLC. Below is a snapshot of the firm's contact page. There is no physical address. No discernable area code. Yet, it is the named adviser for several funds with assets under management (AUM) totaling half a billion dollars, including Hundredfold Select Alternative (SFHYX) and OnTrack Core Fund (OTRFX).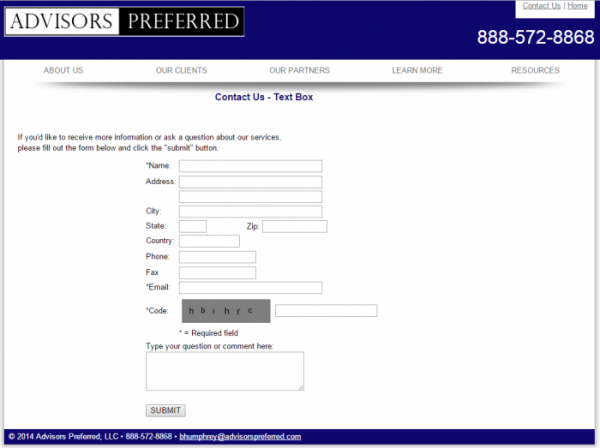 Advisors Preferred turns out to be a legal entity that provides services for sub-advisers who actually manage client money without having to hassle with administrative stuff … an "adviser" if you will by name only … an "Adviser for Hire." To find addresses of the sub-advisers to these funds you must look to the SEC required fund documents, the prospectus or the statement of additional information (SAI).
Hunderdfold Funds is sub-advised by Hunderdfold Funds, LLC, which gives its sub-advisory fees to the Simply Distribute Charitable Foundation. Actually, the charity appears to own the sub-adviser. Who controls the charity? The people that control Spectrum Financial Inc., which is located, alas, in Virginia.
The SAI also reveals that the fund's statutory trust is not administered by the adviser, Advisors Preferred, but by Gemini Funds Services, LLC. The trust itself is a so-called shared or "series trust" comprised of independent funds. Its name is Northern Lights Fund Trust II. (Ref. SEC summary.) The trust is incorporated in Delaware, like many statutory trusts, while Gemini is headquartered in New York.
Why use a series trust? According to Gemini, it's cheaper. "Rising business costs along with the increased level of regulatory compliance … have magnified the benefits of joining a shared trust in contrast to the expenses associated with registering a standalone trust."
How does Hundredfold pass this cost savings on to investors? SFHYX's latest fact sheet shows a 3.80% expense ratio. This fee is not a one-time load or performance based; it is an annual expense.
OnTrack Funds is sub-advised by Price Capital Management, Inc, which is located in Florida. Per the SEC Filing, it actually is run out of a residence. Its latest fact sheet has the expense ratio for OTRFX at 2.95%, annually. With $130M AUM, this expense translates to $3.85M per year paid by investors the people at Price Capital (sub adviser), Gemini Funds (administrator), Advisors Preferred (adviser), Ceros Financial (distributer), and others.
What about the adviser itself, Advisors Preferred? It's actually controlled by Ceros Financial Services, LLC, which is headquartered in Maryland. Ceros is wholly-owned by Ceros Holding AG, which is 95% owned by Copiaholding AG, which is wholly-owned by Franz Winklbauer.  Mr. Winklbauer is deemed to indirectly control the adviser. In 2012, Franz Winklbauer resigned as vice president of the administrative board from Ceros Holding AG. Copiaholding AG was formed in Switzerland.

Which is to say … who are all these people?
Where do they really work?
And, what do they really do?
Maybe these are related questions.
If it's hard to figure out where advisers work, it's probably hard to figure out what they actually do for the investors that pay them.
Guilty by affiliation
Further obfuscating adviser physical location is industry trend toward affiliation, if not outright consolidation. Take Affiliated Managers Group, or more specifically AMG Funds LLC, whose main office location is Connecticut, as registered with the SEC. It currently is the named adviser to more than 40 mutual funds with assets under management (AUM) totaling $42B, including:
Managers Intermediate Duration Govt (MGIDX), sub advised by Amundi Smith Breeden LLC, located in North Carolina,
Yacktman Service (YACKX), sub advised by Yacktman Asset Management, L.P. of Texas, and
Brandywine Blue (BLUEX), sub advised by Friess Associates of Delaware, LLC, located in Delaware (fortunately) and Friess Associates LLC, located in Wyoming.
All of these funds are in process of being rebranded with the AMG name. No good deed goes unpunished?
AMG, Inc., the corporation that controls AMG Funds and is headquartered in Massachusetts, has minority or majority ownership in many other asset managers, both in the US and aboard. Below is a snapshot of US firms now "affiliated" with AMG. Note that some are themselves named advisers with multiple sub-advisers, like Aston.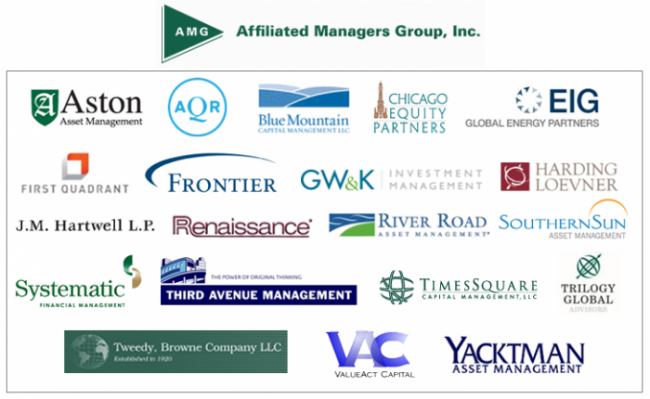 AMG describes its operation as follows: "While providing our Affiliates with continued operational autonomy, we also help them to leverage the benefits of AMG's scale in U.S. retail and global product distribution, operations and technology to enhance their growth and capabilities."
Collectively, AMG boasts more than $600B in AUM. Time will tell whether its affiliates become controlled outright and re-branded, and more importantly, whether such affiliation ultimately benefits investors. It currently showcases full contact information of its affiliates, and affiliates like Aston showcase contact information of its sub-advisers.
Bottom line
Is Bill Smead correct when he claims separation from Wall Street gives his firm an edge? Does location matter to performance? Whether location influences fund performance remains an interesting question, but as part of your due diligence, there should be no confusion about knowing where your fund adviser (and sub-adviser) works.