By Charles Boccadoro
Originally published in January 1, 2016 Commentary
New to MFO Premium this month are several additions to the MultiSearch Tool, which now can screen our monthly fund database with some 44 performance metrics and other parameters. (Here are links to current Input and Output MultiSearch Parameter Lists.) The new additions include SubType (a kind of super category), exchange-traded fund (ETF) flag, Profiled Funds flag, and some initial Pre-Set Screens.
SubType is a broad grouping of categories. Lipper currently defines 144 categories, excluding money market funds. MFO organizes them into 9 subtypes: U.S. Equity, Mixed Asset, Global Equity, International Equity, Sector Equity, Commodity, Alternative & Other, Bond, and Municipal Bond funds. The categories are organized further into broader types: Fixed Income, Asset Allocation, and Equity funds. The MultiSearch Tool enables screening of up to 9 categories, 3 subtypes, or 2 types along with other criteria.
The Profiled Funds flag enables screening of funds summarized monthly on our Dashboard (screenshot here). Each month, David (and occasionally another member of MFO's staff), typically provides in-depth analysis of two to four funds, continuing a FundAlarm tradition. Through November 2015, 117 profiles are available on MFO legacy site Funds page. "David's Take" precariously attempts to distill the profile into one word: Positive, Negative, or Mixed.
The ETF flag is self-explanatory, of course. How many ETFs are in our November database?  A lot! 1,716 of the 9,034 unique (aka oldest share class) funds we cover are ETFs, or nearly 19%. The most populated ETF subtype is Sector Equity with 364, followed by International Equity with 343, US Equity with 279, and Bonds with 264. At nearly $2T in assets under management (AUM), ETFs represent 12% of the market. Our screener shows 226 ETFs with more than $1B in AUM. Here is a summary of 3-year performance for top ten ETFs by AUM (click on image to enlarge):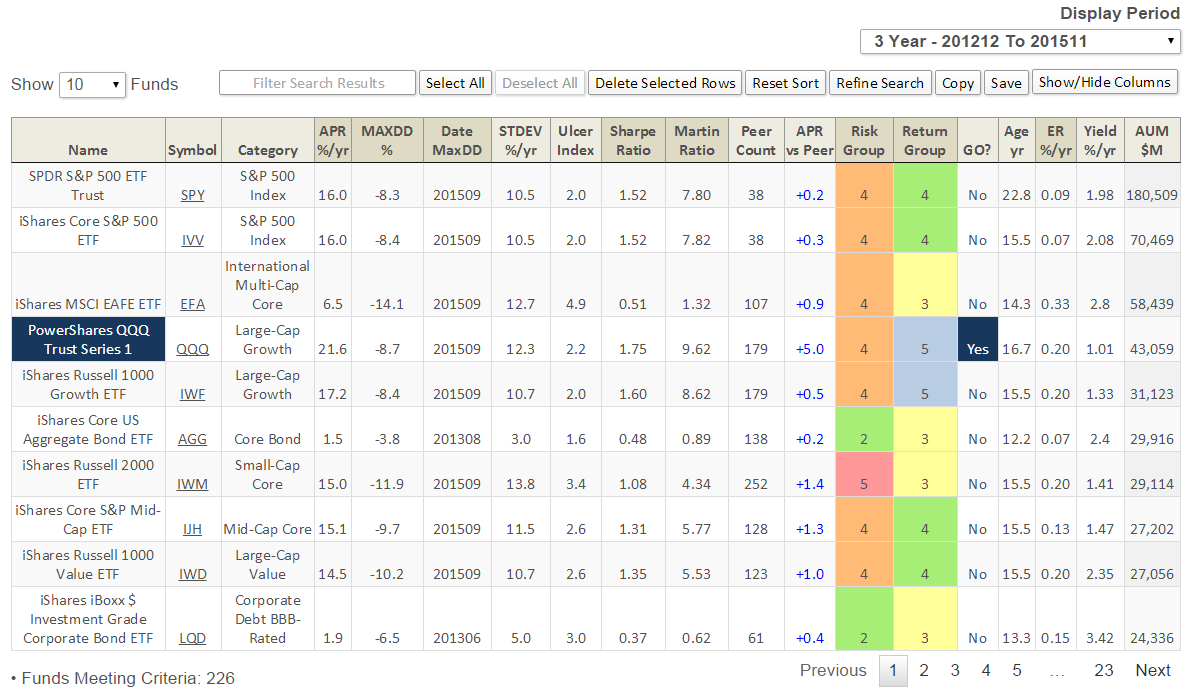 The Pre-Set Screen option is simply a collection of screening criteria. The two initial screens are "Best Performing Rookie Funds" and "Both Great Owl and Honor Roll Funds." The former generates a list of 160 funds that are between the age of 1 and 2 years old and have delivered top quintile risk adjusted return (based on Martin Ratio) since their inception. The latter generates a list of 132 funds that have received both our Great Owl distinction as well as Honor Roll designation. Here is a summary of 3-year performance for top ten such funds, again by AUM (click on image to enlarge) … it's an impressive list: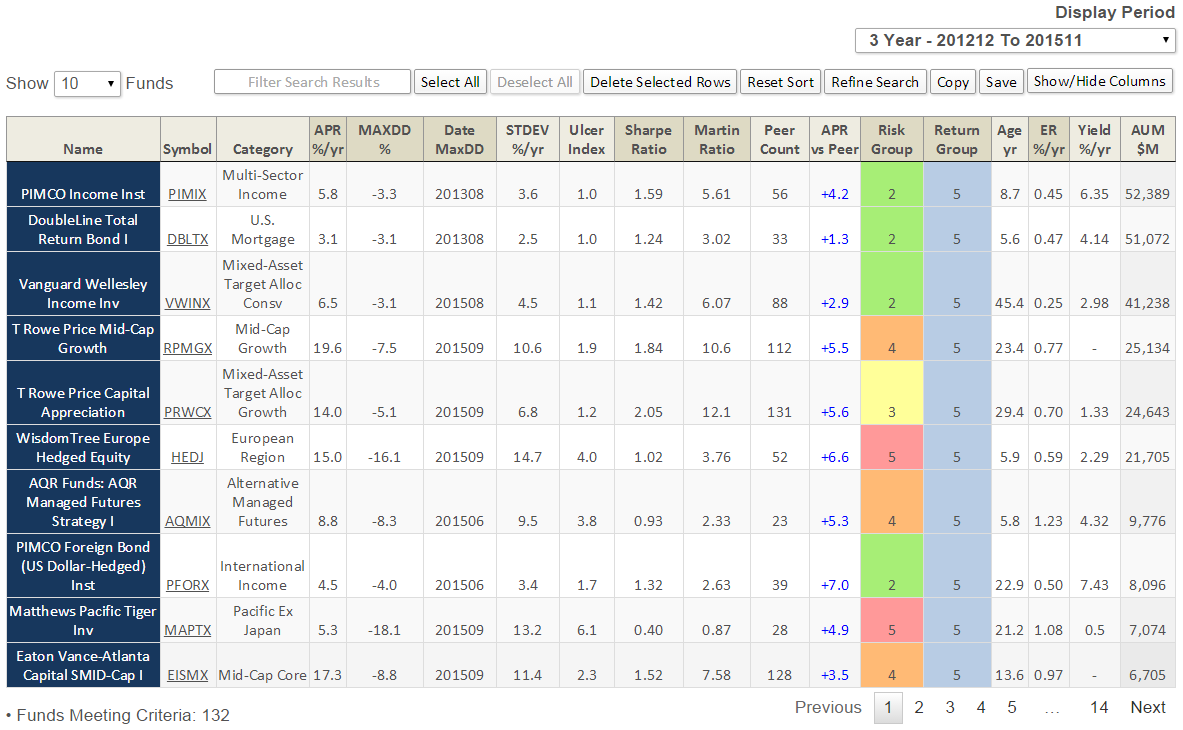 Other Pre-Screens David has recommended include "moderate allocation funds with the best Ulcer Index, small caps with the shortest recovery times, fixed-income funds with the smallest MAXDD …" Stay tuned.
Along with the parameters above, new options were added to existing criteria in the MultiSearch Tool. These include 30, 40, and 50 year Age groups; a "Not Three Alarm" rating; and, a "0% Annual or More" Absolute Return setting.
Using the new "0% Annual or More" criterion, we can get a sense of how tough the past 12 months have been for mutual funds. Of the 8,450 funds across all categories at least 12 months old through November 2015, nearly 60% (4,835) returned less than 0% for the year. Only 36 of 147 moderate allocation funds delivered a positive return, which means nearly 75% lost money … believe it or not, this performance was worse than the long/short category.
A closer look at the long/short category shows 56 of 121 funds delivered positive absolute return. Of those, here are the top five based on risk adjusted return (Martin Ratio) … click on image to enlarge: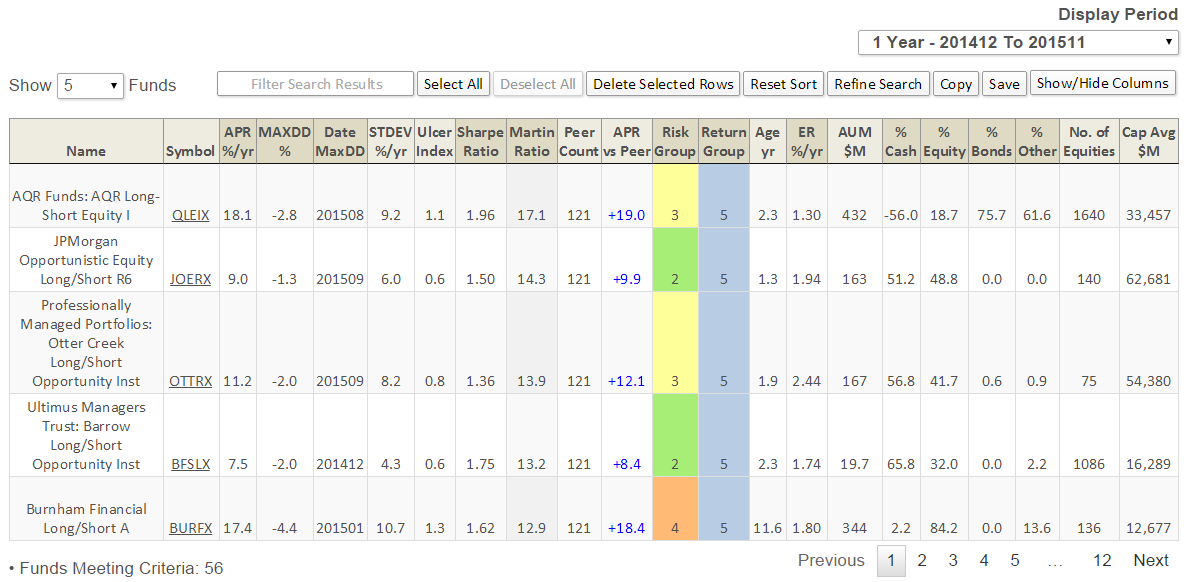 AQR's rookie Long/Short Equity I (QLEIX) has been eye-watering since inception, as can be seen in its Risk Profile (click on images to enlarge):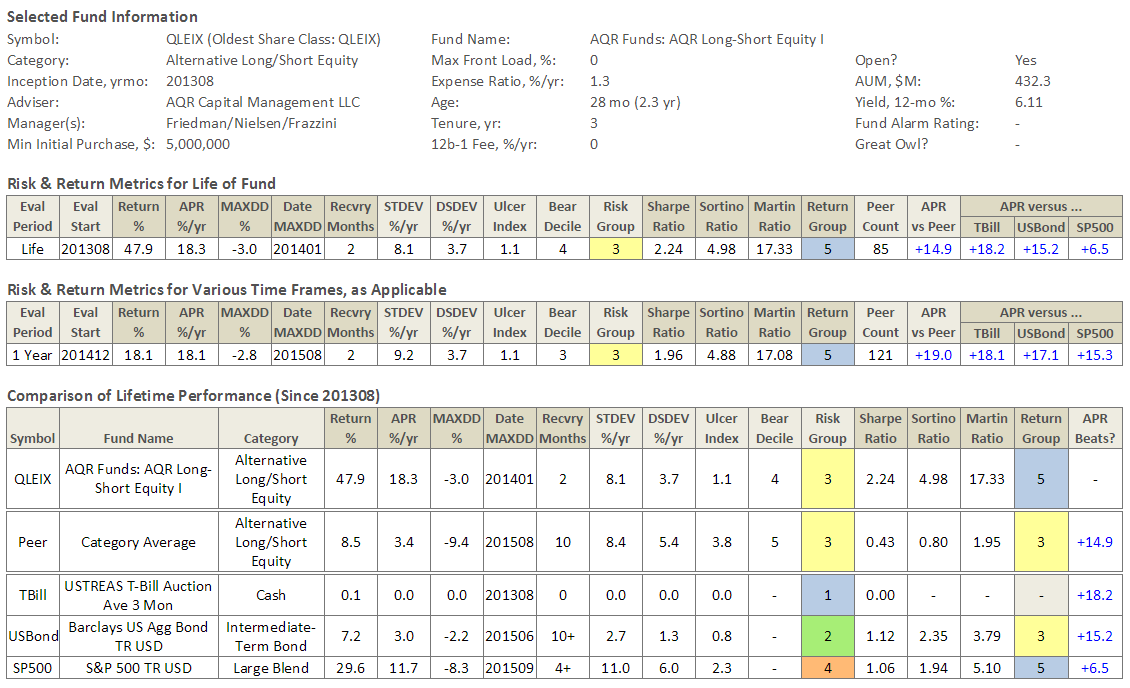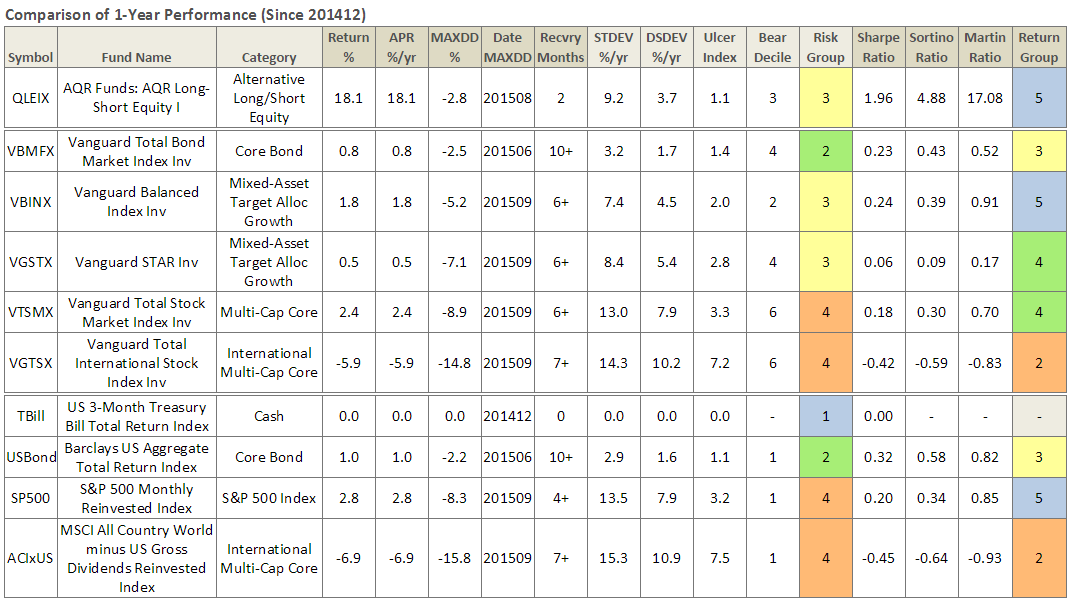 While I've always been a fan of Cliff Asness and the strategies at AQR, I'm not a fan of AQR Funds, since experiencing unfriendly shareholder practices, namely lack of disclosure when its funds underperform … but nothing speaks like performance.
Whitebox Funds
I have also always been a fan of Andrew Redleaf and Whitebox Funds, which we featured in the March 2015 Whitebox Tactical Opportunities 4Q14 Conference Call and October 2013 Whitebox Tactical Opportunities Conference Call. David has remained a bit more guarded, giving them a "Mixed" profile in April 2013 Whitebox Market Neutral Equity Fund, Investor Class (WBLSX), April 2013.
This past month the Minneapolis-based shop decided to close its three open-end funds, which were based on its hedge-fund strategies, less than four years after launch. A person familiar with the adviser offered:  "They were one large redemption away from exposing remaining investors to too great a concentration risk … so, the board voted to close the funds." AUM in WBMIX had grown to nearly $1B, before heading south. According to the same person, Whitebox hedge funds actually attracted $2B additional AUM the past two years and that was where they wanted to concentrate their efforts.
The fund enjoyed 28 months (about as long as QLEIX is old) of strong performance initially, before exiting the Mr. Market bus. Through November 2015, it's incurred 19 consecutive months of drawdown and a decline from its peak of 24.2%. Depicting its rise and fall, here is a Morningstar growth performance plot of WBMIX versus Vanguard's Balanced Fund Index (VBINX), as well as the MFO Risk Profile (click on images to enlarge):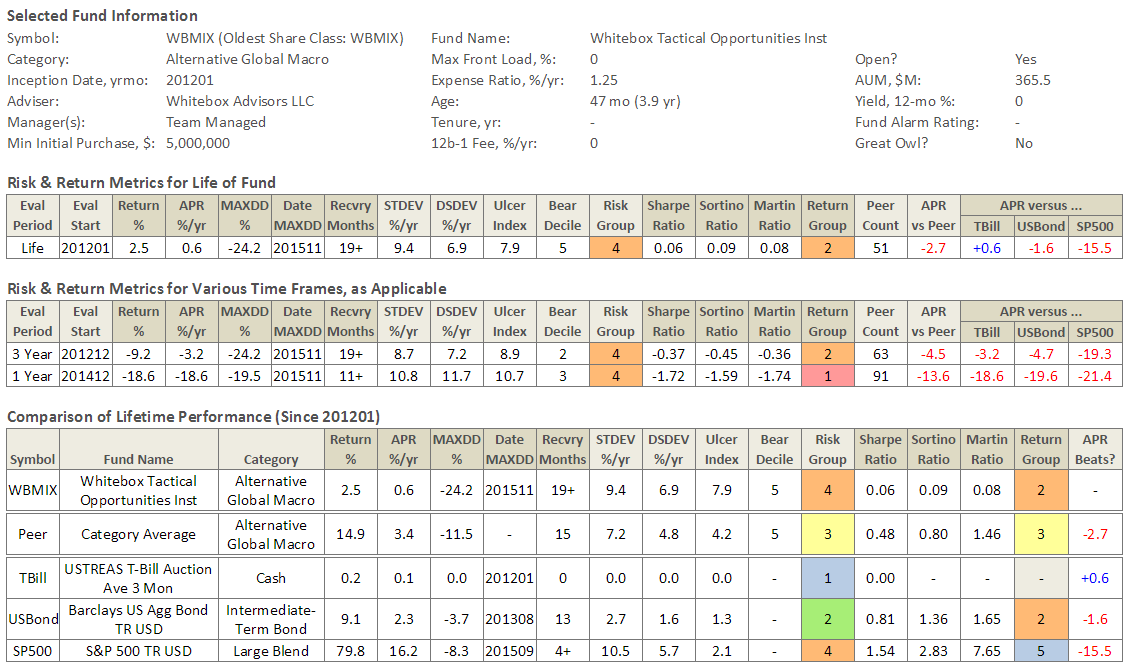 Ultimately, Mr. Redleaf and company failed to deliver returns across the rather short life span of WBMIX consistent with their goal of "the best endowments." Ultimately, they also failed to deliver performance consistent with the risk tolerance and investment timeframe of its investors. Ultimately and unfortunately, there was no "path to victory" in the current market environment for the fund's "intelligent value" strategy, as compelling as it sounded and well-intended as it may have been.
As always, a good discussion can be found on the MFO Board Whitebox Mutual Funds Liquidating Three Funds, along with news of the liquidations.
Year-end MFO ratings will be available on or about 4th business day, which would be January 7th on both our premium and legacy sites.