By Charles Boccadoro
Originally published in February 1, 2013 Commentary
Matthews Asia Strategic Income Fund (MAINX) is a unique offering for US investors. While Morningstar identifies many emerging market and world bond funds in the fixed income category, only a handful truly focus on Asia. From its prospectus:
Under normal market conditions, the Strategic Income Fund seeks to achieve its investment objective by investing at least 80% of its total net assets…in the Asia region. ASIA: Consists of all countries and markets in Asia, including developed, emerging, and frontier countries and markets in the Asian region.
Fund manager Teresa Kong references two benchmarks: HSBC Asian Local Bond Index (ALBI) and J.P. Morgan Asia Credit Index (JACI), which cover ten Asian countries, including South Korea, Hong Kong, India, Singapore, Taiwan, Malaysia, Thailand, Philippines, Indonesia and China. Together with Japan, these eleven countries typically constitute the Asia region. Recent portfolio holdings include Sri Lanki and Australia, but the latter is actually defined as Asia Pacific and falls into the 20% portfolio allocation allowed to be outside Asia proper.
As shown in following table, the twelve Asian countries represented in the MAINX portfolio are mostly republics established since WWII and they have produced some of the world's great companies, like Samsung and Toyota. Combined, they have ten times the population of the United States, greater overall GDP, 5.1% GDP annual growth (6.3% ex-Japan) or more than twice US growth, and less than one-third the external debt. (Hong Kong is an exception here, but presumably much of its external debt is attributable to its role as the region's global financial center.)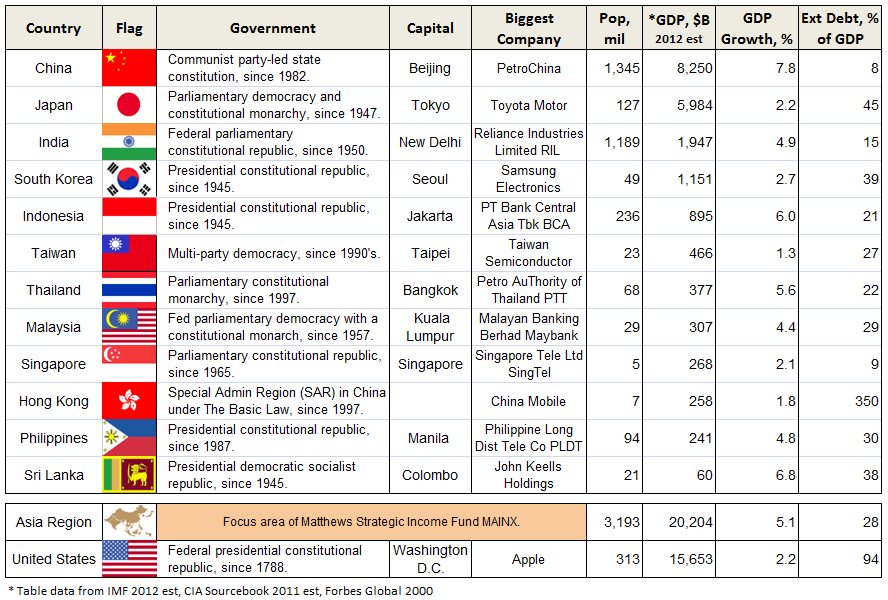 Very few fixed income fund portfolios match Matthews MAINX (or MINCX, its institutional equivalent), as summarized below. None of these alternatives hold stocks.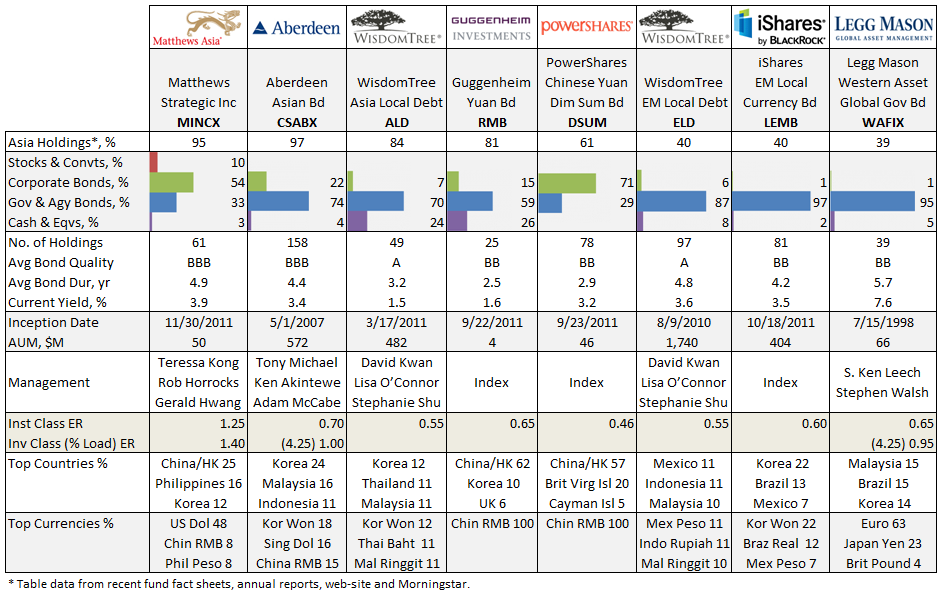 Aberdeen Asian Bond Fund CSBAX and WisdomTree ETF Asian Local Debt ALD cover the most similar geographic region with debt held in local currency, but both hold more government than corporate debt. CSBAX recently dropped "Institutional" from its name and stood-up investor class offerings early last year. ALD maintains a two-tier allocation across a dozen Asian countries, ex Japan, monitoring exposure and rebalancing periodically. Both CSBAX and ALD have about $500M in assets. ALD trades at fairly healthy volumes with tight bid/ask spreads. WisdomTree offers a similar ETF in Emerging Market Local Debt ELD, which comprises additional countries, like Russia and Mexico. It has been quite successful garnering $1.7B in assets since inception in 2010. Powershares Chinese Yuan Dim Sum Bond ETF DSUM (cute) and similar Guggenheim Yuan Bond ETF RMB (short for Renminbi, the legal tender in mainland China, ex Hong Kong) give US investors access to the Yuan-denominated bond market. The fledgling RMB, however, trades at terribly low volumes, often yielding 1-2% premiums/discounts.
A look at life-time fund performance, ranked by highest APR relative to 3-month TBill:

Matthews Strategic Income tops the list, though of course it is a young fund. Still, it maintains low down side volatility DSDEV and draw down (measured by Ulcer Index UI). Most of the offerings here are young. Legg Mason Western Asset Global Government Bond (WAFIX) is the oldest; however, last year it too changed its name, from Western Asset Non-U.S. Opportunity Bond Fund, with a change in investment strategy and benchmark.
Here's look at relative time frame, since MAINX inception, for all funds listed: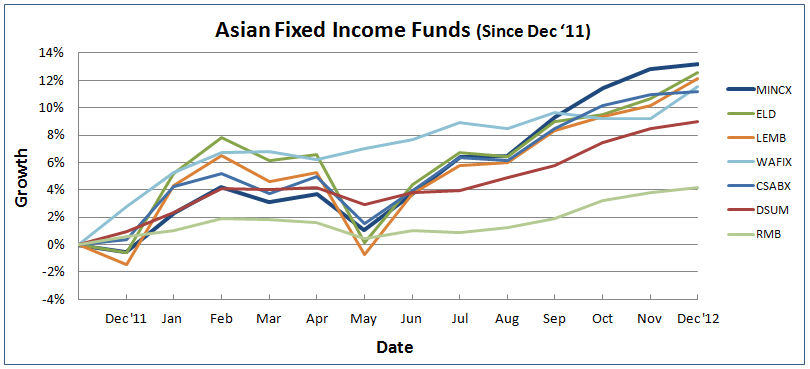 Charles, 25 January 2013