By Charles Boccadoro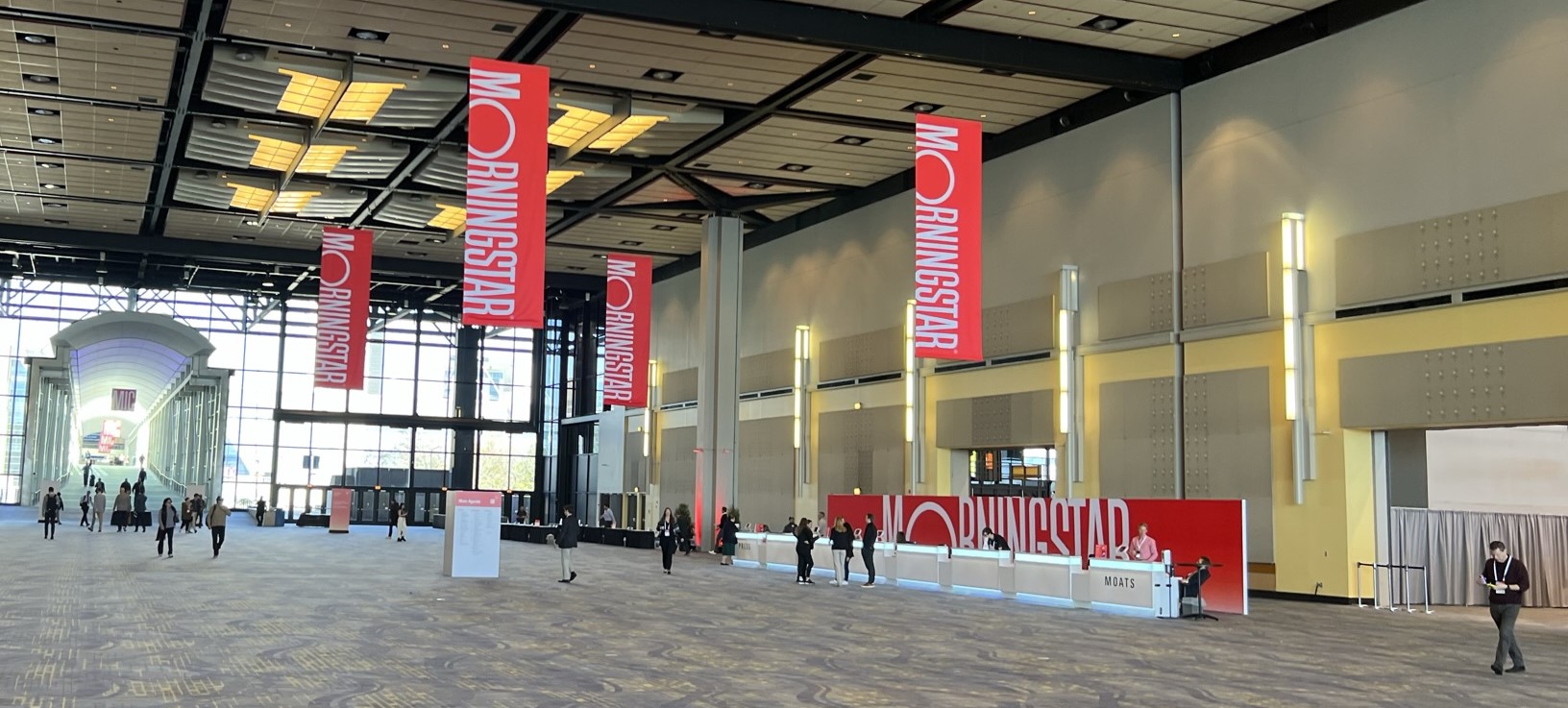 Morningstar held its annual investment conference [Morningstar Investment Conference US (MICUS) 2023] this past week beginning 24 April in Chicago, where tulip gardens bloomed on the city's walkways. 
COVID impacted the last three conferences: Zoom only in 2020, masks required and temperature taken for attendees in 2021, and joint Zoom and a return to normal for in-person attendees in 2022. This year Morningstar offered no remote option … no Zoom, no recording, just full-on, in-person attendance required to take advantage.
The venue remained McCormick Place, Chicago's cavernous convention center, but fortunately, in the more modest Lakeside Center with its emerald views of Lake Michigan. Next year, I understand, Morningstar will move MICUS to the waterfront Navy Pier, a less expansive spot closer to downtown.
This year's conference featured a prescient audio-visual-computational demo of "Mo," a new AI tool programmed with Morningstar research, and several excellent keynote speakers, which remains a MICUS signature, including:
Larry Summers, former U.S. Secretary of the Treasury, its 71st, known for his brilliance and outspokenness,
Aswath Damodaran, who teaches at NYU's Stern School of Business and is often called "dean of valuation,"
Dan Ivascyn, chief investment officer at PIMCO and manager of its iconic Income Fund (PIMIX).
Evolving Investor
About 2200 attendees greeted Morningstar's erudite CEO Kunal Kapoor as he kicked-off the conference under the theme "The Evolving Investor." Basically, the evolving needs of investors, from youth when growth and accumulation preside, through career and broad demands of family, into retirement with goals of capital preservation, and finally estate planning … how advisors can best guide over a lifetime. As he does every year, Kunal depicted the overall market valuation, which remains about 11% under so-called fair market value, with half the stocks Morningstar follows rated 4 or 5 (aka undervalued). Then, he doubled down on Morningstar's ratings system, reiterating it remains one of the most important tools in an advisor's toolbox, helping sift through several hundred thousand investment products available today.
Throughout his welcome, he noted how risk tolerance is heavily influenced by the environment greeting the new investor and the importance of assessing what he called "durable risk tolerance." He announced the elimination of the so-called "q" or quantitative metal ratings, combining those with ratings that literally (manually) are assigned by Morningstar's (human) analysts. (Here is link to latest ratings methodology.) Using Morningstar products, Kunal hopes to make investing easier and risk management more personalized, recognizing that investors are overwhelmed with data and some have trouble seeing value of advice. He believes direct indexing will be a game changer. And he reminded us that we are about to embark on the greatest generational wealth transfer in history at $84T.
He concluded his welcome with a live demonstration of Mo, which according to Kunal, was programmed in short order (2 months) with all of Morningstar's research and data, then coupled with an audio-visual user interface to field and answer investing-related questions. He asked it general questions about picking an advisor and "Is the 60/40 portfolio still the right level of risk for my client Sam Morales today?" Mo's answers seemed responsive and fluent, if a bit canned. Kunal explained the real-time process: ingest speech, convert voice to text, transmit text to open AI model, generate answers from 100 thousand data points, convert text to voice, animate via digital person … pretty cool.
In the display area, I used the opportunity to ask Mo if active funds were better than passive. He answered that they generally were not but could be right depending on the situation. I could not help but feel that Mo represented today's version of a personal tutor, HAL, or an animated Encyclopedia Britannica, at least.
Credit: Matthew Gilson Photography
A Conversation on Valuation
My first time to hear Professor Damodaran in person. A pure delight. Unassuming. Self-effacing. Yet at same time someone who seems confidant with what he knows and doesn't know. The author of several books on valuation, he admitted that no valuation is expert. Valuation provides an opportunity to tell a narrative around numbers, to mix numbers and stories, an appeal of both right and left brain.
He believes the painful financial outcome of 2022 was not an aberration, but the beginning of economic normalcy. "When the cost of capital is 10%, companies can't afford to not have a business plan." The return to normal in fact will help quality companies distinguish themselves in the market.
The ever-increasing amount and speed of data, he postulates, can make markets less efficient, not more. Like Warren Buffett and Charlie Munger, he believes doing nothing can serve us well, like the 4 weeks of March 2020.
He stated that there are "no more unhappy conversations that those that start with The Fed … We blame the Fed for everything and it makes us lazy." The problem with high inflation is the attendant uncertainty, which makes it worse than a steady level.
He shared his skepticism about ESG financial products, which he thinks were created as something to sell, not improve returns. "There is no way, impossible, for a constrained portfolio to beat an unconstrained one." His philosophy is that society should not look to companies to fix environmental issues. It should be the role of policy makers and government. Not doing so reflects a mistrust of institutions.
He's working on a book about the life cycles of companies, which for most (should) last 25-30 years (e.g., Yahoo). Elon Musk in 2019 was like a teen-ager … looking in the mirror and asking what can I do to screw things up? He stressed the importance of matching the right CEO based on where a company is in its life cycle. A mismatch can be disastrous, like BBB … it needed Larry the Liquidator. Some companies should simply be liquidated, so-called "Zombie Companies;" furthermore, only 60% should be re-investing capital.
To the balance sheet, dividends and buy-backs are exactly the same. To critics who argue companies pay too much for buy-backs, he suggests selling their shares.
He believes inflation is very personal, but we tend to generalize it.
Professor Damodaran sees the economy going forward as more normal … "more of a grind" and he's optimistic about imminent CAPEX cycle, which he again he describes as more normal than previous cycles when zero interest rate policy (ZIRP) enabled misallocation of capital and lack of price discovery.
On valuation of crypto? He states some things can't be valuated, only priced, like art. It has no cash flow, so can't make a valuation.
His website, Damodaran Online, is a wealth of information, all freely available.
Larry Summers, Former US Secretary of the Treasury
The Arie Crown Theater was at its fullest the morning Daniel Needham, President of Morningstar Investment Management, aptly interviewed the former secretary and storied policymaker and academician. Here's what the secretary revealed:
On calling inflation: "It was easy 2.5 years ago. Pretty obvious the bathtub would overflow," given the amount of stimulus we were injecting. Harder to predict going forward. He believes 4.5 – 5%, well above the 2% Fed goal, "until the economy slows down substantially and readjusts the labor market."
"Price stability is when people aren't thinking about prices."
On a soft landing and avoiding a recession: "It's like a 2nd marriage, the triumph of hope over experience." He thinks the Fed has tough job and setting the right interest rate is "like adjusting the shower temperature in an old hotel."
In addition to interest rate hikes, he believes the current bank failures are helping to restrict credit.
On insight government officials have: Often not more informed than NYT, Axios, or Politico. And he acknowledges that press and political authors tend to write about meetings and decisions with more gravity than deserved. "We were just talking." And regarding Fed and press: "The press is more into the Fed than the Fed is into you [the press]."
Despite opinions to the contrary, Larry Summers "would rather be playing America's hand than that of any other country in world." American companies represent 60% of the global value. Green transition and self-reliance provide opportunities for growth. He called China: a jail. Japan: a nursing home. Europe: a museum. Bitcoin: an experiment.
"The US always does the right thing, but only after exhausting all alternatives." Overall people should be impressed by US and its extreme capacity for resilience: Carter, Vietnam, Watergate, assassinations, missile crisis, FDR.
On markets: Forecasted earnings not pricing in recession. And he does not believe there will be rate cuts. So, he's bearish equity markets. Valuations equal cash flow (which are down) divided by discount rate (which is up).
He's bullish Biden and the current administration. "I suspect few people in this auditorium take their jobs as seriously as Biden takes his."
On disagreeing with his former bosses, President Clinton and Obama: "Choose your spots."
On fairness to Fed: SVB and FRB had lots of positive reports from analysts. And, most people believed like the Fed when it came to inflation. "The Fed is subject to group think, and it would do well to institute very substantial dissent."
Stimulus generated by COVID blew out the "secular stagnation," which he coined for the period of slow growth since 2013. "Just like stimulus generated by WWII blew out The Great Depression."
He's bullish Net Zero 2050 and Australia … people that cross oceans to start new lives represent enormous potential and countries, like Australia, that accept them will reap the benefits.
Credit: Matthew Gilson Photography
A Conversation with Dan Ivascyn, Chief Investment Officer of PIMCO
He runs the world's largest active bond strategy. PIMCO Income Fund (PIMIX) maintains $120B in assets, about six times more than any other fund in the multisector income bond fund category. Naturally, my number one question for Dan Ivascyn: Has the fund grown too large to ever see its strong positive returns of years past? His answer: An emphatic "No!" Adding, "If we thought so, we would close the fund."
Below is table from MFO Premium showing lifetime risk and return performance for the six fund's Dan is listed as managing in our Refinitiv database, as of 28 April 2023, sorted by AUM. Also, the calendar year returns dating back to 2008, PIMIX's inception, along with its peer returns and the aggregate bond returns. While Mr. Ivascyn even indicated the fund's size can work to its advantage, it has really only delivered exceptional returns in its early years; that said, it consistently incurs less drawdown than its peers, even during COVID and in 2022.
Mr. Ivascyn admits that the fund looks to minimize risk while creating opportunity, stating that "good risk management is an alpha driver." His target goal for PIMIX is a top quartile performer based on risk adjusted returns.
The fund prides itself on providing liquidity as an open-ended fund, especially when needed most, during periods of high volatility. He is well aware that more illiquid funds suppress volatility on a mark-to-market basis, but their liquidity ultimately is not free.
When he started at PIMCO as a real-estate credit analyst. He continues to hold a healthy portion of the portfolio in non-agency mortgage-backed securities (once called subprime), which he believes ultimately are "money good" given the high home equity-to-debt of those loans. Interesting then to see him lead a new young interval fund named Flexible Real Estate Income Fund (REFLX).
He credits Bill Gross for PIMCO's culture of putting clients first and positioning the firm well during the Great Financial Crisis. But he admits "the firm's foray into equity funds did not go so well."
Bond funds need to be small or large. Those with mid-level AUM have a tough time.
He thinks bond funds are in a sweet spot and he expects 6-6.5% annual returns from PIMIX going forward, which competes well with equities historically.
A Conference About Investment
This conference remains focused on investment, and I remain impressed by Morningstar's commitment to offering a quality experience. Each year MICUS gives investors the opportunity to get a pulse on the economy and investing trends, providing access to access to money managers, Morningstar analysts, keynote speakers, and session briefings. Here's a link to more of this year's conference, which remains in Chicago, Morningstar's headquarters.