By Charles Boccadoro
Originally published in May 1, 2016 Commentary
We started looking at fund family performance two years ago, first in June 2014 commentary with How Good Is Your Fund Family?, and then An Update in May 2015.
Below please find our MFO Family Fund Scorecard for May 2016, which reflects fund performance through 1st quarter. As a reminder, the card measures how well each fund in a family has performed against its peers since inception (or at least back to January 1960, which starts our Lipper database). Performance is absolute total return, reflecting reinvested dividends, but inclusive of fees and maximum front load, if applicable. The card groups families by quintile. (Download pdf version here.)
Some changes to methodology since last year:
Categories now reflect those used by Lipper versus Morningstar, as discussed in Comparing Lipper Ratings. Similarly, all categories except money market are included, even so-called trading categories.
Reduced from five to three the number of funds required to comprise a "fund family." These changes respond to reader feedback from last year's score card (eg., Where's PRIMECAP?).
Reduced from three years to just three months the minimum age for evaluation. Reasoning here being the desire to get heads-up of which young families are beating their peers out of the gate (eg., Grandeur Peak).
The result is about 400 "fund families," or more precisely fund management companies; distilled from the 9,350 funds overall, oldest share class only.
We recognize the card is flawed from the start. Results can be skewed by multiple factors, including survivorship-bias, share class differences, "improper" categorization, adviser and fund ownership changes, multiple sub-advisers, and inconsistent time frames … three months is too short to matter, lifetime is too long to care.  Flaws notwithstanding, there is value in highlighting families that, for example, have not had a single fund beat its category average since inception. Like our legacy Three Alarm designation, prospective investors should ask: Why is that?
Take Saratoga Capital Management who is celebrating 20 years and offers a line-up of mutual funds as "The Portfolios of the Saratoga Advantage Trust." From its brochure: "There are over 22,000 investment management firms in the United States. How do you choose the right one? Research, research and more research." Fourteen of the funds offered in its line-up are managed by Saratoga itself. Average age: 15.6 years. How many have beaten average return in their respective categories? None. Zero. 0.

Fact is all seventeen funds in the Saratoga Advantage line-up have underperformed category average since inception. Why is that?
On a more positive note, a closer look at a couple groupings …
Good to see: Vanguard heads list of Top Families with Largest Assets Under Management (AUM), along with other shareholder friendly firms, like Dodge & Cox.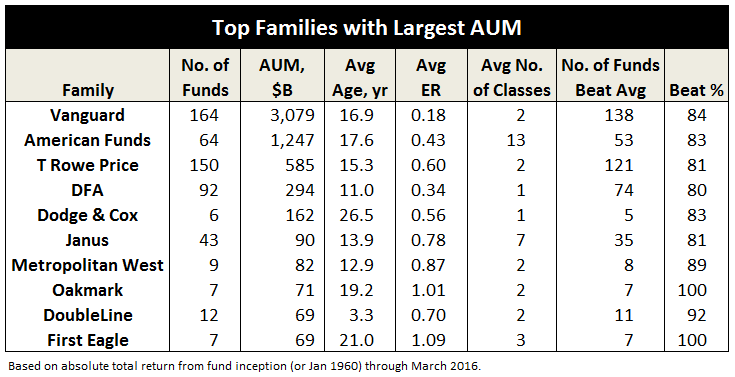 And, a nod to the young and unbeaten … a short list of top families where every fund beats its category average.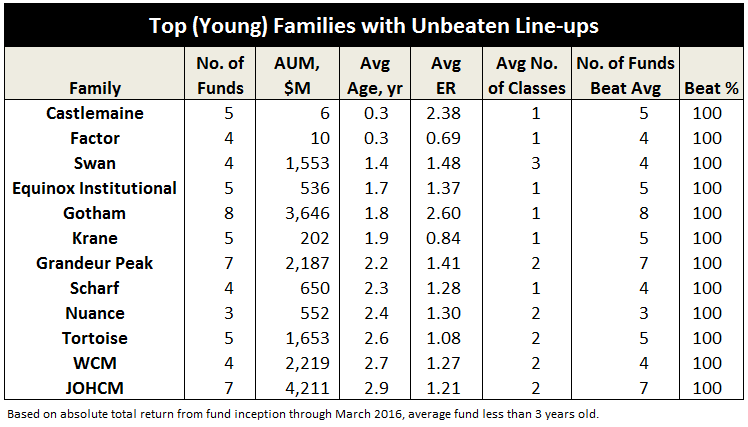 Gotham is led by renowned investor Joel Greenblatt. As for Grandeur Peak, David has been an outspoken champion since its inception. Below are its MFO Ratings (click image to enlarge):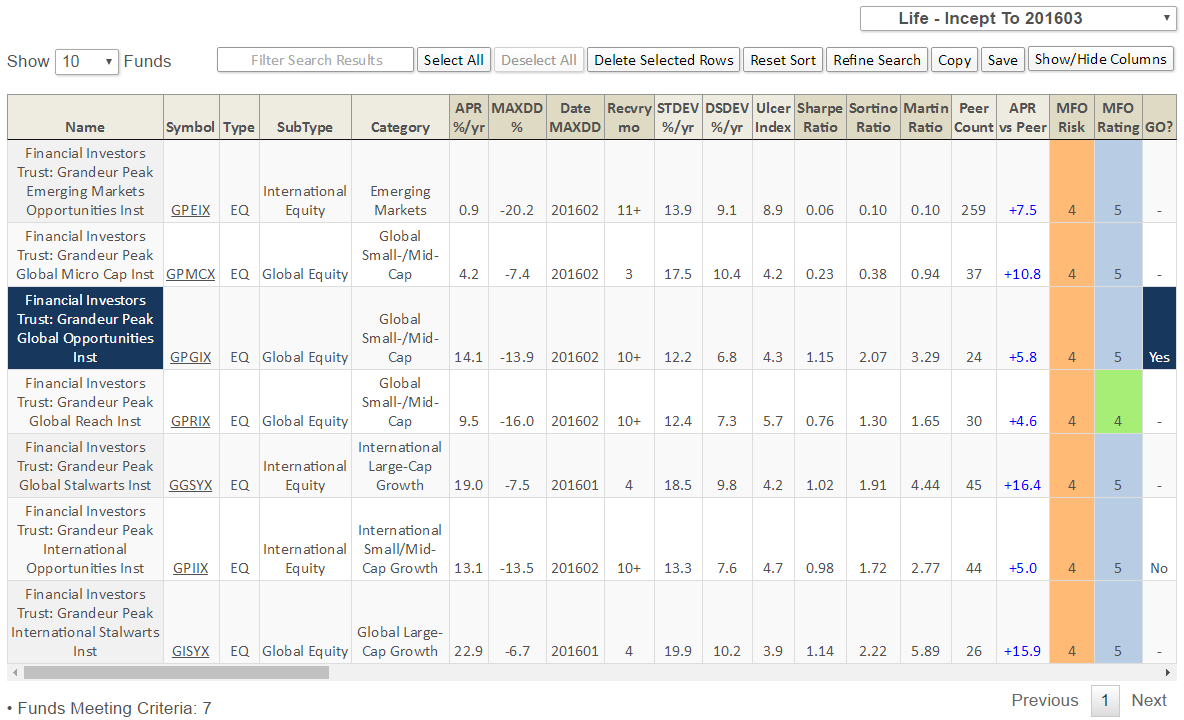 MFO Fund Family Scorecard will soon be a regular feature on our Premium site, updated monthly, with downloadable tables showing performance and fund information for all families, like average ER, AUM, load, and shares classes.