By Charles Boccadoro
"If you want to really know something you have to observe or experience it in person; if you claim to know something on the basis of hearsay, or on happening to see it in a book, you'll be a laughingstock to those who really know."

Jonathan D. Spence, "Emperor of China"
Sensational headlines bombard us.
Each one is an attempt to get readers, listeners, and viewers to click, tune-in or subscribe. Embedded ads populate each article … and it does not matter whether you're a subscriber or not.
A fierce competitive landscape vies for our attention. New York Times, Wall Street Journal, Washington Post, and The Atlantic meet Apple News, Buzz Feed, Facebook, and Twitter.
One can find passionate arguments across the political spectrum by intelligent and well-meaning people. Same applies to financial advice. Maybe more so, since at some level it's often about predicting the future, which is very hard to do.
I remember living in Belgium in 1983 during Harrod's bombing. I received letters and postcards from family and friends expressing alarm and concern. Life just outside Brussels, in a community called Rhode-St-Genese, seemed unfazed. I got a sense then of how your perspectives are shaped by media, instead of seeing first-hand.
During GFC, entire shopping centers and housing developments in up-and-coming communities like Camarillo, CA were halted. On frequent drives to the central coast, where I now live, I would see bare concrete foundations and empty scaffolding. Construction crews were long gone. Parking lots empty. Desolate really.
As the years went by, activity slowly started to pick-up and a decade later, all those centers filled with stores, parking lots filled … all those homes built and occupied … and much, much more. Older shopping centers were bulldozed for modern townhomes and other housing developments and even during CV-19, still rising … for now anyway.
Traveling to cities across the country like Washington, New York, and Chicago throughout the last decade, I saw construction cranes increasingly dot the skylines. Planes were full. People crowded the tables of upscale sidewalk cafes. Stadiums and concerts crowded. At AirBnB, the best properties needed to be reserved months in advance. Places on Orcas Island that were once affordable, now untouchable, or snatched-up by the likes of Oprah Winfrey. All signs, first hand, of a booming economy.
While traveling is always hard, it was probably never easier to travel than in 2019, given the proliferation of AirBnB, Yelp, TripAdvisor, Google Maps, HotelTonight, and SeatGeek.
On drives back-and-forth to SFO or LAX, north and south of me, not too long ago I noticed truckloads of brand new Teslas destined for somewhere. Always! Not to mention the number of occupied Teslas powering quietly past me. This observation came at a time when David Einhorn and others were actively shorting the stock and many on Fin Twit were denouncing the company as a Ponzi scheme. Today, it became the largest carmaker by market cap. Surpassing Toyota. Can you believe that?
Last March, just before the CV-19 devastation swept the county, I was supposed to attend another Democratizing Quant conference at Drexel University, sponsored again by Wesley Gray, CEO of Alpha Architect, who I have covered often. (Ref: US Quantitative Value and Democratizing Quant.) Recently, I decided to fly east for the first time since the national lockdown to visit family and friends, including an "in-person" chat with Wes.
Jet Blue Flight 124 LAX to JFK was filled to about 2/3 capacity since the airline's policy was to keep the middle sits empty. The one-way flight cost about $400, or twice as much as normal. Everybody wore masks. No drinks, including coffee, or food was available on the flight. Instead, passengers received a clear plastic bag with a bottle of water and a bag of pretzels upon boarding.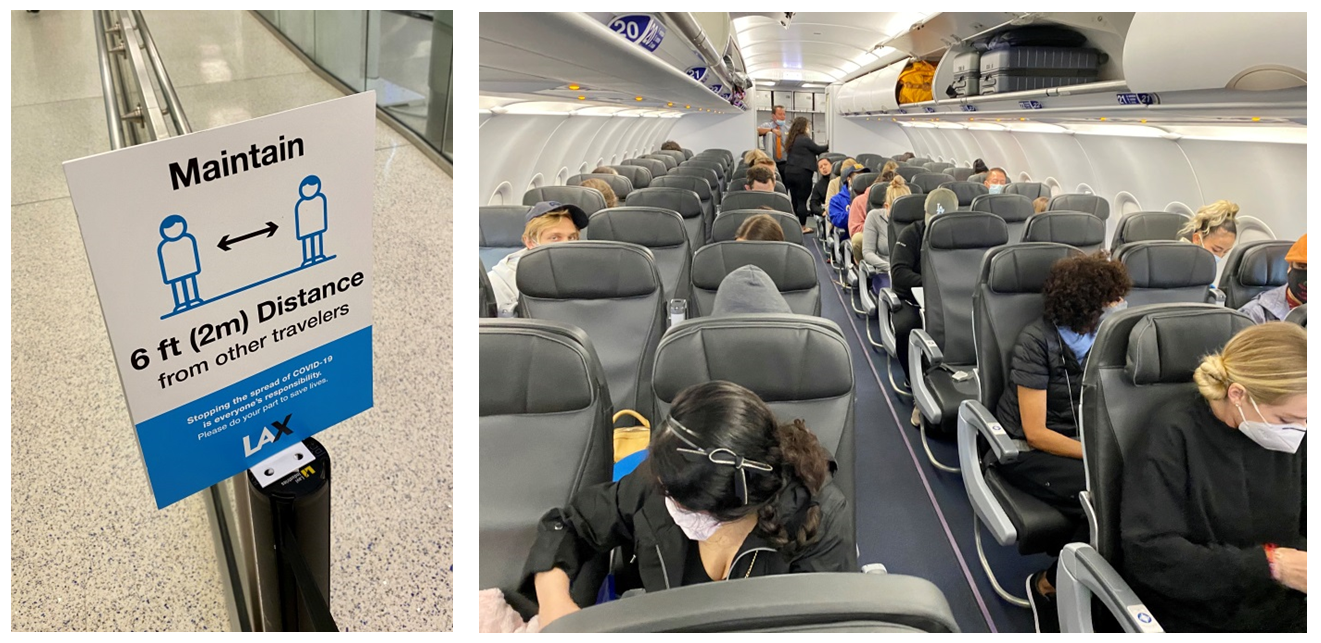 Under the circumstances, all went smoothly … hotel, parking, shuttle to the airport, security.
Dinner in old El Segundo the night before, at a place called Deluca Pasta, was delicious. The restaurant was at 50% seating capacity inside, lots of outdoor tables mostly full, and very lively. Employees wore masks and gloves. Patrons, when not seated, also wore masks. Everybody, including me, was enjoying the summer night out. I had spaghetti and meatballs along with Vermentino.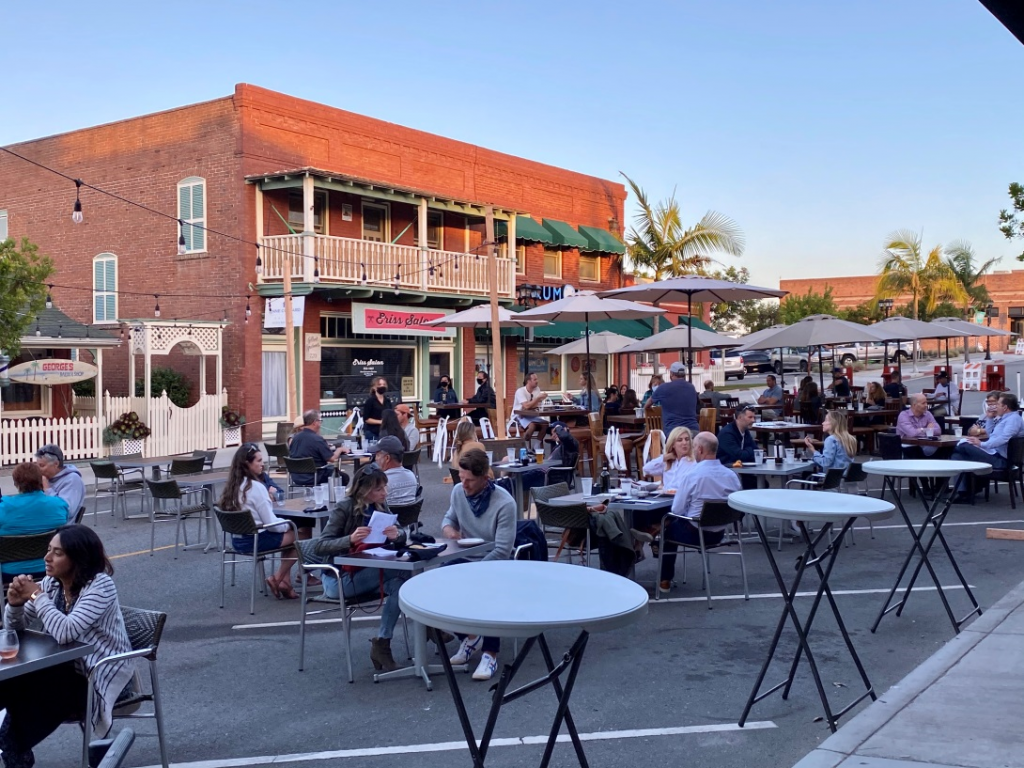 It seemed to me that people were adjusting. Maybe everybody had big hair, like the 1980s, but they were adjusting.
Upon arrival at JFK, the terminals were sparsely populated and food courts remained eerily closed. I took the AirTrain to Avis, as I normally do. I was soon crossing the Whitestone Bridge on my way to the Merritt Parkway to visit family in Connecticut, including my year-old great-nephew, for a celebratory Father's Day picnic.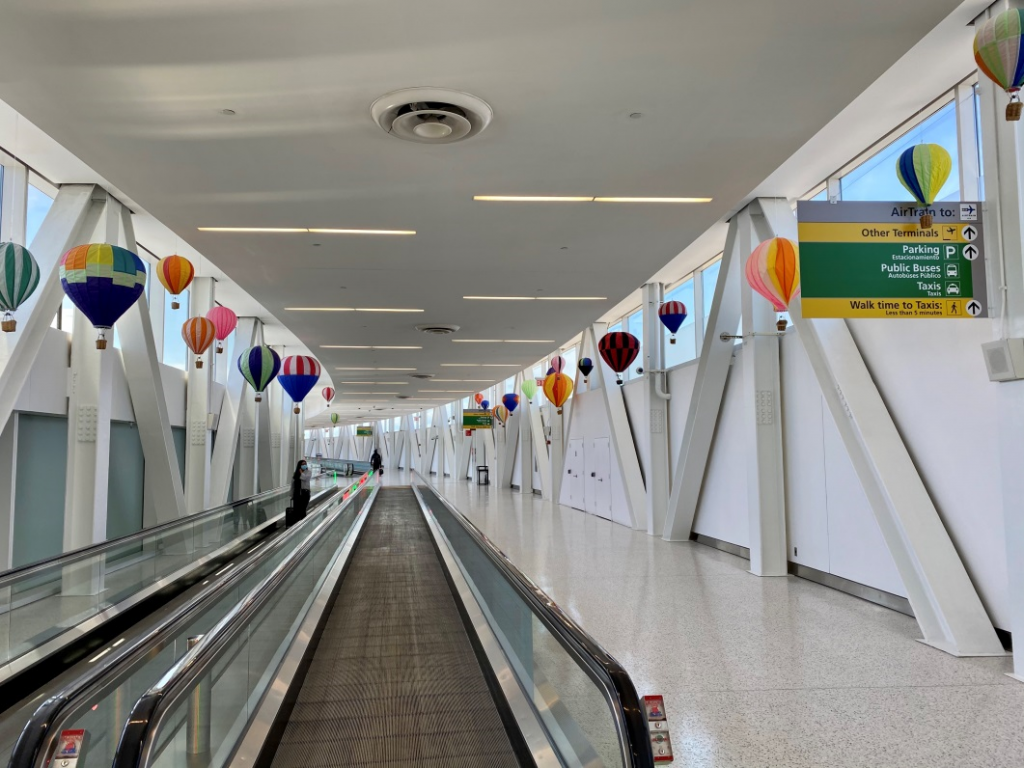 During the visits, I tried to distance as much as possible, wore a mask, and sanitized my hands often. Extra masks and sanitizer dispensers populated every airport queue line, rest stop entry, hostess station, and hotel lobby.
That said: The barbecued hotdogs tasted as good as ever.
Both my brother-in-law and nephew work for major beverage and food providers. Both have been able to work from home and each company seems well prepared to handle the CV-19 crisis.
My nephew's firm competes for sponsorship in sports arenas. When I asked him his opinion of Las Vegas, which has been hit by two catastrophic events this past decade, he surprised me by being extremely bullish: "Vegas is the last place I'm worried about. With the NHL Golden Knights in 2017 and the incoming NFL Raiders, the sky is the limit."
After three days in Connecticut, I was back on the road down the Hutchinson River Parkway through the Lincoln Tunnel and onto the harried New Jersey Turnpike. Most of the rest stops were crowded with travelers; despite fewer services open … Starbucks was generally closed, while McDonald's and Dunkin' Donuts generally open.
I arrived at Wes' place mid-afternoon. He lives in the beautiful Haverford area of eastern Pennsylvania. He was kind enough to share his time and views on markets generally, while the Alpha Architect team prepared for a camping trip in a just-opened nearby park … tents and all.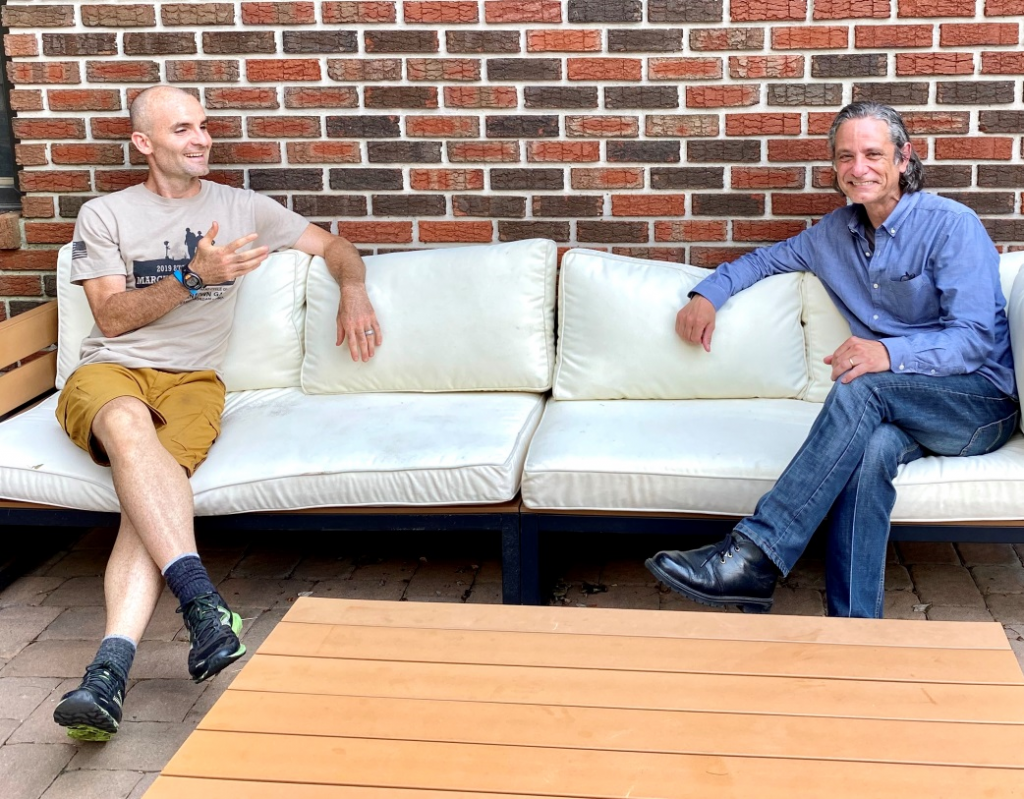 With Wes' usual directness, here are some of his thoughts, fears, and hopes:
"High yield is always a sucker bet. It's uncorrelated with the market. Gives a nice steady return. Until you need it … and then it always [expletive] the bed."
The pricing of open-ended bond funds is going to change, likely through litigation. During March, too many OEFs were trading with stale NAVs. The situation was exploited by advisers and traders selling OEFs and buying discounted ETFs. These folks were generally front-running OEF shareholders out the door, leaving those remaining holding the bag.
The situation was aggravated by funds holding more illiquid assets that don't trade often. "For these assets, all pricing is judgment, even by the pricing agencies." Trading or holding restrictions or penalties are inevitable, he believes.
The apparent lack of volatility in some of these bond OEFs is an artifact of stale pricing. "The volatility is just hidden. Trust me," Wes explains, "if you had to price your house each day based on comps or tender offers like ETFs do, you would not like it."  
What about alternative wrappers like closed-end funds (CEFs) or interval funds? Where fund managers do not have to sell assets to meet redemptions or redemption windows are restricted. Wes feels they just lead to a lack of transparency and extra fees … and the attendant temptation of fund manager mismanagement and shareholder exploitation.
The future for most active bond funds is bleak, especially those from boutique firms with high overhead. "If the 10-year is paying 75 bps and the fund company is charging 75 bps, who's going to buy them?"
On fund managers in general, Wes believes to stay in the business you're going to need to really love what you do. "Because the days of raking in big bucks on AUM are over."
He worries that in recurring zero interest rate periods, bond companies will need to up risk to be attractive. "It's just not going to end well. I can write the ending to this movie right now. We all can."
He cited Andrew Miller's recent study on Crisis Alpha that extracted the yield component of bond funds and suddenly the traditional 60/40 allocation did not look so good. "Now that scares me!"
Alpha Architect recently started using its experience and infrastructure to help other entrepreneurs launch so-called "white label" ETFs. Perth Tolle's Freedom 100 Emerging Market ETF (FRDM) is one such fund. My sense is that, if Wes is amendable to bringing you onboard, there's no better deal in the industry.
As for Alpha Architect proper, there are only five funds and that's how it will stay. "There's value, momentum, and trend. What else is there?"
He's stopped trying to make sense of market movements, except this: "It's all based on confidence."
He also shared that the SEC recently ruled that they can be called an "actively managed fund" once again versus an "index provider" without imposing non-value-added steps.
Our discussion ended on a note of hope. He believes that if the nation can learn to get past its polarization, which has even hindered responses to CV-19, and continue to avoid violence between citizens, the technological advances embodied in things like the iPhone, the world will be a better place. "I'm optimistic about that!"
Through the lush Pennsylvania countryside, I continued west to visit with an ex-Air Force colleague in Yellow Springs, Ohio. I stayed in their guest bedroom, as the local hotels in the heart of downtown had yet to re-open. (They opened today.)
My thoughtful friend, who turned 70 this year, believes that the market is rigged, unfortunately, echoing author Michael Lewis' observation. "Charles," he asked, "how is the average person supposed to have a chance?"
He personally felt the market was overvalued and moved all his retirement savings to money market a couple of years back. During March, the market rebounded too quickly and he remains skeptical. "I'm willing to miss the recent upswing because of all the unknowns out there. At this point, I have much more to lose than gain."
In the morning, we enjoyed a 4-mile walk through horse country. Lots of folks were out walking. The area is filled with covered bridges, food stands, beautiful farms, and pastures.
My last stop was Chicago. I took as a good sign the large number of trucks through Ohio, West Virginia, and Indiana and the heavy traffic in Chicago proper. Taking the Blue Line from O'Hare to The Loop downtown, however, was pretty sparse.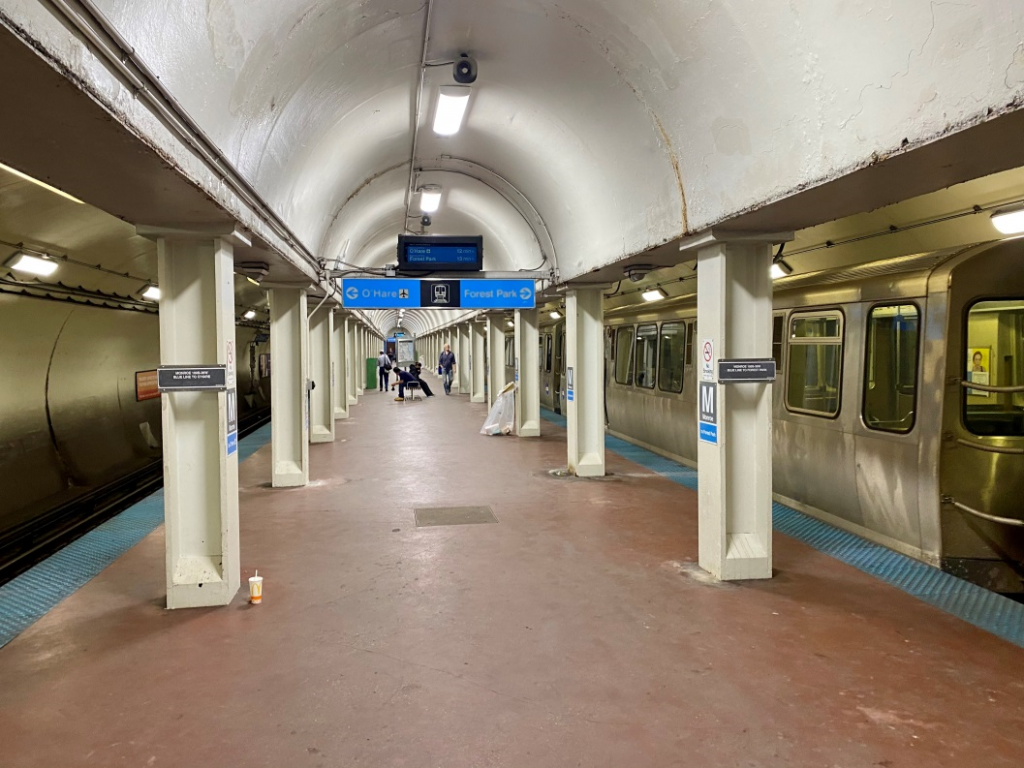 I stayed at the Kimpton Gray on West Monroe. The staff, all wearing masks, were extremely friendly. Refreshments normally available in your room were now at the front deck … for cheap. Their rooftop bar opened the night I arrived.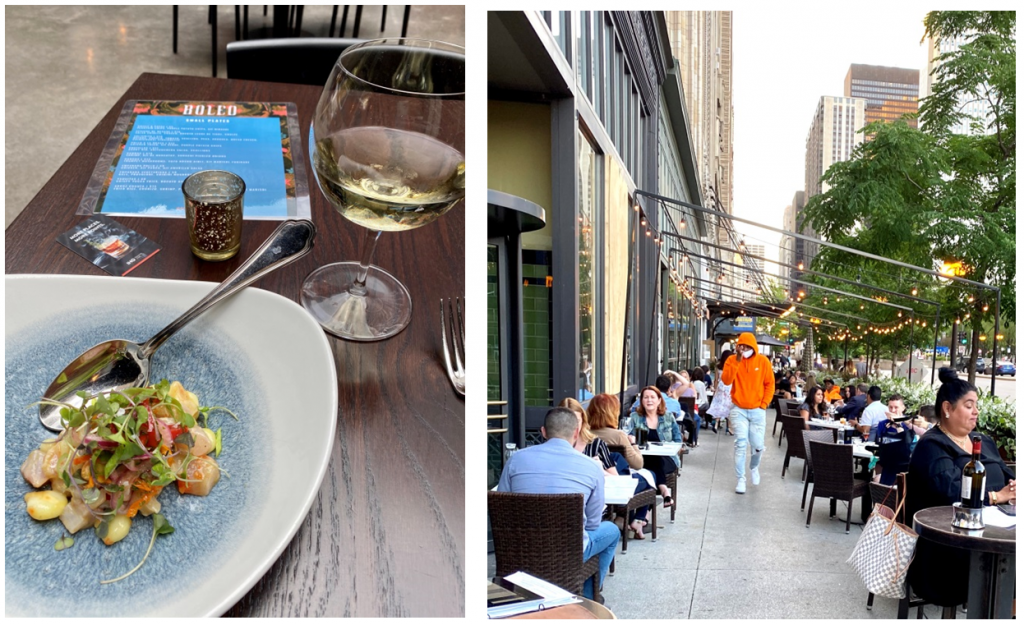 The city had just experienced "Black Lives Matter" protest marches where some vandalism occurred, and unfortunately, several stores and businesses remained boarded up. A favorite bread and cheese shop, called Pastoral, on Walker was out of business: "Thank you for 15 delicious years." But Millennial Park was busy, with entry and exit restrictions, and Giordano's was open for take-out and delivery. Still, the normally vibrant city was just a shadow of its normal self.
My last night, I enjoyed dinner with colleague Sam Lee. It was Thursday night and we had a hard time getting a reservation, except before 5 or after 8. We chose The Gage, after 8. All outdoor tables were filled and a line formed at the entrance. A perfect meal. For a couple of delightful hours outside on Michigan Avenue, the world seemed normal again.
Sam's advisory business SVRN Asset Management continues to grow. He shared that March was indeed scary because it had "all the volatility of GFC compressed into two weeks." With Fed intervention, he believes the liquidity crisis is no longer pressing. And, like Wes, he was hopeful about technology. He mentioned Elon Musk's Space X effort in particular: "They seem to have accelerated innovation by an order of magnitude."  
I used Uber for the first time in months to ride to O'Hare. Scheduled a 5:30 am pick-up. The driver was there on time. The American Flight 1163 to LAX was actually more crowded than outbound. No in-flight food service. Just a bag with bottled water and chips handed to you at the door.
The flight arrived LAX ahead of schedule, allowing me to beat the traffic out of LA for the perfect drive up the 101, through Ventura, Santa Barbara, Lompoc, and San Luis Obispo. I noticed the hills burned last year from fires were all green. And, construction continues in Camarillo. I arrived home just in time for the first hair cut I've had in months.
On September 11, 2002, I was flying from LAX to Toronto (YYZ). LAX was empty. The only other person on my flight was the air marshal. The next day I was to present a paper at the World Aviation Conference.
A lot changed after 9/11, particularly for air travel. But, we learned to adapt and the skies became safer and busier than ever.