By David Snowball
On May 1, 2020, Driehaus Capital Management launched Driehaus Small/Mid Cap Growth Fund (DSMDX).
The Fund is managed by Jeff James and Michael Buck, along with assistant portfolio manager Prakash Vijayan. The fund uses the same strategy used since 2012 for Driehaus Small/Mid Cap Growth separately managed account clients. Messrs. James, Buck, and Vijayan also manage the Driehaus Micro Cap Growth (DMCRX, four stars at Morningstar) and Driehaus Small Cap Growth (DVSMX, not yet rated) funds.
The managers pursue the same characteristics regardless of the market cap targeted by the fund. Mr. James says,
Across our growth equity strategies, we have successfully identified and invested in companies experiencing positive fundamental change in addition to exposure to positive growth inflections, earnings surprises and earnings revisions, factors that are positively correlated to alpha generation.
Every Driehaus equity strategy has outperformed its peers, often dramatically, since inception though that outperformance comes at the price of higher volatility. The Small/Mid Cap Growth strategy which has been available through separately managed accounts since 2012 has returned 16.19% annually since inception, beating its benchmark by 367 bps. The strategy has outperformed over the first five months of 2020 (with a 7.8% gain against its benchmark's 1.6% loss – a 940 bps difference), the past year, three years and five years.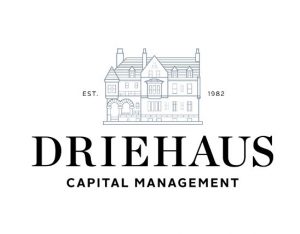 The managers are experienced, both with the strategy and with each other. Driehaus does a good job of aligning the managers' interests with their investors: bonuses are directly linked to one-, three-, and five-year performance relative to benchmarks and peer group rankings (for equity managers), and volatility targets (for credit managers). And Driehaus has been willing to close strategies in the past, the micro-cap growth fund in particular, in order to preserve performance.
By adding mid-cap exposure, the fund is apt to be a slightly-less volatile version of its small- and micro-cap siblings. Aggressive investors might well find it useful.
The opening expense ratio is 0.95% and the minimum initial investment is $10,000. Driehaus funds are available through major brokerages including TD Ameritrade, Fidelity and Schwab.
The fund's homepage is, understandably, just one page of quickly sketched information.  Fortunately, the strategy has a far longer track record than the fund, which is summarized on its fact sheet. The Driehaus Funds site itself is only modestly informative.