By Charles Boccadoro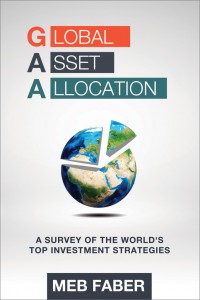 Originally published in March 1, 2015 Commentary
Official publication date is tomorrow, March 2.
Like his last two books, Shareholder Yield and Global Value, reviewed in last year's May commentary, his new book "Global Asset Allocation: A Survey of the World's Top Asset Allocation Strategies" is a self-published ebook available on Amazon for just $2.99.
On his blog, Mr. Faber states "my goal was to keep it short enough to read in one sitting, evidence-based with a basic summary that is practical and easily implementable."
That description is true of all Meb's books, including his first published by Wiley in 2009, The Ivy Portfolio. To celebrate he's making downloads of Shareholder Yield and Global Value available for free.
We will review his new book next time we check-in on Cambria's ETF performance.
Here appears to be its Table of Contents:
INTRODUCTION
CHAPTER 1 – A History of Stocks, Bonds, and Bills
CHAPTER 2 – The Benchmark Portfolio: 60/40
CHAPTER 3 – Asset Class Building Blocks
CHAPTER 4 – The Risk Parity and All Seasons Portfolios
CHAPTER 5 – The Permanent Portfolio
CHAPTER 6 – The Global Market Portfolio
CHAPTER 7 – The Rob Arnott Portfolio
CHAPTER 8 – The Marc Faber Portfolio
CHAPTER 9 – The Endowment Portfolio: Swensen, El-Erian, and Ivy
CHAPTER 10 – The Warren Buffett Portfolio
CHAPTER 11 – Comparison of the Strategies
CHAPTER 12 – Implementation (ETFs, Fees, Taxes, Advisors)
CHAPTER 13 – Summary
APPENDIX A – FAQs