Howdy, Stranger!
It looks like you're new here. If you want to get involved, click one of these buttons!
Categories
Here's a statement of the obvious: The opinions expressed here are those of the participants, not those of the Mutual Fund Observer. We cannot vouch for the accuracy or appropriateness of any of it, though we do encourage civility and good humor.
Support MFO

Donate through PayPal
Anyone using etfrc.com? Compares ETFs for overlapping holdings
I found it because I was looking for a tool to compare the overlapping holdings of funds. And they do have a free tool that allows you to do that:
https://www.etfrc.com/funds/overlap.php
Sure would be cool if that overlap feature could be added to observer premium. Anybody know of a free one for mutual funds?
Second question concerns their
ALTAR Score™
.
For equities, we calculate the ALTAR Score™ using the formula on the right—itself a derivation of the old Dividend Discount Model—where:

Avg. ROE is the average return on equity of firms in the fund for the five (5) years up to and including the current forecast year
P/BV is the forward price-to-book value based on current market prices
fees is the annual expense ratio of the ETF

The relationship between Return on Equity and Price-to-Book Value multiples is well established in the academic literature. This formula is designed to forecast the likely internal rate of return to business owners. It is important to note that it is not a target price, and there are no timing or momentum components to it.
Here is the graphic they mention . . .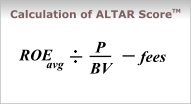 This well out of my wheel house, so I am interested to hear what others think of the ALTAR scoring.