By Edward A. Studzinski
I go out of the darkness

Onto a road of darkness

Lit only by the far off

Moon on the edge of the mountains.

Izumi
One of the benefits of having had multiple careers and a plethora of interests is that friends and associates always stand ready with suggestions for you to occupy your time. In January of 2012, a former colleague and good friend from my days with the Navy's long-range strategic planning group suggested that I might find it interesting to attend the Second China Defense and Security Conference at the Jamestown Foundation. That is how I found myself seated in a conference room in February with roughly a hundred other people. My fellow attendees were primarily from the various alphabet soup governmental agencies and mid-level military officers. 
The morning's presentations might best be summed up as grudging praise about the transformation of the Chinese military, especially their navy, from a regional force to one increasingly able to project power throughout Asia and beyond to carry out China's national interests. When I finally could not stand it any longer, after a presentation during Q&A, I stuck my hand up and asked why there was absolutely no mention of the 600 pound gorilla in the corner of the room, namely Japan and the Japanese Maritime Self-Defense Force. The JMSDF was and is either the second or third largest navy in the world. It is considered by many professional observers to be extraordinarily capable. The silence that greeted my question was akin to what one would observe if I had brought in a dog that had peed on the floor. The moderator muttered a few comments about the JMSDF having fine capabilities. We then went on with no mention of Japan again. At that point I realized I had just learned the most important thing that I was going to take from the conference, that Japan (and its military) had become the invisible country of Asia. 
The New Year is when as an investor you reflect back on successes and mistakes. And if one is especially introspective, one can ponder why. For most of 2013, I was banging the drum on two investment themes that made sense to me:  (a) the Japanese equity market and (b) the Japanese currency – the yen – hedged back into U.S. dollars. The broad Japanese market touched highs this month not seen before this century. The dollar – yen exchange rate moved from 89.5 at the beginning of the year to 105.5. In tandem, the themes have proven to be quite profitable. Had an investment been made solely in the Wisdom Tree: Japan Hedged Equity ETF, a total return of 41.8% would have been achieved by the U.S. dollar investor. So, is this another false start for both the Japanese stock market and economy? Or is Japan on the cusp of an economic and political transformation?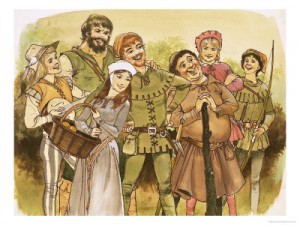 When I mention to institutional investors that I think the change in Japan is real, the most common response I get is a concern about "Abenomics." This is usually expressed as "They are printing an awful lot of money."  Give me a break.  Ben Bernanke and his little band of merry Fed governors have effectively been printing money with their various QE efforts. Who thinks that money will be repaid or the devaluation of the U.S. dollar will be reversed?  The same can be said of the EU central bankers.  If anything, the U.S. has been pursuing a policy of beggar thy creditor, since much of our debt is owed to others.  At least in Japan, they owe the money to themselves. They have also gone through years of deflation without the social order and fabric of society breaking down. One wonders how the U.S. would fare in a similar long-term deflationary environment. 
I think the more important distinction is to emphasize what "Abenomics" is not.  It is not a one-off program of purchasing government bonds with a view towards going from a multi-year deflationary spiral to generating a few points of inflation.  It is a comprehensive program aimed at reversing Japan's economic, political, and strategic slide of the past twenty years. Subsumed under the rubric of "Abenomics" are efforts to increase and widen the acceptance of child care facilities to enable more of Japan's female talent pool to actively participate in the workforce, a shift in policy for the investments permitted in pension funds to dramatically increase domestic equity exposure, and incentives to transform the Japanese universities into research and resource engines. Similarly, the Japanese economy is beginning to open from a closed economy to one of free trade, especially in agriculture, as Japan has joined the Trans Pacific Partnership. Finally, public opinion has shifted dramatically to a willingness to contemplate revision of Japan's American-drafted post-war Constitution. This would permit a standing military and a more active military posture. It would normalize Japan as a global nation, and restore a balance of interests and power in East Asia. The ultimate goal then is to restore the self-confidence of the Japanese nation.  So, what awakened Japan and the Japanese?
Strangely enough, the Chinese did it. I have been in Japan four times in the last twenty-two months, which does not make me an expert on anything. But it has allowed me to discern a shift in the mood of the country. Long-time Japan hands had told me that when public opinion in Japan shifts, it shifts all at once and moves together in the same direction. Several months ago, I asked a friend and investment manager who is a long-time resident of Tokyo what had caused that shift in opinion. His response was that most individuals, he as well, traced it to the arrest and detention by the Japanese Coast Guard, of a Chinese fishing vessel and its captain who had strayed into Japanese waters. China responded aggressively, embargoing rare earth materials that the Japanese electronics and automobile industries needed, and made other public bellicose noises. Riots and torching of Japanese plants in China followed, with what seemed to be the tacit approval of the Chinese government. Japan released the ship and its captain, and in Asian parlance, lost face. As my friend explained it, the Japanese public came to the conclusion that the Chinese government was composed of bad people whose behavior was unacceptable. Concurrently, Japan Inc. began to relocate its overseas investment away from China and into countries such as Vietnam, Indonesia, Thailand, and Singapore.
From an investment point of view, what does it all mean? First, one should not look at Prime Minister Abe, Act II (remember that he was briefly in office for 12 months in 2006-2007) in a vacuum. Like Reagan and Churchill, he used his time in the "wilderness years" to rethink what he wanted to achieve for Japan and how he would set about doing it. Second, one of the things one learns about Japan and the Japanese is that they believe in their country and generally trust their government, and are prepared to invest in Japan. This is in stark contrast to China, where if the rumors of capital flows are to be believed, vast sums of money are flowing out of the country through Hong Kong and Singapore. So, after the above events involving China, Abe's timing in return to office was timely. 
While Japanese equities have surged this year, that surge has been primarily in the large cap liquid issues that are easily studied and invested in by global firms. Most U.S. firms follow the fly-by approach. Go to Tokyo for a week of company meetings, and invest accordingly. Few firms make the commitment of having resources on the ground. That is why if you look at most U.S.-based Japan specialist mutual funds, they all own pretty much the same large cap liquid names, with only the percentages and sector weightings varying. There are tiers of small and mid-cap companies that are under-researched and under-invested in.  If this is the beginning of a secular bull market, as we saw start in the U.S. in 1982, Japan will just be at the beginnings of eliminating the value gap between intrinsic value and the market price of securities, especially in the more inefficiently-traded and under-researched companies. 
So, as Lenin once famously asked, "What is to be done?"  For most individuals, individual stock investments are out of the question, given the currency, custody, language, trading, and tax issues. For exposure to the asset class, there is a lot to be said for a passive approach through an index fund or exchange-traded fund, of which there are a number with relatively low expense ratios. Finally, there are the fifteen or so Japan-only mutual funds. I am only aware of three that are small-cap vehicles – DFA, Fidelity, and Hennessy. There are also two actively-managed closed end funds. I will look to others to put together performance numbers and information that will allow you to research the area and draw your own conclusions.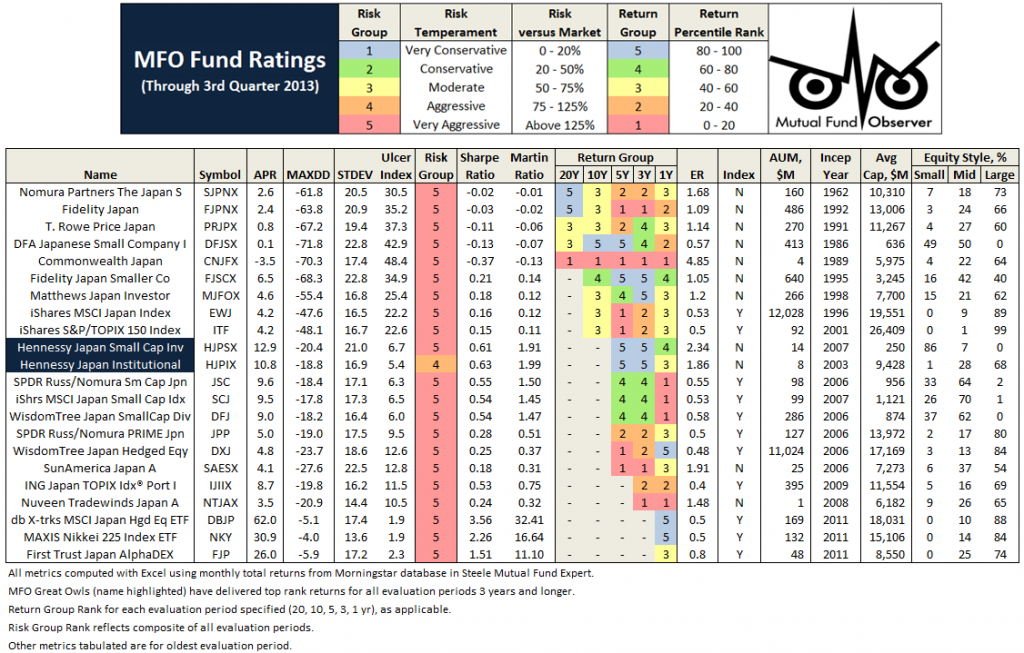 Finally, it should be obvious that Japan does not lend itself to simple explanations. As Americans, we are often in a time-warp, thinking that with the atomic bombs, American Occupation and force-fed Constitution, we successfully transformed Japan into a pacifist democratically-styled Asian theme park.  My conclusion is rather that what you see in Japan is not reality (whatever that is) but what they are comfortable with you seeing. I think for instance of the cultural differences with China in a business sense.  With the Chinese businessman, a signed contract is in effect the beginning of the negotiation.  For the Japanese businessman, a signed contract is a commitment to be honored to the letter.
I will leave you with one thing to ponder shared with me by a Japanese friend. She told me that the samurai have been gone for a long time in Japan. But, everyone in Japan still knows who the samurai families are and everyone knows who is of those families and who is not. And she said, everyone from those families still tends to marry into other samurai families.  So I thought, perhaps they are not gone after all.