By Mark Wilson
by Mark Wilson, APA, CFP®, publisher of Cap Gains Valet
It's that exciting time of year again – mutual fund companies are letting us know how much of a tax headache they will be giving us!  Or, others call this mutual fund capital gains distribution season.
The question of the day is:  Are funds are going to have large capital gain distributions this year? 
On my website, CapGainsValet.com, I have kept count of funds that expect large distributions.  I've defined "large" to be funds with distributions higher than 10% of their net asset value.  The average number of "headache" funds has been 340 per year, but you can see the variance in the annual numbers below. 
I'm guessing 2018's number is going to be higher for three primary reasons:
There are gains on the books – We've had a decade of solid returns from the stock markets, so funds have lots of gains to be realized and few losses available to offset these gains.
Funds are seeing outflows – We continue to see flows out of mutual funds and into ETFs; these trades create additional realized gains for mutual fund shareholders.
Early numbers are in – About 25% of fund firms have already provided their distribution estimates, and these numbers are ahead of last year.  (Admittedly, this is a little like predicting the winner of a running race after the first lap.)  I've already found nearly 250 funds with large distributions.  (For my list of very large distributions, have a look at this year's Doghouse List.)
The questions nobody is asking: How many funds are going to have large capital gain distributions this year? 
I'll play TV pundit and predict that this year is going to be a year with plenty of headaches and some migraine-producers as well.  In fact, I'm going to predict that we'll see 478 funds with capital gains distributions higher than 10%.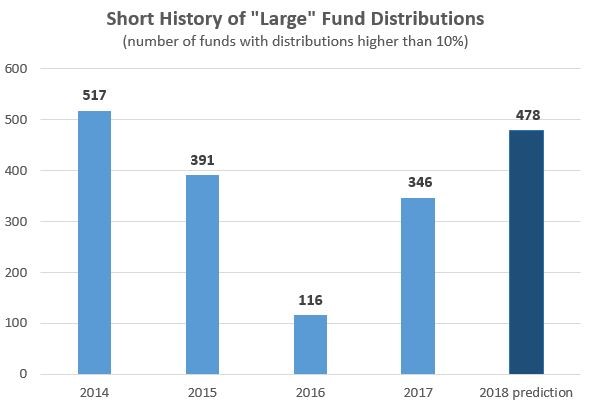 Of course, (also like the pundits) I'll have any number of reasons to explain why my prediction is off when all is said and done. 
Either way, I think it makes sense to be watching your funds for large distributions.  This way you'll use less aspirin and save some tax dollars.