By David Snowball
Dear friends,
HESCO barriers are really impressive.  They were conceived by James "Jimi" Heselden, a British entrepreneur and former coal miner. They are, at base, portable protective barriers; a box of heavy steel mesh that gets lined with a heavy plastic tarp and filled with sand. Start to finish, two guys and a front-loader can get one of these things built, positioned and filled in 20 minutes. The alternative, about 1500 sandbags, would take 10 guys far longer.  They're strong enough that the military uses them as blast-proof fortifications and governments worldwide use them as protection against hurricanes. They can be strung together to form a continuous barrier a mile long.
They're really impressive.
But the Mississippi, running at flood crest, is more impressive. My adopted hometown, Davenport, lies on the Mississippi River and has developed a two-zone strategy for dealing with flooding. The first zone, along the river, is designed to be flooded: trails, parkland, bandshells all disappear beneath the river, reappear, get hosed off and are as good as new. A few high-value structures on the river – our water treatment plant and baseball stadium, for example – have their own floodwalls and mostly live as islands in the river for a while.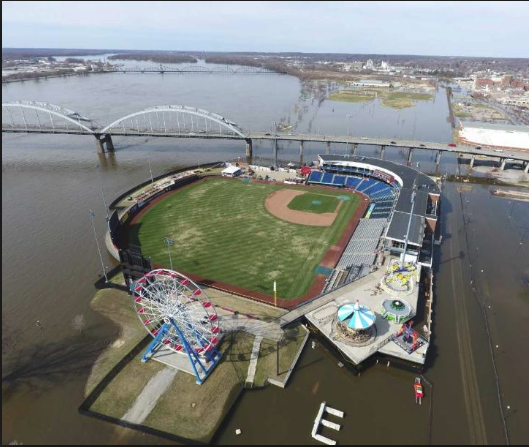 The second zone, just beyond River Drive, is designed to be kept safe behind long stretches of Hesco Barriers. The river had other plans. After 38 straight days at "major flood" level, first one, and then another, of the Hesco's fail. The moment one failed, its neighbor was under double stress and it failed, too. The river, at bay for more than a month, consumed the blocks above River Drive in five minutes.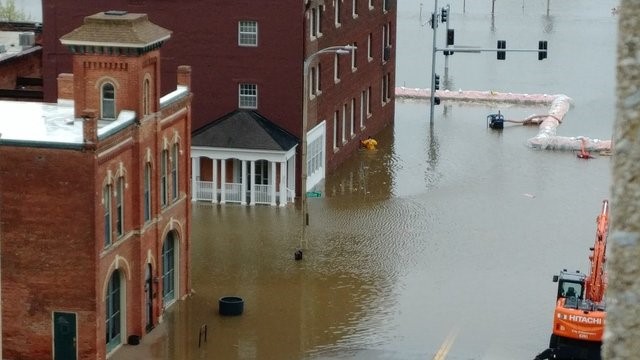 People flooded the area almost as quickly as water did: emergency workers, city officials, neighbors, concerned citizens, news crews and, of course, drone operators. The Marriott shared rooms with the displaced, the Salvation Army began collecting clothes and personal items for them, and we did what people do. We tried, mostly without attention, to make a difference.
On days when the headlines are particularly dispiriting, it might be good to remember the image of Iowans rushing toward the disaster, intent on helping. And better still to remember the Texans and the New Yorkers, the Floridians and the Bay Staters, the Pittsburghers and Californians, who all … in face of the forces of man and nature and in defiance of cynical stereotypes … did exactly the same.
It is important, if not good, to remember the other lesson of the flood: the effects of climate disruption are immediate. One inadvertent effect of the way scientists discuss global warming is that they make it seem distant: "three degrees Celsius by 2100 which will mean …" To those of us unlikely to be around in 2100 (though if I have a 134th birthday bash, you're all invited), that seems safely distant. The reality of, for example, annual 100-year floods, reminds us that we, and our portfolios, will bear the cost long before then.
There is, admittedly, a boomerang effect, too; for the most skeptical, additional evidence of change leads to more fervent insistence on the opposite. And still, the floods come more and more.
Party like its 1999
A catchy Prince song, despite the odd closing line: "Mommy, why does everybody have a bomb?"
A number of pretty thoughtful people – that is, professionals rather than the masters of click-bait – have been worried that our current exuberance (had you noticed that the Total Stock Market Index has risen 18.5% in the first four months of the year? I hadn't) offers some worrisome parallels to the last days of the Great Bull of the 1990s.
Doug Ramsey, the Chief Investment Officer of The Leuthold Group and one of their portfolio managers, is among them. Leuthold is a rigorously quantitative bunch, not given to investing with their guts. In April, Doug wrote:
As the market rebound has extended, we've noted its striking similarities with the rally of 1999—one that might have been the most speculative in U.S. history.

The market is up almost every day, and one can almost bank on a ramp higher during the last 15 minutes. "Corrections" are now events that last hours, not days or weeks.

Growth is beating Value; the Russell 1000 and Russell 2000 Growth indexes are both about five percentage points above their Value counterparts just three months into the year. More telling—and identical to 1999—is that investors can't seem to envision an environment in which Value managers could ever win. In 1999, the distinction was between New Economy and Old Economy stocks. Today, it's between companies not tethered to the sluggish economic growth rate (Growth, and Tech in particular) and those that are (Value).

U.S. stocks have outperformed foreign stocks off the December market lows. Some of the gap reflects the strong U.S. dollar—another salient feature of the 1999 melt-up. What's more—and also identical to 1999—is that investors can't seem to imagine a scenario in which foreign stocks could ever return to the fore. Demographics here are better than in most of the rest of the world, the U.S. remains the preeminent global innovator, and so forth.

A really bold bull might contend this environment is better than 1999 because the underlying sentiment is more sober. Sentiment is more restrained, but attitudes and actions aren't the same thing. In the late 1990s, investors chased Growth stocks in spite of the healthy yields offered by cash and bonds. In this cycle, an absence of yield forced them into Growth stocks.

In the late 1990s, it was the carrot. In this cycle, it's been the stick. Different paths, but each has led to similarly precarious portfolio bets. Is it reasonable to expect a different outcome?
Good question.
MFO will continue, as we do this month, to profile managers who take risk seriously and who have a record for managing turbulent times. If you've got folks you think we should be looking at, feel free to drop me a note.
Farewell to Money
The magazine, not the bits of paper.
Meredith Corporation, the Des Moines-based media company that owns a huge number of familiar magazine titles (Time, Sports Illustrated, Magnolia Journal, Parents, Food & Wine …) has announced that it will stop publishing the print edition of Money magazine after the June/July issue.
Money joins a host of other magazines, some with truly exceptional content, in the publisher's graveyard: Worth, Smart Money, Family Money, Individual Investor, Dollar Sense, and even Mutual Funds Magazine. While some fine professional publications remain, as do some that focus broader on finance and economics, it appears that Kiplinger's Personal Finance stands alone now as a vehicle for individual personal finance journalism.
Print publications, which depending on your willingness to pay actual money which might cover the cost of hiring trained professionals, have been driven toward extinction by our assumption that we should be getting anything we want, and everything we need, for free. That assumption is fed by the proliferation of apparently free advice on the internet.
Chuck Jaffe took on the illusion that you are getting something for nothing:
The blogosphere has become a hotbed for personal-finance counsel, where much of the content is good or, at worst, mostly harmless.

But as this environment becomes more popular and successful, some of the folks behind the sites are putting their potential to profit ahead of honesty and objectivity.

There are plenty of cases where the people running popular websites are endorsing services they have never tried — or who are featuring specific companies and partners — based entirely on affiliate programs. (Affiliate programs, essentially, are commission-driven incentives where the media company highlights a product or service and gets a kickback when its audience follows through and becomes a real lead or an actual sale.)

The democratization of personal-finance journalism demands that consumers scrutinize news sources — and the motives of those sources — with the same detail they apply to the advice itself. (When Money runs out: Magazine's demise puts consumers on alert, April 27, 2019)
I can attest to two related facts: (1) MFO is approached weekly by people who want to plant content – from "free" articles to paid placements for links – here and (2) we have rejected all of them. MFO is a public service backed by a non-profit corporation; the only compensation we receive comes from contributions from our readers. (A long time ago we participated in the Amazon Associates program, but that had no relation to content and died years ago.) The only group to whom we are beholden is you.
And so, here's my rare reminder: we need you to contribute if you'd like MFO to continue. We have about 25,000 readers and about 250 contributors (some of whom are quite generous and all of whom are deeply appreciated). We dream of the day when a tenth of our readers offer financial support. Our more immediate, more modest goal was to work our way up to 2% of readers.
If you'd like to contribute, there are basically three options:
Make a one-time contribution by check or Paypal. And no, you do not need a Paypal account to make a contribution through them. We use Paypal because they can afford to invest in the layer upon layer of cybersecurity necessary to make such transactions safe.

Check writers can use our Davenport address: MFO, 5456 Marquette St., Davenport, IA 52806. (We are high above the floods, so you needn't worry so much about waterproof ink.)

Become a Sustaining Member by setting up an automatic monthly contribution through PayPal. $50 might feel like a lot, but $10/month might feel safe and manageable. Like an automatic investing plan set up with a mutual fund, an automatic contribution makes life simple and helps us do what we want to do but never get around to. A monthly contribution might be $1 or it might be $50; regardless, it will be welcome and useful. To do that, just click on the same "donate" link, then choose "Make this a monthly donation" and set an amount.

And you still don't need a PayPal account to do it.

Thanks, now as ever, to the Super Six: William, David, Brian, Doug, Deborah, and Greg who've all chosen to become Sustaining Members. We salute you all!

Become an MFO Premium member. For folks contributing $100 or more in a year, we offer – by way of thank you – access to MFO Premium. MFO Premium is the home to all of our fund data and screeners. Virtually any calculation or table you see in any MFO article is derived from the tools at MFO Premium. We launched MFO Premium in 2015 as a way to give investors access to an expanded suite of tools and screeners and also as a tool for supporting MFO's free content. Our fund screener, which also covers ETFs, allows you to access risk and risk/return measures that aren't available anywhere else, to access those measures over meaningful periods (such as Full Market Cycles) and to measure the correlations between your funds over those same sorts of periods. MFO Premium is also distinctive because it's the industry's most responsive site; if you can make a sensible argument for why we need to do something differently, better or new, we'll actually try to do it for you. 
And yes, it's all still (largely) tax deductible.
Much excitement in the weeks ahead. Charles and I will be attending the Morningstar Investment Conference in the second week of May, though I'll only be around on the conference's first day. Chip and I will be heading out to Ireland on June 1st for an 11-day holiday. She's a meticulous (some say obsessive) planner; I suspect she already knows what I'll be having to drink with dinner on 7 June. She solicited recommendations from MFO readers about must-do activities and sights in the west of Ireland and received wonderfully thoughtful, detailed and (occasionally) quirky recommendations that are now built into our itinerary. Thanks for those reflections go to Roger, Ronald, and Larry. We'll share pictures!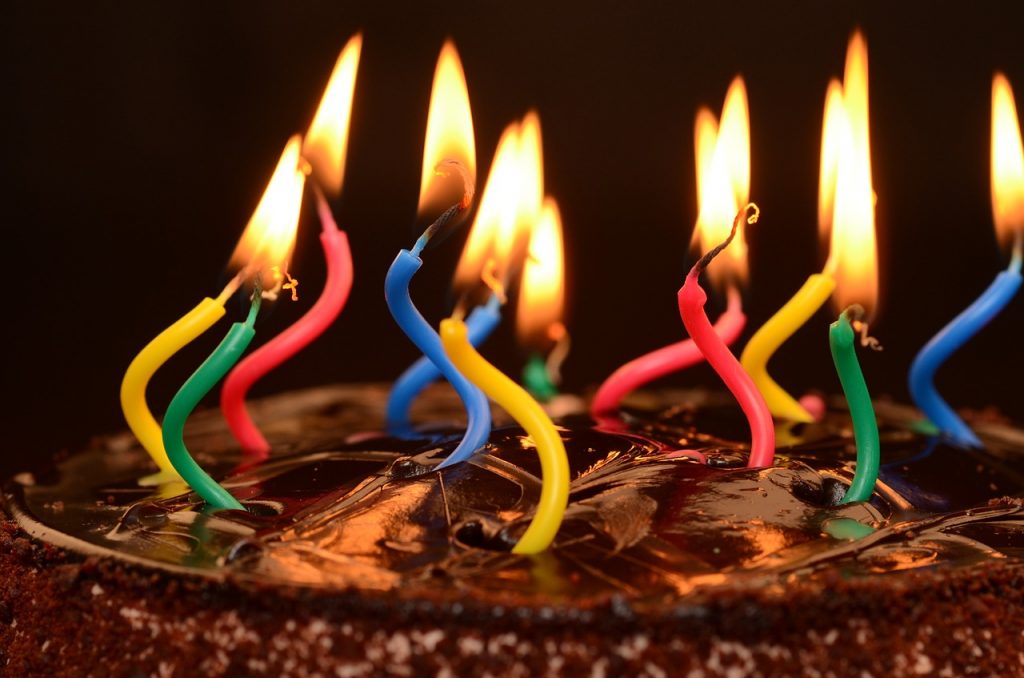 Finally, we celebrate our eighth anniversary with the publication of this issue. The average life of an independent publication (blog, website or otherwise) on the web is rather less than eight weeks; finishing eight years is a remarkable accomplishment, and one that your readership made possible.
And so, thanks!