By David Snowball
Both the stock market's recent volatility and the financial service industry's ongoing revolution (there's blood in the streets!) create and foreclose opportunities. Each month we note, briefly, the recent developments that might change the number and nature of opportunities available to you.
And, in the ongoing spirit of our predecessor FundAlarm, we do occasionally point and snicker at the industry's boneheadedness.
Updates
Fidelity triggered a shockwave in late summer with its decision to launch zero expense ratio funds and to eliminate the minimum initial expense requirements from their funds. We've seen vigorous responses from mega-firms such as Vanguard, which reduced purchase minimums on its ultra-low cost Admiral shares to $3,000, and Schwab, which just eliminated them. Just about everyone continues trimming expenses, in many cases charging just 1-5 basis points for their services.
Fidelity's ZERO funds have seen brisk inflows. Fidelity ZERO Total Market Index Fund (FZROX) has pulled in $1.6 billion while Fidelity ZERO International Index (FZILX) has gathered just under $500 million. Zero expenses notwithstanding, FZROX trails both the average large cap core fund since launch and its closest competitor, Vanguard Total Stock Market Index (VTSMX), since inception. FZILX leads both its peers and its Vanguard counterpart, though modestly.
Briefly Noted . . .
SMALL WINS FOR INVESTORS
This month's theme is, you can profit from the foolishness of others. A bunch of closed, first-rate funds have reopened following short periods of underperformance and investor flight.
Effective December 31, 2018, Class A shares and Class C shares of the AAM/HIMCO Global Enhanced Dividend Fund (HGDAX) will become available for purchase.
Columbia Small Cap Value Fund II (COVAX) will reopen to new investors on January 14, 2019. Morningstar's analysts assign it a Bronze rating, though its performance over the past five years has been no better than "okay."
Effective as of January 1, 2019, Fiduciary Management, the investment adviser to FMI Funds, reduced the investment advisory fee for the FMI Large Cap Fund (FMIHX) and the FMI Common Stock Fund (FMIMX). Both were already quite good.
Invesco Small Cap Value Fund (VSCAX) will open to all investors effective as of the open of business on January 11, 2019. Morningstar's analysts assign it a Bronze rating. Its performance looks weak but that's partly a matter of discipline: it's a more-nearly deep value investor than its peers, and value has been out of favor for a record stretch.
Effective December 17, 2018, Oakmark International Fund (OAKIX) re-opened to all investors. I'd approach thoughtfully, if at all. The reopening was occasioned by massive outflows in 2018 which, themselves, were occasioned by a short stretch of miserable performance. The fund posted top 10% returns in 2016 and 2017 but bottom 1% relative returns in 2018; around June, investors began fleeing. They are fools. That said, this is really a very large fund.
And, arguably, Mr. Herro has a very large ego. His brief profile in the Wikipedia contains the following warning flag from its editors: "This article is an autobiography or has been extensively edited by the subject or by someone connected to the subject." His support of gay marriage is noted in the piece, his ongoing support of climate denial groups is not.
The Oberweis International Opportunities Fund (OBIOX) has resumed sales of its shares and is fully open for investment to both existing shareholders and new investors. That's another case of rotten performance in 2018 trumping the fund's long-term strength and distinction.
Effective January 16, 2019, the minimum initial investment required to invest for 30 Schwab and Laudus funds will be eliminated.
T. Rowe Price has reduced the expense cap on its Target Date funds to 0.15% through at least 2020.
At a meeting held on December 10, 2018, the Board of Directors of TCW Funds approved the reduction of the management fees and/or the contractual expense limitations for nine of their funds. The most marked price cuts are coming for TCW Global Bond (from a capped 1.04% to 0.70%) and TCW International Small Cap Fund (from 1.40% to 1.20%).
Effective January 25, 2019, Virtus Ceredex Small-Cap Value Equity Fund (SASVX) will be available for purchase by new investors. It's a four-star fund with a Bronze rating assigned by Morningstar's machine-learning model.
CLOSINGS (and related inconveniences)
Hmmm … no, none of those. It's all good!
OLD WINE, NEW BOTTLES
Beginning February 28, 2019, Aberdeen Select International Equity (BJBIX) will expand its hedging options, switch management teams and add a new focus to the fund's investment strategy: "the Fund's investment team will focus on securing and analyzing information about the fast changing corporate prospects of companies, concentrating on the most important factors that drive the market price of the investment, which is based on first-hand research and disciplined company evaluation." This is the latest attempt to resuscitate the once-legendary Julius Baer International Equity fund.
Effective December 14, 2018, Alphacore Statistical Arbitrage Fund (STTKX) became AC Market Neutral Fund. It will also stop using a statistical arbitrage strategy (don't know) and will transition to a market neutral one relying on total return swaps (don't know). In just over a year of operation, the managers turned $10,000 into $8,100, so it does seems like a change was in order.

Effective on or about March 1, 2019, the one-star Franklin Balance Sheet Investment Fund (FRBSX) will be renamed Franklin Mutual U.S. Value Fund. It will also formally promise to commit 80% of its assets, rather than "most of its assets," to equities. As a practical matter, the phrase "most of its assets" has consistently translated to 85-90% in equities already.
Effective on or about March 1, 2019, Franklin International Small Cap Growth Fund (FINAX) will be renamed Franklin International Small Cap Fund. Presumably some amendment in its principal strategies might follow.
On or around February 1, 2019 iShares U.S. Preferred Stock ETF (PFF) becomes iShares Preferred and Income Securities ETF. It picks up a new index to track, one which is U.S. dollar-denominated preferred and hybrid securities.
Effective immediately, the name of the LS Theta Fund (LQTVX) is changed to Theta Income Fund, though nothing else changes.
Effective on or about February 28, 2019, MainStay MacKay Government Fund (MASAX) will become the MainStay MacKay Infrastructure Bond Fund.
Effective as of December 31, 2018, Motley Fool Small-Cap Growth ETF became MFAM Small-Cap Growth ETF. ("Foolish mortals, you will soon learn to fear the power of M-Fam!")
At some time in the second quarter of 2019, Palmer Square SSI Alternative Income Fund (PSCAX) will become the American Beacon SSI Alternative Income Fund.
Effective January 4, 2019, Rational Hedged Return Fund (HRSAX) will become the Rational Tactical Return Fund. The fund got a new management team at the start of 2018 and they promptly crushed their peers and the S&P 500. Folks looking for an options-based strategy might want to peer in here.
On January 1, 2019, Salient Tactical Growth Fund (FFTGX) changed its benchmark from the S&P 500 – with which it was not designed to compete – to the HFRX Equity Hedge Index, with which it can compete.
Effective on or about January 22, 2019, State Street Disciplined Emerging Markets Equity Fund (SSEMX) becomes State Street Defensive Emerging Markets Equity Fund. No change in the substance of the fund, from what I can tell. It's a one-star fund whose 2018 performance was top-tier, so maybe better days are ahead.
Pending shareholder approval, the Vontobel funds will become Virtus Vontobel funds in the spring of 2019.
| | |
| --- | --- |
| Current fund | "Surviving Funds" |
| Vontobel Global Emerging Markets Equity Institutional Fund | Virtus Vontobel Emerging Markets Opportunities Fund |
| Vontobel Global Equity Institutional Fund | Virtus Vontobel Global Opportunities Fund |
| Vontobel International Equity Institutional Fund | Virtus Vontobel Foreign Opportunities Fund |
OFF TO THE DUSTBIN OF HISTORY
The Board of Trustees of American Beacon Funds has approved a plan to liquidate and terminate the American Beacon Grosvenor Long/Short Fund (GSVAX) on or about January 29, 2019. It's a pretty solid fund that never gained market traction.
On March 22, 2019, American Century International Discovery Fund (TWEGX) will merge into American Century International Opportunities Fund (AIOIX). TWEGX is much larger and older but its record is weaker. AC has aligned the two management teams so the absorption should be relatively smooth, but it's still a case of burying a bad record.
AMG SouthernSun Global Opportunities Fund (SSOVX), a half million dollar fund, and AMG Renaissance International Equity Fund (RIEIX), a fund with a scant quarter million dollars in the portfolio, were liquidated on December 28, 2018.
AMG Managers Lake Partners LASSO Alternatives Fund (ALSNX) and AMG Managers Guardian Capital Global Dividend Fund (AGCNX) will follow them into the darkness on or about January 25, 2019.
BlackRock Emerging Markets Dividend Fund (BACHX), will be liquidated on or about February 13, 2019.
Invesco Multi-Factor Large Cap ETF (GMFL), Invesco U.S. Large Cap Optimized Volatility ETF (OVLC), Invesco DWA Momentum & Low Volatility Rotation ETF (DWLV), Invesco S&P 500 Value with Momentum ETF (SPVM) and Invesco Wilshire US REIT ETF (WREI) will undergo "termination and winding down" on or about February 27, 2019.
On June 22, 2018, Janus Henderson All Asset Fund (HGAAX) was scheduled for execution on December 31, 2018 "or at such other time as may be authorized by the Trustees." For reasons undisclosed (perhaps the fund's resurgence in late 2018?), there is new liquidation date of March 22, 2019 for the Fund.
The Board of Trustees of Janus Aspen Series has approved a plan to liquidate and terminate Janus Henderson Global Unconstrained Bond Portfolio on or about March 1, 2019. Two notes here: (1) this is a portfolio run by Bill Gross but (2) it is not the mutual fund run by Mr. Gross. The portfolio is a tiny flyspeck on an insurance product. The $1 billion fund (JUCAX), about which we've offered several strong cautions, is performing about the way we'd expect: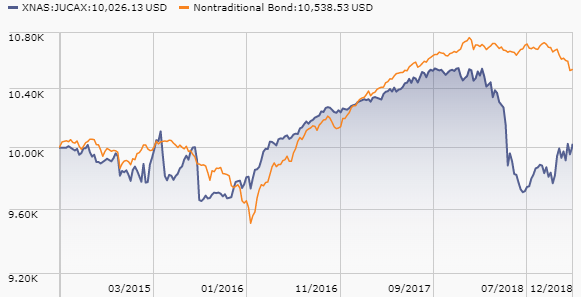 Over four-and-a-half years, Mr. Gross has managed to grow an initial $10,000 to … $10,026. That only modestly trails the gains posted by the change jar on my bedroom dresser.
On December 28, 2019, the Board of Directors of The Lazard Funds had Lazard Emerging Markets Multi-Asset Portfolio (EMMOX) liquidated. It was a tiny EM balanced fund that somehow managed not only to consistently post negative returns, but also to post greater losses than its all-equity peer group.
Laudus Small-Cap MarketMasters Fund (SWOSX) will liquidate on or about February 26, 2019. Hmmm … 10 managers, high expenses, limited assets and a 10-year record that has to look up at 93% of its peers. Apparently mastering the market is trickier than it looked.
Following shareholder approval in February 2019, Lord Abbett Calibrated Large Cap Value Fund (LCVIX) will merge into Lord Abbett Fundamental Equity Fund (LDFVX) and Lord Abbett Calibrated Mid Cap Value Fund (LVMIX) will be absorbed by Lord Abbett Mid Cap Stock Fund (LAVLX).
O'Shares FTSE Asia Pacific Quality Dividend ETF (OASI) and O'Shares FTSE Russell International Quality Dividend ETF (ONTL) both liquidated in late December.
Recurrent Natural Resources Fund (RNRGX) will be liquidated and dissolved on or about January 31, 2019.
The unwinding of the Royce Funds continues. Pending shareholder approval, during the second quarter of 2019:
Royce Small-Cap Leaders and Small/Mid-Cap Premier Funds will be merged into Royce Pennsylvania Mutual Fund.
Royce Micro-Cap Opportunity Fund will be merged into Royce Opportunity Fund.
Royce Low-Priced Stock Fund will be merged into Royce Micro-Cap Fund.
Shelton Greater China Fund (SGCFX) was liquidated, on quite short notice, December 21, 2018.
Steinberg Select Fund (STMAX) "anticipates that it will complete the liquidation on or around the close of business on or about January 31, 2019." Do you suppose that a mutual fund contemplating its own mortality grows queasy at the thought? 
On or about April 5, 2019, Vanguard Morgan Growth Fund (VMRGX) will be "reorganized with and into" Vanguard U.S. Growth Fund (VWUSX).
Effective December 21, 2018, Virtus DFA 2025 Target Date Retirement Income Fund and Virtus DFA 2055 Target Date Retirement Income Fund were liquidated.