By David Snowball
Updates
"At a special meeting held on June 7, 2019, shareholders of Nuveen High Income Bond Fund did not approve the proposed reorganization of the Fund into TIAA-CREF High-Yield Fund that was previously approved by the Board of Directors of the Fund in December 2018 … the Board will review and take such action as it deems to be in the best interests of the Fund, including continuing to operate the Fund as described in the prospectus, liquidating the Fund, or such other options the Board may consider. Fund shareholders will be notified when the Board approves a course of action for the Fund."
Shareholder democracy in action! The shareholders say "no" and the Board says, "we'll see about that."
Centaur Total Return (TILDX), one of our favorite funds when Zeke Ashton (2005-2018) ran it. In November, 2018, it became a new fund after its purchase by DCM Advisors which wanted to transition it from an equity fund with an absolute value (effectively stock plus cash) to a balanced fund (60/40 stocks and bonds). On June 28, 2019, that strategy was revised to focus on high-dividend stocks plus covered calls.
The transition has been … a bit rocky.

Potential investors need to disregard the fund's five-star rating, earned under a different manager and different discipline, and assess whether the new manager, new discipline(s) and new record align with their goals. If so, they should go for it!
Briefly Noted . . .
The Harbor Funds seem intent on making some noise in the international / global arena. In the past four months they:
launched of Harbor Overseas in March
completed the portfolio transition at Harbor International in April
brought in a new team and new strategy at Harbor International Small Cap in May
launched Harbor Focused International in mid-June
reduced the expense ratio for Harbor Global Leaders in late June.
I wrote Harbor representatives in late June to ask if this is all part of some greater strategic plan. I'll let you know what, if anything, I hear. For now, though, I'd urge you to check in on this month's Launch Alert for Harbor International Small Cap. Intriguing asset class + experienced management team.
SMALL WINS FOR INVESTORS
Effective immediately, Class II shares of the JOHCM Global Income Builder Fund (JOIIX) are being publicly offered. Class I and II shares are both marketed through online brokerages; the difference is that Class II has a higher 12(b)1 fee, 25 bps versus 10 bps for Class I. There's no rationale offered in either the announcement or prospectus; my guess is that the higher fee allows for distribution on a wider array of platforms.
We've written a bit about JOHCM Global Income Builder. It's a good fund and continues to outpace its peers.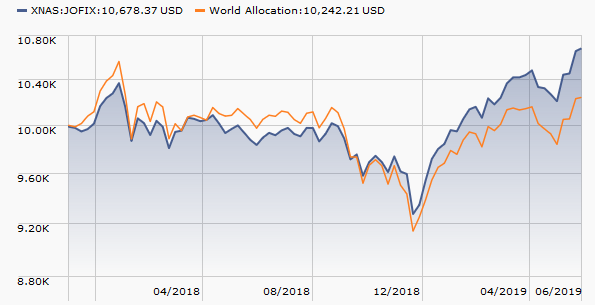 CLOSINGS (and related inconveniences)
The Board of Trustees of The Alger Funds has authorized a partial closing of Alger Small Cap Focus Fund (the "Fund"), effective July 31, 2019.
Bright Rock Mid Cap Growth Fund (BQMIX) and Bright Rock Quality Large Cap Fund (BQLIX) have closed the Investor Class share class. Current Investor Class shares will become Institutional shares. The former Investor class folks will be permitted to hang around with the proviso that any additional purchases they choose to make must be at least $5,000.
Janus Henderson Enterprise Fund, Janus Henderson Triton Fund, and Janus Henderson Venture Fund have all been closed to new investors.
Bad news for the cost conscious: "PIMCO Dynamic Bond Fund's (PUBAX) current contractual advisory fee waiver of 0.01% of the average daily net assets of the Fund, in effect through July 31, 2019, will not be renewed." Perfidy.
OLD WINE, NEW BOTTLES
The Aberdeen China Opportunities Fund changed its name to the Aberdeen China A Share Equity Fund (GOPAX) with a predictable change to its investment strategy.
At the end of July, Bridgeway Blue Chip 35 Index Fund will become Bridgeway Blue Chip Fund (BRLIX). It's a fascinating fund. In the 1990s, Bridgeway's founder John Montgomery – by training, a transportation engineer – did extensive research into the sources of excess return in the stock market. He discovered, at base, that most of the market's alpha was produced by just two groups of stocks: the ultra-small and the ultra-large. He promptly launched the Bridgeway Ultra-Small Company Fund (BRUSX) and the Ultra-Large Company Fund (BRLIX), the latter of which has been renamed a couple times. BRLIX is an exceptionally strong performer. BRUSX crushed for about 20 years but it's sort of sucked pond water over the past five years.
On September 9, 2019, JPMorgan Disciplined High Yield ETF's (JPHY) name will change to the JPMorgan High Yield Research Enhanced ETF. I am gladdened to hear that their research will enhance the product, much as salt enhances the umami sensation in a sauce. (Cooking tip: if you can taste the salt, you've added too much.  Except, I guess, in the case of pretzels.)
Virtus WCM International Equity Fund's name has changed to Virtus SGA International Growth Fund (SCIIX) subsequent to the appointment of Sustainable Growth Advisers, LP, as the fund's sub-advisor.
OFF TO THE DUSTBIN OF HISTORY
The Board of Directors has approved a plan of liquidation for the AC Alternatives Emerging Opportunities Total Return Fund (AEOVX). Under the plan, the liquidation date of the fund will be August 23, 2019. Sort of an EM bond fund that invested in things like:

Why couldn't investors see the value in that?
BNP Paribas has arranged a wholesale execution. BNP Paribas AM Emerging Markets Total Return Fixed Income Fund, BNP Paribas AM U.S. Small Cap Equity Fund, BNP Paribas AM Emerging Markets Equity Fund, BNP Paribas AM Absolute Return Fixed Income Fund, BNP Paribas AM Global Inflation-Linked Bond Fund, BNP Paribas AM MBS Fund and BNP Paribas AM U.S. Inflation-Linked Bond Fund are expected to cease operations and liquidate on or prior to July 10, 2019 .
Brandes Value NextShares (BVNSC) liquidated on June 28, 2019.
I love it when boards and advisors are honest with people: "The Board of Trustees has approved a Plan of Liquidation for B. Riley Diversified Equity Fund (BRDRX) … due to underperformance of the Fund resulting in diminished assets." Well, yes. The fund liquidated on June 28, about two weeks after deciding that it was time.
The Chou Opportunity Fund (CHOEX) and the Chou Income Fund (CHOIX) will be pretty much liquidated on July 31, 2019. "Pretty much" in the sense that the funds each hold "1.75 Term Lien Loans of Exco Resources, Inc.," the now-illiquid securities of an insolvent company.
The filing speaks for itself: "On June 20, 2019, shareholders of CRM Large Cap Opportunity Fund approved the reorganization of CRM Large Cap Opportunity Fund with and into CRM All Cap Value Fund. The reorganization was completed as of the close of business on June 21, 2019 and CRM Large Cap Opportunity Fund was dissolved." Uhh … 24 hours between trial and execution?
The Board of Trustees of Legg Mason Partners Equity Trust on behalf of EnTrust Global – Alternative Core Fund (LPTAX) has approved a proposal to terminate and liquidate the fund. The fund is expected to cease operations on or about September 6, 2019. The fund has seen rather a lot of change, in both strategy and management. It was probably time to press the "reset" button.
On June 25, 2019, First Trust AQA Equity Fund (AQAAX) was terminated and liquidated.
The FundX Tactical Upgrader Fund (TACTX) will merge into the FundX Conservative Upgrader Fund (RELAX) on July 26, 2019. The FundX line is an attempt to translate the brilliant if hypothetical performance of newsletter portfolios into actual funds. Our colleague, Charles Boccadoro, warned in 2013 of the difficulty of pulling that off in his profile of the FundX Upgrader (FUNDX) flagship: "It is maddeningly hard, as Value Line and FundX have certainly discovered, to translate portfolios which look brilliant in newsletter systems into actual mutual funds with distinguished records. The psychological quirks which affect all investors, high operating expenses, and the pressure to gain and retain substantial AUM all erode even the best-designed system."
Both TACTX and RELAX have strong risk-adjusted returns paired with regrettably high expenses and really cool ticker symbols. That said, Vanguard Wellesley Income (VWINX) would get you to virtually the same spot with a bit less volatility at one-seventh the cost.
"Due to the Fund's assets remaining quite small and the expectation that the assets of the Fund will not grow," Global X JPMorgan Efficiente Index ETF (EFFE) and Global X JPMorgan U.S. Sector Rotator Index ETF (SCTO) will liquidate and terminate on July 5, 2019.
Goldman Sachs Tactical Exposure Fund was liquidated on June 28, 2019.
Harvest Edge Absolute Fund, Harvest Edge Equity Fund and Harvest Edge Bond Fund, all parts of the Harvest Volatility Edge Trust, will liquidate on August 27, 2019.
iShares 10+ Year Investment Grade Corporate Bond ETF (LLQD), iShares 5-10 Year Investment Grade Corporate Bond ETF (MLQD), iShares Adaptive Currency Hedged MSCI Eurozone ETF (DEZU) and iShares Adaptive Currency Hedged MSCI Japan ETF (DEWJ) will be liquidated on August 20, 2019.
The Leuthold Global Industries Fund (LGINX) will be liquidated on July 29, 2019. I'm saddened but not surprised. Leuthold excels at the macro-level and I like their allocation funds – Leuthold Core and Leuthold Global Core – a lot. Their individual equity funds, such as the late Undervalued and Unloved Fund (UGLYX) have not been nearly so compelling.
Merk Absolute Return Currency Fund (MABFX) is becoming a money market fund on its way to liquidation, slated to occur on July 31, 2019.
O'Shaughnessy All Cap Core Fund (OFAIX) and the O'Shaughnessy Enhanced Dividend Fund (OFDIX) will be reorganized into the O'Shaughnessy Market Leaders Value Fund (OFVIX) on July 22, 2019. Good move: OFVIX has more stars (4) than the other two combined (3), as well as 15 times the assets.
Palmer Square Strategic Credit Fund(PSQAX) will be liquidated on or about July 22, 2019.
Principal International Multi-Factor Index ETF (PXUS) liquidated on June 25, 2019.
Rice Hall James SMID Cap Portfolio (RHJVX) has closed to new investors and will be liquidated on July 30, 2019. $3 million in AUM, bottom 2% in peer performance … yep.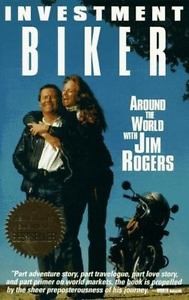 The Rogers AI Global Macro ETF (BIKR) has been closed and will be liquidated on July 17, 2019. Why BIKR? Because "BIKR combines the investment expertise of Jim Rogers with artificial intelligence" and Jim Rogers is, famously, The Investment Biker. The plan was to use Mr. Roger's vast intellect to rotate among dozens of single country ETFs. The reality is that the ETF drew negligible interest (under $4 million AUM and its average daily trading volume was 238 shares) and produced negligible returns (1.28% TTM, through June 30, 2019).
Back on the bike, Jimmy.
Sims Total Return Fund (SIMFX) liquidated on June 26, 2019.
The $90 million WV Concentrated Equities Fund (WVCAX) has closed and will be liquidated on or about July 15, 2019.