By David Snowball
Updates
GMO is now urging you to get comfortable with being uncomfortable. In a new GMO Insights piece titled "Emerging Market Stocks: Getting Comfortable with the Uncomfortable," they look at how lackluster emerging market equity returns in recent years have led many to write off the asset class. They note that" value stocks within emerging markets are particularly cheap, trading at their largest discount since December 2001." Profitably remains solid about EM corporations, despite the obvious headwinds.
Effective October 11, 2019, Inbok Song ceased to be a portfolio manager for Seafarer Overseas Growth and Income (SFGIX). Seafarer reoriented its portfolio last year to include an explicit commitment to pure value and growth stocks, as with as the steady stocks that had traditionally been the portfolio's core. Ms. Song was responsible for the growth sleeve of the portfolio. For the nonce her responsibilities will be covered by other established members of the Seafarer team, with the prospect will seek out, vet and acculturate a new growth-oriented colleague in the next year or so. William Samuel Rocco, a long-tenured Morningstar analyst, concludes, "Seafarer Overseas Growth and Income's management team remains solid after the departure." We concur.
Briefly Noted . . .
RiverPark Funds is getting into the podcasting business. Mitch Rubin writes, "We just released our first podcast, discussing our Large Growth and Long/Short strategies entitled 'May You Live in Interesting Times.' The podcast is under 10 minutes long and features our CEO Morty Schaja and me discussing the topics we reviewed in our recent third quarter investor letters. "
As part of ongoing planning, James and Vanita Oelschlager, the founders and owners of Oak Associates – advisor to the seven Oak Funds (e.g. White Oak Growth WOGSX) – have agreed to sell "substantially all" of their stake in the company to an employee group. The management teams and fees will remain the same, with Mr. Oelschlager and Robert Stimpson continuing as co-CIOs. It looks like there's a shareholder vote in December on the proposal.
SMALL WINS FOR INVESTORS
Alta Quality Growth Fund (AQLGX) has reduced its minimum initial investment from $10,000 to $2,500. Tiny fund, year-old, good start so far.
On October 1, Boston Partners reduced their advisory fee on both Boston Partners Emerging Markets Long/Short (BELSX) to 1.5% from 1.85% and Small Cap Value II (BPSCX) to 0.95% from 1.0%.
Effective November 1, CrossingBridge Low Duration High Yield Fund (CBLDX) will lower its operating expense limit by 10 bps, from 0.9% to 0.8%.
INVESCO European Small Company Fund (ESMAX) has reopened to new investors after being closed for about four years.
Effective October 31, 2019 Litman Gregory Masters Alternative Strategies Fund (MASFX) lowered its operating expense ratio to 1.36% from 1.54%.
Effective November 1, 2019, Otter Creek Advisors, lowered its management fee on Otter Creek Long/Short (OTCRX) from 1.50% to 1.35%.
On November 4, Vanguard Alternative Strategies Fund (VASFX) will slash its minimum initial investment by 80% (from $250,000 to $50,000). Quick note for those of you with $50,000 to spend: not compelling.
CLOSINGS (and related inconveniences)
Wells Fargo Special Small Cap Value Fund (ESPAX) has closed to most new investors. It's a five-star small cap fund with $3.4 billion in assets.
OLD WINE, NEW BOTTLES
Sometime in December, American Energy Independence ETF (USAI) becomes Pacer American Energy Independence ETF with the same expenses but new managers.
Effective October 11, 2019, Balter European L/S Small Cap Fund (BESRX) was renamed F/m Investments European L/S Small Cap Fund.
Cannabis Growth Fund (CANNX) is doing away with its institutional share class. The current institutional shares will be converted into investor class shares on November 14, 2019. As part of that conversion, the expense ratio on the investor shares will be reduced to the level now assessed on institutional shareholders: 1.10%. Not to offer any commentary on the change, but the fund has $1.8 million and its performance since inception looks like this: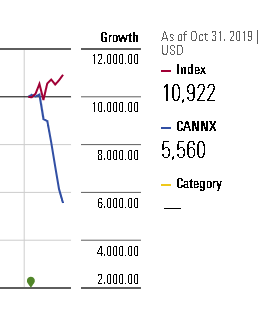 Yeah, they're the blue line.
On January 2, 2020 Cohen & Steers Global Realty Majors ETF (GRI) becomes ALPS REIT Sector Dividend Dogs ETF (RDOG) and will begin tracking the S-Network REIT Dividend Dogs Index.
Effective October 21, 2019, Crawford Dividend Opportunity Fund (CDOFX) became Crawford Small Cap Dividend Fund. We profiled CDOFX in our October issue.
Effective October 15, 2019 Green Square High Income Municipal Fund (GSTAX) was renamed to the Principal Street High Income Municipal Fund.
On or about December 1, 2019, Rational Dividend Capture Fund (HDCAX) name, investment policy and principal investment strategies change with the addition of a new management team and the "repositioning the Fund as an equity fund with a hedging component." The new fund will be named Rational Equity Armor Fund.
Around January 20202, the Tocqueville Gold Fund (TGLDX) will become the Sprott Gold Fund with the current management team still in place. Morningstar dismisses the fund as having an "increasingly outdated process and inhibitive price tag" and counsels investors to find at gold ETF if they're really into the asset class.
Effective January 1, 2020, the T. Rowe Price Personal Strategy Balanced Fund (TRPBX) will be renamed T. Rowe Price Spectrum Moderate Allocation Fund while T. Rowe Price Personal Strategy Growth Fund (TRSGX) gets rechristened T. Rowe Price Spectrum Moderate Growth Allocation Fund. No other changes are apparent. Traditionally "Spectrum" signaled "fund of funds" and "Personal Strategy" signaled "individual securities." I suspect that that distinction has been too cumbersome to market.
OFF TO THE DUSTBIN OF HISTORY
361 Global Equity Absolute Return Fund (AGRQX) liquidated on October 18, 2019.
On about November 25, 2019, PIMCO EqS Long/Short Fund (PMHAX) will be merged into the PIMCO RAE Worldwide Long/Short PLUS Fund (PWLBX). The latter is otherwise closed to new investors and is, on whole, a solid fund.
Tocqueville is "pleased to announce" that Tocqueville Select Fund (the "Select Fund") will be merged into the Tocqueville Phoenix Fund (the "Phoenix Fund") on or about November 15, 2019. Ummm … Tocqueville Phoenix has trailed 96% of its peers over the past decade and carries one star from Morningstar, making the "pleased" part ring a bit hollow.
Funds liquidating in the near future:
| | |
| --- | --- |
| CG Core Total Return Fund | October 29, 2019 |
| Convergence Opportunities Fund | October 31, 2019 |
| Equable Shares Small Cap Fund (which had already undergone a series of openings and closings in its year of life) | October 30, 2019 |
| GraniteShares S&P GSCI Commodity Broad Strategy No K-1 ETF | November 15, 2019 |
| Hancock Horizon U.S. Small Cap Fund | November 25, 2019 |
| Lazard Emerging Markets Income Portfolio Lazard Explorer Total Return Portfolio Lazard US Realty Equity Portfolio | October 30, 2019 |
| Linde Hansen Contrarian Value Fund | November 22, 2019 |
| Measured Risk Strategy Fund | November 22, 2019 |
| Salient International Small Cap | December 12, 2019 |
| Voya International Real Estate | December 6, 2019 |