By David Snowball
Updates
Index Funds S&P 500 Equal Weight NoLoad Fund (INDEX, cool ticker) passed its fifth anniversary on April 30, 2020. It's no secret that traditional US stock indexes are becoming more and more concentrated in just a few mega-cap names. Ten percent of the S&P 500 is invested in just two stocks (Microsoft and Apple) and 20% of the entire index is held in five stocks (adding Amazon, Facebook, and Alphabet). That's great if you want concentrated exposure, in particular to mega-cap tech.
There's an alternative: place an equal amount in each of the S&P 500 stocks. In INDEX, for example, Apple is 0.21% of the portfolio rather than 5.09%. The resulting portfolio is more diversified by sector (tech & telecom drop from 33% to 17% of the portfolio), the portfolio's p/e ratio drops (from 21 to 17), its sustainability rating rises (from 46 to 64, per Morningstar) and its average market cap drops like a rock (from $127 billion to $29 billion). Those embedded biases – toward diversification, size, value – have, over time, allowed the equal-weight index (EWL) to modestly outperform the cap-weighted index.
And, at the five-year mark, INDEX remains the most effective way to access the equal-weight index. Here are their five-year returns against their two giant competitors.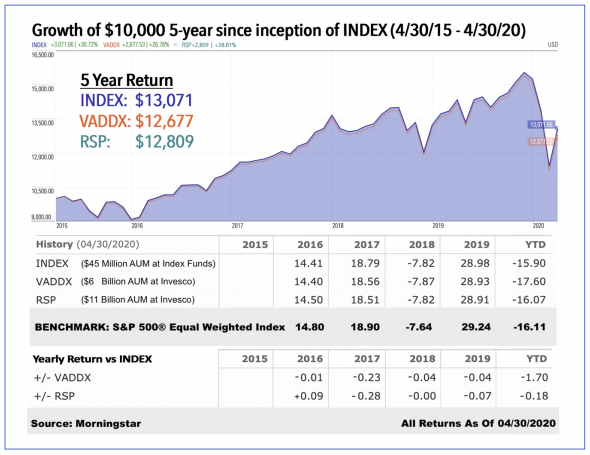 Our 2019 profile of INDEX recognizes that there are no magic wands in investing, but that it's a durn fine, slightly-contrarian option.
Briefly Noted . . .
Sean Healey, the co-founder of AMG, died on May 27, 2020, from the effects of ALS. Begun as Affiliated Managers Group in 1995, AMG invested in – and helped market – boutique fund managers. Those include AQR, Winton Group, Harding Loevner, River Road, SouthernSun, Tweedy Browne, and Yacktman. The firm now has $600 billion in assets.
SMALL WINS FOR INVESTORS
On May 20, 2020, the Board of Trustees booted the current management team at Delaware Select Growth (DVEAX) and voted to reopen the fund to new investors on July 31, 2020. They warn of considerable, taxable portfolio churn as the new team realigns the portfolio to match their style.
Effective May 8, 2020, the Dividend Performers (INDPX) and Preferred-Plus (INPPX) closed the "A" share class of the fund. On May 29, 2020, Class A shares were converted into Class I shares, whose minimum investment is $5,000.
Effective May 15, 2020, Goldman Sachs Small Cap Value Fund (GSSMX) reopened to new investors. The decision follows six years of outflows from the fund, which originally closed a decade ago.
Longleaf Partners Small Cap Fund (LLSCX) appears to have reopened to new investors. The adviser doesn't highlight any change, but the proviso "closed to new investors" has been removed.
Effective June 1, 2020, Madison Dividend Income Fund (BHBFX) and Madison Investors Fund (MINVX) permanently reduced their management fee from 0.75% to 0.70%.
Effective July 14, 2020, the TIAA-CREF Quant Small-Cap Equity Fund (TCSEX) will resume offering its shares to new investors after four years, including 2020, of trailing its peers.
Effective June 5, 2020, the T. Rowe Price Mid-Cap Value Fund (TRMCX) will resume accepting new accounts and purchases from most investors who invest directly with T. Rowe Price. It's a Gold-rated by Morningstar with consistently top-tier ratings from MFO. The fund has been closed for a decade but the recent market rout has created a lot of new opportunities for manager David Wallack.
CLOSINGS (and related inconveniences)
American Beacon has announced that effective May 29, 2020, they will no longer sell American Beacon funds directly to you. If you want to buy them, you'll need to go to a supermarket just like everybody else.
Effective as of the close of business on June 10, 2020, Grandeur Peak International Stalwarts Fund (GISOX/GISYX) will close to new investors who try to purchase the fund through third-party intermediaries; i.e., Schwab.
Harbor Money Market Fund closed to new investors on May 15, 2020. The money market industry is under increasing distress as portfolio returns drop below portfolio expenses. The options are either to "break the buck," underwrite the fund's operating losses or hold on and pray. Closing the fund, which reduces the need to buy new zero-return paper, is an example of the latter.
OLD WINE, NEW BOTTLES
Effective 27 May 2020, the Artisan Thematic Fund as renamed Artisan Focus Fund (ARTTX). Here's the somewhat silly explanation for the new name: "The new name highlights the team's dedicated focus on its process." Notwithstanding its five star rating and success in attracting $1.1 billion in assets, my first and ongoing reaction to "Thematic" was to cringe since it was redolent of "Trend du Jour." I suspect Focus is simply easier to talk about and appropriate to a portfolio that now holds just 28 names.
Two splendid FPA funds continue to move toward their new homes. FPA Paramount will become Phaeacian Global Value Fund and FPA International Value (FPIVX) will be Phaeacian Accent International Value Fund, both pending shareholder approval. This is just the unfolding of a story we wrote about in April, Taking the Polar Plunge.
OFF TO THE DUSTBIN OF HISTORY
Forty-one funds and ETFs are leaving us soon, including an entire series from AllianzGI and Franklin. Seven of those are mergers, while the remainder are liquidations. Only four of those funds had earned a one-star rating from Morningstar, while three carried four- or five-star ratings.
| | |
| --- | --- |
| The Condemned | Date of execution |
| 361 US Small Cap Equity Fund (ASFQX) | May 29, 2020 |
| AllianzGI Retirement Date series, eight funds | September 15, 2020 |
| American Beacon Crescent Short Duration High Income Fund (ACHIX) | June 30, 2020 |
| American Beacon GLG Total Return Fund (GLGYX), a four-star fund | June 30, 2020 |
| Ancora Special Opportunity Fund (ANSIX), a five-star fund | May 29, 2020 |
| BNY Mellon Large Cap Growth Fund (DLCGX), merged into BNY Mellon Large Cap Equity Fund | July 31, 2020 |
| Brandes Global Equity Income Fund (BGIAX) | June 30, 2020 |
| Cutler Fixed Income Fund (CALFX) and Cutler Emerging Markets Fund (CUTDX) | May 28, 2020 |
| Franklin NextStep Conservative Fund, Franklin NextStep Moderate Fund, and Franklin NextStep Growth Fund | August 14, 2020 |
| Frontier Phocas Small Cap Value Fund (FPVSX) | June 26, 2020 |
| Frost Global Bond Fund (FRVGX) | June 30, 2020 |
| Heartland Select Value Fund (HRSVX), merged into Heartland Mid Cap Value Fund | "the fourth quarter of 2020" |
| Hodges Small-Mid Cap Fund (HDSMX) | June 30, 2020 |
| Hotchkis & Wiley Capital Income Fund (HWIAX), merged into Hotchkis & Wiley High Yield Fund | June 26, 2020 |
| Ladder Select Bond Fund (LSBKX) | June 22, 2020 |
| Madison High Income Fund (MHNYX) merged into Madison Core Bond Fund | September 14, 202 |
| Madison Large Cap Value Fund (MGWAX), merged into Madison Dividend Income | September 14, 2020 |
| Mirae Asset Asia (MALAX) | July 17, 2020 |
| Monteagle Fixed Income Fund (MFHRX) | June 26, 2020 |
| Monteagle Quality Growth Fund (MFGIX) | June 26, 2020 |
| Navigator Duration Neutral Bond Fund (NDNAX) | June 30, 2020 |
| Nicholas High Income Fund (NNHIX) | July 24, 2020 |
| Northern Prime Obligations Portfolio, which reflects the struggles of a number of advisers who can't afford to have money market funds that pay less than zero | July 10, 2020 |
| Nuveen Gresham Diversified Commodity Strategy Fund (NGVIX) | July 24, 2020 |
| Oberweis Small-Cap Value Fund (OBIVX) | June 30, 2020 |
| Pacer Benchmark Retail Real Estate SCTR ETF (RTL) | May 22, 2020 |
| Schneider Small Cap Value Fund (SCMVX) | July 15, 2020 |
| Smith Group Large Cap Core Growth Fund (BSLNX) | July 6, 2020 |
| Touchstone Sands Capital Institutional Growth Fund (CISGX), a four-star fund, merged into Touchstone Sands Select Growth Fund (PTSGX) | December 11, 2020 |
| Touchstone Anti-Benchmark US Core Equity Fund (TABYX), merged into Touchstone Dynamic Equity Fund (TDEYX, to be renamed the Touchstone Anti-Benchmark US Core Equity Fund) | September 11, 2020 |
| USCF SummerHaven SPHEN Index Fund (BUYN) | May 6, 2020 |