By David Snowball
In our October issue, we shared a Launch Alert for ET Innovators. In late October we had the opportunity to speak with manager Tom Ricketts, and so share this expanded Alert.
On September 9, 2020, Evolutionary Tree Capital Management launched the Evolutionary Tree Innovators Fund (INVNX).  The plan is to invest in 25-35 domestic growth-oriented companies that qualify as "leading innovative businesses" (hence the ticker symbol).  The fund will be managed by Thomas M. Ricketts, formerly a senior portfolio manager on Sands Capital's flagship Select Growth US Large-Cap Growth strategy, a $20+ billion concentrated-growth strategy.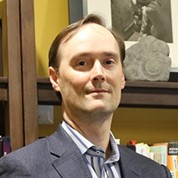 Mr. Ricketts began his career as an assistant to Frank Sands (1994-97), founder of Sands Capital Management. Over the course of the following two decades, he progressed from being a research analyst to Chief Investment Officer, Senior Co-Portfolio Manager of the $20B U.S. Large Cap Growth Strategy (2008-2015), and Global Life Sciences Sector Head (1997-2011). Over the course of his career, the firm grew from managing $100 million to managing $40 billion. About half of that was in the strategy to which he contributed. Today it's at $51 billion.
Three things to know about Sands Capital:
They mostly target rich people. Their investment minimums start at $100,000 and range sharply upward.
They are not primarily a mutual fund company. When we talk about the "large cap growth strategy," we're not referring to an individual fund. Instead, the strategy manifests itself in a US fund, funds designed for European investors, separate accounts for high net worth investors, and so on. US funds are about one-fifth of the firm's assets.
They are really quite good. Morningstar rates both their funds for European investors and the ones for domestic investors as either four- or five-stars. The quantitative version of the Morningstar analyst rating makes the funds some version of bronze, silver, and gold.
Which is to say, Mr. Ricketts brings a pretty distinguished background to his new position. He left in 2018 to found his own firm. He is supported there by one of his former research analysts at Sands, Jonathon Ansley, and Dan Ayre, who served as an analyst for the Ricketts Family Office.
As the fund's name implies, his discipline centers on identifying "investable innovators." It's not controversial to note that innovation drives growth. It's the exact observation that Joseph Schumpeter made 80 years ago: "the process of industrial mutation … incessantly revolutionizes the economic structure from within, incessantly destroying the old one, incessantly creating a new one. This process of Creative Destruction is the essential fact about capitalism" (Capitalism, Socialism, and Democracy, 83).
In Schumpeter's analysis, the destruction was wrought by innovations but, particularly, innovations that found a home in the market. The force that destroyed old empires and gave rise to new ones was "the competition from the new commodity, the new technology, the new source of supply, the new type of organization which commands a decisive cost or quality advantage and which strikes not at the margins of the profits and the outputs of the existing firms but at their foundations and their very lives."
Mr. Ricketts' observations about profiting from innovation:
IPO and venture capital investors get it wrong; they show up too early. These folks tend to latch on to dozens of ideas that are mostly hype, hoping for one or two that erupt. That's both inefficient and highly volatile.
Traditional growth managers and traditional screening get it wrong; they show up too late. Innovation drives growth, so managers using backward-looking screens are finding companies where the innovation has already paid off but where the future pay off might be modest.
Innovation can't be effectively indexed. Figuring out what is just now emerging is an intensely "boots on the ground" undertaking that requires subject area experts who are spending time intently following conference presentations such as "Therapeutic Base Editing of Human Hematopoietic Stem Cells" and "CASBs: The Good, the Bad, the Ugly."
He envisions his competitive position by tracking the rise and fall of firms along with a sort of S-shaped curve.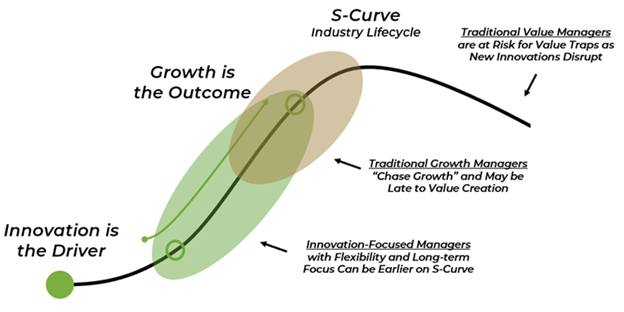 The danger for investors is that everyone and their dog now wants to hype their new "disruptive innovations" fund. It's the industry's latest flavor-of-the-day (following macro, tactical, multi-asset, and crypto, but coincident with sustainable). Beyond Matthews Asia's celebrated "investing in disruptors" (7/20) and Cambria Investments' which aspires to disrupt the entire finance industry, Franklin, Alps, Fidelity, and ARK have all begun rolling out avowedly "Disruptive" or "Transformational" offerings and more are in registration.
Evolutionary Tree aspires to an island of sanity in a rising sea of new innovation and growth offerings.  Mr. Ricketts writes, "We have developed a risk-managed approach to innovation investing that, we believe, has a disciplined process with a stringent set of eight criteria for choosing investments.  We offer an institutional-class, risk-managed, innovation-focused strategy that owns leading innovators with competitive advantages, strong balance sheets, and multi-year growth paths."
So far, as good. The firm manages rather more than $100 million in a separate account strategy that the call Beagle Leading Innovators. It launched on February 12, 2018, so it's coming up on its three-year record. The first 2.5 years have been pretty flashy.
| | | | | |
| --- | --- | --- | --- | --- |
| | YTD | 1-year | 2-year | Since launch |
| Beagle Leading Innovators | 73.77% | 100.19% | 40.46% | 137.73% |
| Russell 1000 Growth Index | 24.33% | 37.53% | 19.41% | 67.84% |
| Excess Return % | 49.44% | 62.66% | 21.05% | 69.89% |
The mutual fund's opening expense ratio is 0.97% and the minimum initial investment is $50,000. While high, the minimum is one-tenth of the entry charge for the Sands product and the expense ratio is competitive. It's clear that the client base here is advisers / RIAs, though individuals with the required minimum are welcome. The fund is available on Schwab and TDAmeritrade, they're working on Fidelity and it can be purchased directly.
The fund's website is exceptionally rich. Investors interested in the whole area of innovation-driven investing would probably benefit from subscribing to, and reading, their Insights on Innovations, Evolutionary Shifts, and Secular Trends blog which updates every couple of weeks.