By David Snowball
The Morningstar Investment Conference returns to June and to the McCormick Place. MICUS runs June 11–13, 2018 at McCormick Place, Chicago. Jeremy Grantham and Dan Kahnemann are speaking and folks from a bunch of first-tier small fund firms will be there: Centerstone, FPA, JOHCM, Moerus, Queens Road, RiverPark, Seafarer. Not Grandeur Peak or Rondure. Pity. We'll be there. Let us know if you'd like to meet.
Having trouble with the new Morningstar website? It's not you. It's the site.
As of March 1, 2018, it's still not possible to screen for 2017 fund returns.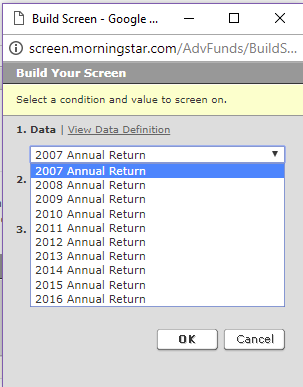 The search engine still has trouble … well, searching. We wrote this month about JOHCM Global Income Builder (JOBIX/JOFIX). From some pages the search can find it but, from others, neither the ticker nor the name is recognized.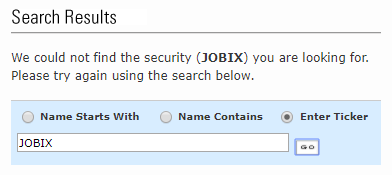 And up until the end of February, the only way to see my portfolio when using Chrome was by a workaround mailed to me by "Joe," their retail support team. In each case, Joe (in reality, a very helpful Min) responded "Our product team is aware of the issue and they are actively working to fix the tool." Chip, an IT professional herself, urges folks who encounter problems to share them as a way of helping "Joe" direct resources to get the most pressing fixed.
Morningstar has updated its semi-annual Prospects report, their roster of not-ready-for-prime-time players. With one exception, they're smaller funds from large firms.
AQR Global Equity
AQR International Equity
Baird Chautauqua International Growth
BlackRock Event-Driven Equity
Fidelity International Sustainability Index
Fidelity U.S. Sustainability Index
JPMorgan SmartRetirement Blend Series
Principal Blue Chip
Prudential Jennison Global Opportunities
State Street Target Retirement Series
On the other hand, several funds from smaller firms graduated to analyst coverage.
American Beacon AHL Managed Futures, Bronze.
Credit Suisse Managed Futures, Bronze.
Davenport Equity Opportunities, Bronze.
Hartford Total Return, Bronze.
Hood River Small Cap Growth, Neutral.
Madison Mid Cap, Neutral.
Queens Road Small Cap Value,Neutral. MFO profile, 2015.
Schwab Hedged Equity (SWHEX), Bronze.
WisdomTree Barclays Yield Enhanced US Aggregate Bond, Bronze.
I've got a lot of respect for the Queens Road (QRSVX) folks. I deeply regret not having profiled Davenport (DEOPX) or Hood River (HRSRX) when they first came across our screens two years ago; It's the eternal problem of a small operation. Schwab likely deserves more attention. Over the entire market cycle from October 2007 to now, it has the fifth highest Sharpe ratio and the fifth highest total return of any long-short fund that's available for purchase. Among long-short funds with above-average returns, it has the third lowest Ulcer Index which Is a measure that combines the length and severity of a fund's worst declines. And it's available for $100.