By David Snowball
Updates
The Ivy Fund liquidations announced in September 2021 and October 2021 have been temporarily suspended. No word on why or when the executions will proceed.
Briefly Noted . . .
The Cook & Bynum Fund modified their prospectus to flag a new risk factor, one that's likely unprecedented in the industry: Risk of Current Focus on Breweries and Soft Drink Bottling and Distribution. The adviser allows that they hold "from time to time, a relatively high percentage of the assets … in the Breweries and Soft Drink Bottling and Distribution industries." The fund owns eight stocks: Berkshire Hathaway, two issues from Liberty Latin America (a telecom), three companies that bottle and distribute Coca-Cola in Latin America, and two Latin breweries. So, yes, by most standards having 57% invested in Coke bottlers and Latin breweries is "a relatively high percentage."
Fidelity has introduced "Loyalty Class 1" and "Loyalty Class 2 shares" for their Disruptive (Automation, Communications, Finance, Medicine, Technology and omnibus Disruptors) Funds.
More fund-to-ETF conversions. In addition to the four conversions flagged in "Funds in Registration," Convergence Long/Short Equity Fund will soon be Convergence Long/Short Equity ETF. And two Motley Fool funds are about to become Motley Fool ETFs.  
| | |
| --- | --- |
| Fund | ETF |
| MFAM Global Opportunities Fund | MFAM Global Opportunities ETF |
| MFAM Mid-Cap Growth Fund | MFAM Mid-Cap Growth ETF |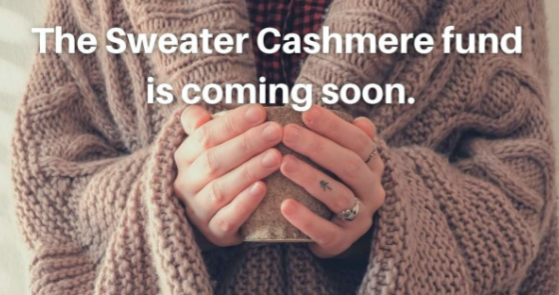 Something new under the sun. The Sweater Cashmere Fund. No, not Cashmere Sweater. It's billed as "The Venture Fund for Everyone." For just $500, you too can be a party to a venture capital fund. The adviser has already filed for 30 pages of online or social media ads. Here's the theme: VC has been just another tool to allow the rich to get richer. Screw that! We're coming to play, too!
Uh-huh. Two thoughts in passing. First, successful venture capital investing is really hard. Depending on how you count it, only one-third of VC investments pay off. So if this fund's managers are good at what they do, they're already really rich. So why, exactly, do they want your $500? Oh, right … get richer. Second, it's an "Unlisted Closed-End Fund" with unpublished fees and a 545-day lock-up period.
The ads are cute and engaging, but that doesn't absolve you from asking hard questions about why, exactly, this is the best use of your money.
The Simplify Health Care ETF (PINK) has chosen to donate its annual management fee to The Susan G. Komen Breast Cancer Foundation, Inc., a 501(c)(3) charitable foundation. Small fund, grand gesture.
SMALL WINS FOR INVESTORS
Effective December 1, 2021, the T. Rowe Price Mid-Cap Growth Fund (and its clones, T. Rowe Price Mid-Cap Growth Portfolio and T. Rowe Price Institutional Mid-Cap Equity Growth Fund), which was closed to new investors on May 28, 2010, will reopen to new investors.
CLOSINGS (and related inconveniences)
Effective November 30, 2021, the WCM Focused International Growth Fund will be soft-closed.
OLD WINE, NEW BOTTLES
Effective October 22, 2021, the Fund's name is ASYMsharesTM ASYMmetric S&P® 500 ETF (f/k/a ASYMshares ASYMmetric 500 ETF).
Out, out damned Swedes! As of November 1, 2021, the Global X FTSE Nordic Region ETF became the Global X Norway ETF. How? First, Norway merged into Nordic Region. Then Nordic Region was promptly renamed Norway with the promise to keep at least 80% of the portfolio in The Kingdom of Norway. On behalf of Augustana's Swedish founders, we offer the following.
Q: How do you say "genius" in Norway?
A: Tourist.
Q: Why did the Norwegian crawl on the floor through the supermarket?
A: Because they're looking for the low prices.
Q: Why did the Norwegian bring a rolled-up piece of sandpaper to the desert?
A: Thought it was a map.
Effective October 22, 2021, the name of the LifeGoal Homeowner Investment ETF has been changed to the LifeGoal Home Down Payment Investment ETF.
In January 2022, Marketfield Fund becomes the Cromwell Marketfield Long/Short Fund. Expenses remain somewhere between "high" (2.36% for "I" shares) and "extortionate" (3.36% for "C" shares).
Effective immediately, Mesirow Financial is simplifying the names of its funds:
| | |
| --- | --- |
| Current Name | New Name |
| Mesirow Financial Small Cap Value Sustainability Fund | Mesirow Small Company Sustainability Fund |
| Mesirow Financial High Yield Fund | Mesirow High Yield Fund |
| Mesirow Financial Enhanced Core Plus Fund | Mesirow Enhanced Core Plus Fund |
OFF TO THE DUSTBIN OF HISTORY
The advisor to the Aasgard Small & Mid-Cap Fund has decided to exit the fund business and offer this strategy solely through separate accounts, which will reduce expenses for investors continuing in the strategy. The three-star fund will be liquidated on November 12, 2021.
Aberdeen Total Return Bond Fund disappeared into Aberdeen Global Absolute Return Strategies Fund on October 8, 2021.
Brandywineglobal International Opportunities Bond Fund is expected to cease operations on or about December 3, 2021.
Cushing SMID Growth Focused Fund was liquidated on November 1, 2021. Promising 2020, disastrous 2021, $3 million left, and so …
Defiant no more. The Defiance Nasdaq Junior Biotechnology ETF will be closed and liquidated on December 3, 2021.
Protective no more. The Emles Protective Allocation ETF goes off-duty on or about November 8, 2021.
January 2022 will see the reorganization of the Goldman Sachs High Quality Floating Rate Fund with and into the Goldman Sachs Enhanced Income Fund.
Effective on October 15, 2022, Highland Healthcare Opportunities Fund loses all interest in healthcare and becomes the NexPoint Event Driven Fund. It will use "various arbitrage and short-selling investment strategies" to capture gains from corporate mergers, asset sales, restructurings, and so on. Eric Fritz has been added as a portfolio manager of the Fund.
Disintegration commences in … Neuberger Berman Integrated Large Cap Fund will cease its investment operations, liquidate its assets and make a liquidating distribution on or about December 16, 2021. The fund trailed 94% of its peers over the decade and brought in a new management team in 2019; performance strengthened, but assets were nowhere to be found.
Nuveen Large Cap Core Fund merges into Nuveen Santa Barbara Dividend Growth Fund, an MFO Great Owl, on November 12, 2021. Santa Barbara lost its long-time manager, James Boothe, in 2019. He launched Semper Brentview Dividend Growth Equity in June 2021. His successors have continued to beat their Lipper peer-group by about 1.8% annually.
RiverFront Asset Allocation Aggressive and RiverFront Asset Allocation Moderate, are each merging into RiverFront Asset Allocation Growth & Income on or about January 24, 2022.
The $6 million Scharf Alpha Opportunity Fund will reorganize and merge into the $50 million Scharf Multi-Asset Opportunity Fund on or about the close of business on December 10, 2021.
Shelton BDC Income Fund has closed and will be liquidated on or about November 30, 2021.
Symons Value Institutional Fund has closed to new investors and will be liquidated on November 29, 2021.
The Trend Aggregation Growth ETF was liquidated on October 28, 2021.
TorrayResolute Small/Mid Cap Growth Fund will be liquidated on or around November 23, 2021.
TS&W Equity Portfolio will, following shareholder approval, merge into TSW Large Cap Value Fund. Oddly, I can't find any evidence of the existence of that latter fund.TSW was purchased by JOHCM's parent firm in May 2021. No idea why the names don't align.
The odd maneuverings with the Virtus KAR Internal Small Cap Fund came to a conclusion on October 22, 2021, when Virtus KAR International Small-Mid Cap Fund II (formerly Virtus KAR International Small-Mid Cap Fund) was merged with and into Virtus KAR International Small-Mid Cap Fund.