By David Snowball
Dear friends,
Welcome to July! You shouldn't be here.
Welcome to the Observer's annual "summer light" issue in which you point out the obvious: you need some time away from the headlines, the daily howling, the apocalypse, the partisan glee, the certainty of boom, doom or gloom (to borrow from the name of Marc Faber's thoughtful reports).
Setting aside the overtly political headlines, here's a snapshot of the top stories in my news feed for June 30, 2018.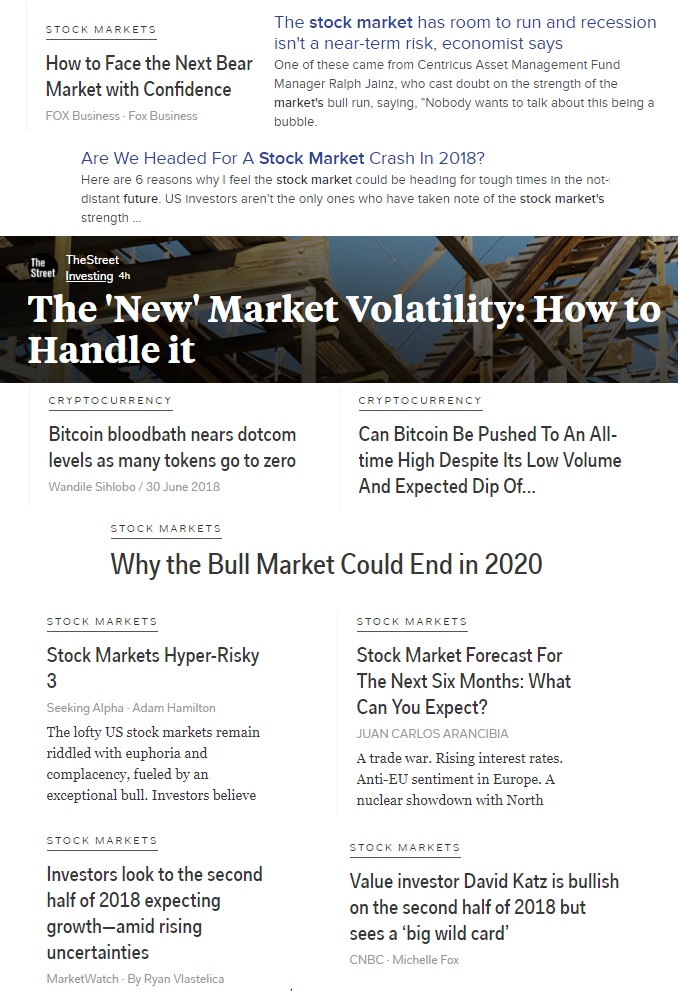 And on and on. Dear lord.
Add in political dysfunction, steadily worsening climate instability, caustic mistrust of one another … it's all vitally important, but utterly exhausting.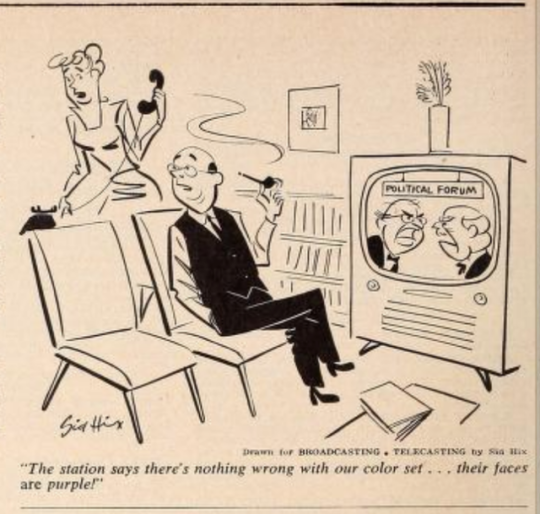 Exhausted people don't think clearly and they don't plan thoughtfully; they merely react, often poorly, relying on mental shortcuts and defense mechanisms. Researchers at Indiana University found that a sense of being overwhelmed often leads us to share the lowest-quality content: simplistic drivel that doesn't challenge our capacities or prejudices.
The brain can deal with only a finite amount of information, and too many incoming stimuli can cause information overload. That in itself has serious implications for the quality of information on social media. We have found that steep competition for users' limited attention means that some ideas go viral despite their low quality—even when people prefer to share high-quality content. (6/21/2018)
For those willing to risk mid-summer depression, here's my note from the history of propaganda.
That feeling of exhaustion is widely shared. Based on surveys of over 5000 adults, the Pew Research Center concluded that 70% of us feel overwhelmed by it all.
If you feel like there is too much news and you can't keep up, you are not alone. A sizable portion of Americans are feeling overwhelmed by the amount of news there is, though the sentiment is more common on the right side of the political spectrum … (6/5/2018)
That's part of a larger phenomenom in which our devices feed us more information – the humidity in our homes, the number of steps we've taken today, the temperature inside our fridge, the value of a stock index at this very second – than we've ever needed to process. In reporting on research by neuroscientist Daniel Levitin, the Canadian website Folio notes:
Estimates suggest that today we take in about five times as much information as we did 25 years ago, and that we process as much data in a day … as our 15th-century ancestors would have in their lifetimes. (How to manage information overload, 6/16/2018)
The new term-of-art is "news fatigue," a feeling of mental and moral numbness that sets in when you can't escape the obligation to walk in the miasma. The effects can be surprising: as our brains begin to gush out our ears, we lose our keys, forget appointments, struggle to complete our sentences and stare off into space because we can't recall what we were in the midst of doing.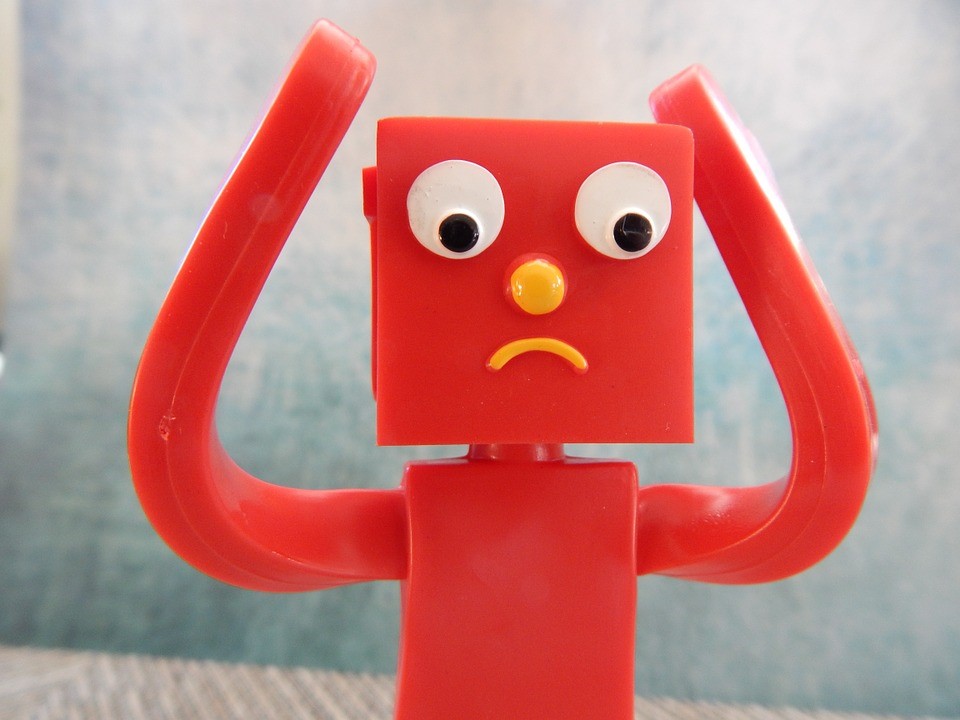 For the sake of all you care about – your family, your good humor, your sanity, your country, your planet, your portfolio – you need to step back once in a while, to shut out the din and to renew your ability to discriminate and process. Otherwise you feed the problem rather than build the solution.
Here's our annual three-step plan:
Throttle back on incoming information. Really, you do not need a browser open 24/7. You don't need to glance at social media every time you've got 10 seconds without stimulus. You don't need to have the TV on. It's hard at first to quiet the din because we (most of us, anyway) had chosen to make it environmental, and have justified that decision by imagining that it's essential.

It isn't, even for those fully engaged In their careers. Here's an alternative: listen to Up First, NPR's daily 10-minute podcast which highlights the stuff you need to know for the day ahead. They post it at 6:00 a.m. Eastern. It's thoughtful, informative, calm and well-done, offering six to eight stories that highlight events in the news and why they might matter.

Read a book. Or, blessedly, get lost in a book. My preference is to pick something that lets you stretch your mind while stepping back from the noise o' the day. Some folks prefer historical fiction (the Washington Post recommends Gregory Smith's The Maze at Windermere, "Five subtly related stories spread over three centuries in the little seaside town of Newport, R.I."), some like thrillers (Chris Bohjalian's The Flight Attendant: " After a passionate one-night stand, a flight attendant wakes up next to a dead man. Did she kill him? She can't remember." And haven't we all been there?) and many enjoy smut (just avoid any work with the number "50" in the title).

I'm mostly working through creative non-fiction:

Cassia St. Clair's The Secret Lives of Color (2017). Literally, you want to know the history of scarlet or chrome yellow? She's got you covered in a series of very short chapters that both display the colors in question and give you their back stories. You might learn, for example, that many of the colors you see in famous paintings are vastly different from what the artist intended (some pigments were so expensive that artists could only use a particular red in tiny amounts) or what they applied (the different paints react chemically with one another, so their color today is substantially different from their color a century ago). The foreknowledge of those reactions led artists to compose scenes where two badly incompatible colors were never adjacent. Personally, I was intrigued to learn that color perception changes as civilizations mature; many colors simply weren't recognized because knowledge of them wasn't essential to navigating life. Blues and purples, for instance, were not consistently distinguished from black. In English, the "important" half of our color words are native while the less important are later borrowings from other languages. "White" is not derived from "blanc," for example, while "blue" is clearly from "bleu." So, colors don't "exist" but are just mental constructs? Huh.

Lynn Murphy's The Prodigal Tongue: The Love-Hate Relationship Between American and British English (2018). Murphy is an American linguist teaching Brits, at a British university, about the history and development of their language. She spends rather more time being lectured to than lecturing. You get some sense of the state of things from the quotation that opens the book:

If there is a more hideous language on the face of the earth than the American form of English, I should like to know what it is! Baron Somers, speech in the House of Lords, 1979.

It's not just Lord Somers. Murphy did a fun experiment with The Google: she used a thesaurus to create a list of synonyms for the words good, bad, useful and useless, then searched each variant of the phrase "a(n)  ___ Americanism"  (for example, "a lovely Americanism"). The three most common judgments she found about the way I (we?) talk:

7,780: An ugly Americanism
4,780: A horrible Americanism
3,610: A vile Americanism

The most positive? "A lovely Americanism" appeared in just 227 searches.

Well, poop on them.

Professor Murphy "an arsenal of facts and an armful of interpretations that, I hope, might heighten our enjoyment of our common language and our pride in it." She generously allows that if you'll humor her for the length of the book, "then, if you must, you can go back to complaining." I took her up on the offer.

I might eventually add Daniel Levitin's The Organized Mind (2015) which is sitting on my shelf. Levitin is the neuroscientist mentioned above and his word is lauded for helping to explain everything from the kitchen junk drawer (we all have them and they're actually marvels) to office org charts, but I'm wary of approaching anything that looks too "relevant" with my summers.

Engage your passions. Hug your child. Walk along the river, far from the sound of traffic. Cheer for the Little League. Try cooking something you've been talking yourself out of; I'll share a really good recipe for peppery chicken piccata if you'd like. Plant a tree, and celebrate the fact that you're doing it solely to help a child born in 2048, your selfless gift to the child who will delight in its shade. Plant peas; they'll reward you yet this year. Me? I'll weed the front yard.
You'll come back better for it: more able to make a difference in the world, more centered, more likely to smile for no reason.
So, in honor of all that, we've lightened the Observer for you this month. We're limiting ourselves to our favorite monthly features (manager changes, new funds in registration and the cool developments in the industry that I routinely sneak into "briefly noted"), ten quick takeaways from Morningstar and profiles of three funds which won't raise your stress and which certainly deserve more recognition than they've received:
Long Short Opportunity (LSOFX): with a team from Prospector Partners just finishing their third year, this might well be the best "pure" long-short equity fund on the market. The same team has done a remarkable job with the long-only Prospector Opportunity Fund (POPFX).
Holbrook Income (HOBIX): this intriguing new fund, skippered by the former manager of Leader Short Term Bond Fund (LCCMX/LCCIX) and Leader Total Return Fund (LCTRX/LCTIX), has garnered lots of positive buzz on the Observer's discussion board this summer. Dennis Baran brings it to you.
Zeo Short Duration Income (ZEOIX): formerly Zeo Strategic Income, the adviser changed the fund's name to forestall questions from folks who insistently confused "strategic" with "tactical" investing. With steady 2-4% returns, minimal volatility, substantially reduced fees and increased insider ownership, our colleague Charles Boccadoro concludes "there's never been a better time" to consider Zeo. His argument was so compelling that he himself opened a position with the fund.
And thanks to the folks who've reached out to us this month: Hjalmar, John, Donald, and William. Thanks, too, to our stalwart subscribers: Deb, Greg, and Brian. We couldn't do it without folks like you.
In August we'll introduce you to 361 Global Long-Short Equity (AGAQX)  and reintroduce you to RiverPark Long-Short Opportunities (RLSFX), update you after the fifth anniverary of T. Rowe Price Global Allocation (RPGAX) and share a bit more about strategies for reducing heartburn.
Until then, keep cool, be joyful and perhaps a little mischievious. It's summer, after all.