By David Snowball
In the normal course of events, we screen the fund universe (which includes active ETFs) for intriguing options which had debuted in the preceding three months. In general, that means reviewing "Funds in Registration" columns from the preceding quarter, as well as screening MFO Premium and Morningstar databases.
We arrived at this fund differently. It was highlighted on MFO's discussion board by The Shadow and extensively and thoughtfully discussed by other folks. I've never been burdened by the delusion that I need to be The Guy Who Finds the Funds. Rather to the contrary, I've often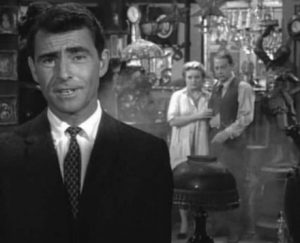 nodded at Anne Serling's recollection of her father's last interview, where he noted that "I've pretty much spewed out everything I had to say, none of which has been particularly monumental, nothing which will stand the test of time … Good writing, like wine, has to age well, and my stuff is momentarily adequate."
(Mr. Serling died in 1975, at age 50 after open-heart surgery, having earned six Emmy Awards for his "momentarily adequate" writing.)
In celebration of my colleagues' insights, and Mr. Serling's humanity and humility:
Submitted for your approval, Humankind US Stock ETF.
On Wednesday, February 26, 2021, Humankind Investments launched its first ETF, the  Humankind US Stock ETF (HKND). The fund seeks to provide broad exposure to US equities with a focus on companies that contribute the greatest value to society. Unlike most of what we cover, the fund is driven by Humankind's proprietary index which attempts to measure each firm's value to society. The underlying logic is that the firms with the greatest long-term social value are also those with the greatest long-term financial prospects. The firm explains:
At Humankind we're not trying to redefine corporate morality. We're working to quantify it. We do a deep dive on companies – using a combination of over 30 metrics for assessment – to analyze targets holistically and within the context of the market in which they operate. Then we assign an estimated dollar value to the benefit they provide to humanity.
The logic is fairly simple though the actual process is really complex: quantify the firm's direct humankind value (they treat their employees well and make good products) then its indirect humankind value (their factory uses lots of electricity and some of their suppliers benefit from forced labor). Add them together, knowing that one or both of the values might be negative. That gives you their total humankind value. Invest in the highest value firms.
The actual index construction and calculation is done by Solactive, a German firm that specializes in creating investable indexes. They calculate something like 11,000 indexes and provide the indexes for about 500 ETFs.
By its nature, the index will favor larger companies since they have the resources to generate the largest immediate benefit. That's reflected in their current top 10 investments:
Alphabet / Google
Verizon
Microsoft
Corteva – formerly DuPont's ag division
Deere
Apple
HP
Johnson & Johnson
Pfizer
General Electric
At the other end of a 1000-name index, their smallest holdings are iRobot, maker of the Roomba vacuum and other consumer robots, and Trupanion, a provider of pet health insurance.
Beyond that, they try to promote responsible corporate behavior by providing capital to good actors and by engaging with management.
Folks on the discussion board shared a range of reflections.
Lewis Braham: I "thought it was another gimmick at first, but this one seems legit, especially with a low 0.11% expense ratio … this one has a reasonable mission, eliminate the worst corporate actors from the portfolio while trying to change or improve the remaining ones through shareholder activism."
The Shadow: "One of the individuals used to work at Vanguard." The founder and CEO was a data scientist in Vanguard's quantitative investing group.
Catch 22 thought the fund would attract inflows.
rforno, on the other hand, scanned the holdings list – it's an index fund, so the holdings reflect the index that Humankind designed and Solactive built – and noted that "half of these positions are in < 50 lots, and many are in the single digits." Indeed, they held a single share in 26 companies. Mr. Braham allowed that that wasn't particularly striking for a newly launched fund tracking a diversified index. rforno allowed that he "made some fair points, I guess" and ended with thanks.
Disagreements, as it turns out, can be both civil and productive. Carew388 recommended Silver-rated Vanguard ESG US Stock ETF (ESGV), which launched 9/28/2018, charges 12 bps and simply excludes "bad actors" from its portfolio and Observant endorsed the five-star Parnassus Core Equity Fund (PRILX), which has also earned the MFO Great Owl designation for its consistently top-tier risk-adjusted returns.
Bottom line
Humankind seems like a perfectly legitimate option for investors looking for cheap, diversified exposure to responsible firms. Its founders have both decent credentials and a serious commitment to the subject. While a portfolio with 900 – 1000 stocks might seem slightly overdone, the Vanguard ETF tracks over 1400, and the portfolio is intentionally designed to avoid imposing unintended sector and liquidity risks.
At the very least, the Humankind folks are good communicators and have constructed two welcoming and informative sites for potential investors to vet their options.
Administrative notes
Humankind US Stock ETF charges 0.11% and opened with assets of $28.5 million dollars. Including separate accounts, the firm managed $112 million at year-end 2020. The Humankind ETF website has details on the fund's initial portfolio and the Humankind advisor website has novice-friendly walkthroughs of how they invest, and a thoughtful article on the complexity of figuring out what's "responsible". In a related article, they decry the sort of "lipstick on a pig" approach to labeling firms as "responsible" just for the marketing edge it creates. All of their stuff is blessedly short and accessible.