By David Snowball
Dear friends,
Merry Christmas and Happy New Year!
Let's hope it's a great one.
If you think I'm a bit late on the former, it's because you think of Christmas as a day rather than as a season. Not so! In 567, the Council of Tours established that the twelve days between Christmas and Epiphany – also sometimes known as "Chip's son's birthday" – were to be treated as a single holiday. (Her sister was born on Christmas Day so it makes sense she waited to give David a reason to celebrate the other end of the holiday.) In England, in 877, the law codes of Alfred the Great decreed that the twelve days between the two were a holiday.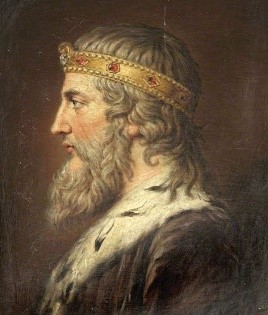 We think of the period as "the Dark Ages" but, really, people were guaranteed a two-week holiday at year's end. That might be what got him "the Great" designation. Alfred's father got to be "Noble Wolf," so it could be that cool monikers simply run in the family.
The World in 2022
Here's our bold prediction: it will be one durned thing and then another.
If you think you've got a better guess than that, you're crazy. Just sayin'.
Here's a retrospective test of your predictive abilities. Going into 2021, how much would you have predicted the following ETFs would make? To help out, we've shared their 2020 performance.
| | | |
| --- | --- | --- |
| | In 2020, it made … | In 2021, this dog will drag in … |
| Horizen Grayscale Trust | 30% |   |
| Breakwave Dry Bulk Shipping | (-50) |   |
| iPath Global Carbon | 5 |   |
| Large Cap Growth Index-Linked ETN (due 2028) | (-13) |   |
| Direxion Homebuilders Ultra-Bull | (-32) |   |
  Answers:
| | |
| --- | --- |
| | In 2021, this dog dragged in … |
| Horizen Grayscale Trust | 478% |
| Breakwave Dry Bulk Shipping | 283 |
| iPath Global Carbon | 246 |
| Large Cap Growth Index-Linked ETN (due 2028) | 197 |
| Direxion Homebuilders Ultra-Bull | 168 |
They're the top five exchange-traded products that Morningstar tracks.
Are you better with mutual fund predictions? Here are the top five funds in the MFO Premium database, based on 2020 returns.
| | | |
| --- | --- | --- |
| | 2020 | 2021 |
| Baron Partners | 149% | 32% |
| American Beacon ARK Transformational Innovation | 148 | (-23) |
| Zevenberger Genea | 145 | (-4) |
| Morgan Stanley Discovery | 143 | (-12) |
| Baillie Gifford US Equity Growth | 125 | (-11) |
All of these funds saw huge inflows late in 2020 as investors rushed to buy the prior gains, and several had crushing withdrawals at the end of 2021 as investors locked in losses and fled.
So, let's celebrate the success of Baron Partners, an MFO Honor Roll fund, but also consider a possible lesson from all of the others. We're not very good at predicting the short term. Yet we're greatly influenced by the short term. And we're generally betrayed by our faith.
The famous Callan Periodic Table of Investment Returns reminds us that even the longer term is treacherous terrain.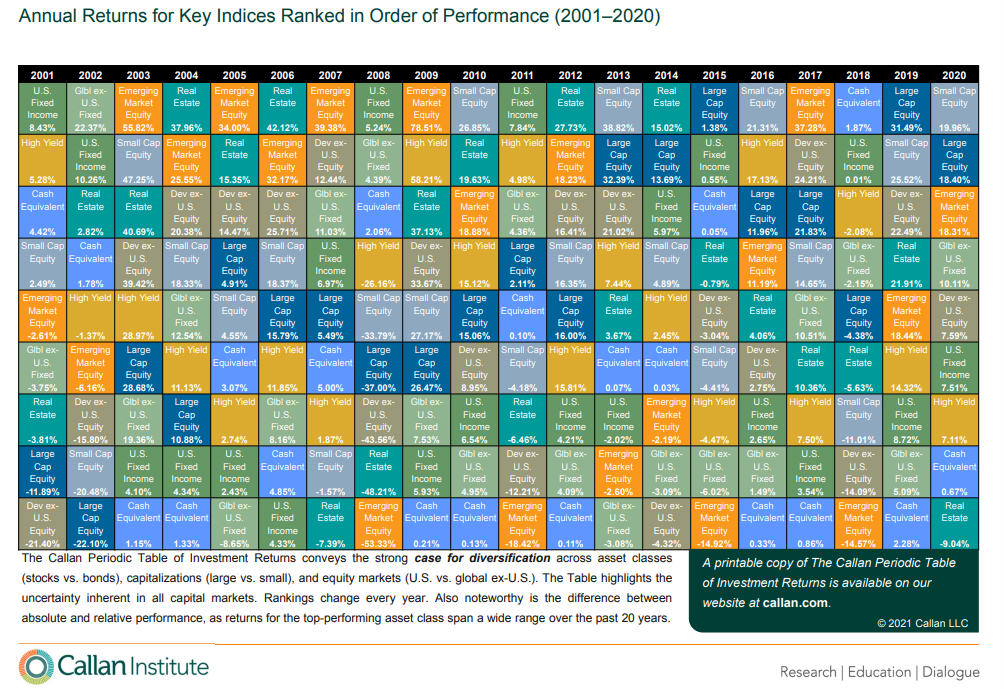 They track nine asset classes. Here's the relative return of EM equities starting in 2001:
4 – 5- 1 – 2 – 1 – 2 – 1 (you're in 2007. Convinced that this is a no-brainer yet?) – 9 (oops) – 1 – 3 – 9 – 3 – 8 – 7 – 9 (you're in 2015. Fleeing or fled?) – 4 – 1 – 9 – 5 -3.
And your darling US large-cap growth stocks? Same pattern but almost in the opposite order: dogs, muddled, stars.
MFO's answer, across it all, has remained the same: manage risk rather than returns, manage expectations, ignore the noise, embrace life. That's unlikely to change.
MFO in 2022
As you know, this is my last issue as the publisher of MFO. The path here began in 1971. For 25 years, I devoted a huge fraction of my time and mental training to academic debate: first as a high school then college debater, college coach, and Augustana's director of debate. When I retired from coaching at 40, I discovered mutual funds and online investor communities as a way of filling the void left by leaving debate and of serving my community. For 25 years, I've devoted a huge fraction of my time applying the training and research-obsessiveness that debate gave me to reasoning with folks about life, finance, joy, and balance.
Who knows what passion will consume my next quarter-century? I surely don't. But I do know that every moment of that chapter will be informed and enriched for the hours and months, and years I've spent with you.
Thank you for them.
This is not the last issue of MFO. Several members of the MFO and MFO Premium community have stepped forward, signaling their interest in continuing our monthly conversation with you. I celebrate their commitment to the common good, as should you. The February Observer will look different than what you're used to, as the guys try out their individual voices and pursue their individual and shared vision.
I'll let Devesh, Mark, and The Shadow introduce themselves in our February issue.
Don't worry if we appear to be off-line
Chip knows that we're using outdated versions of the software that runs the site behind the scenes. That's in part because we know that the WordPress upgrade will almost certainly break the site, at least temporarily. It has been a notoriously rocky road for folks trying to install it, so we've been putting it off.
That said, the upgrade is essential for our ongoing stability and security. We're going to work with our hosting provider to set up a time for their programmers to handle the switchover in both the main site's software and the discussion board's. MFO Premium is unaffected by all this.
When that happens, there's a good chance that we will disappear for 24-36 hours. We will post a notice, and any updates, at the top of the MFO Discussion Board. Please check there if you've got any concerns, or drop a note to Chip or me.
Thanks for your patience!
Thanks to …
To the 2,091,050 readers who've joined us over the years, including that one guy in Vatican City (greetings … Francis?) and the 55,000 Canadians and 36,000 Indians. To the thousand Czechs and 10,000 Filipinos and Chileans, greetings and cheers! We hope you come again.
To Debbi and Nick Burnett, my friend of many decades who made a contribution to MFO during the last weeks of his stay on this mortal plane, to the faithful folks at S&F Investment Advisers, and to Wilson and Rae. To Hank, Binod, Eric, Jeroen, Kevin, Michael, Victoria, and Charles, who sent gifts of support through our Paypal link. And, finally, to our faithful subscribers whose recurring monthly Paypal contributions were powerful financial and moral support subscribers: Gregory, William, William, Brian, David, and Doug.
To Ed and Charles, to Lynn and Leigh, to Sam and Denny, and to all of the folks who've written for MFO, thanks! Literally, we wouldn't have made it to 2012, much less 2022, without you.
To Devesh, Mark, The Shadow, and all who might add their voices, bless you and thanks. Be brave. You'll make a difference in the world, though you'll have no idea of it at the time.
If you want to support their work, consider making a tax-deductible contribution, one-time or recurring, via Paypal (no, you don't need a Paypal account to use it), or check, by becoming a member of MFO Premium or through unencumbered support. It all works, and it all helps.
To Chip, the light of my days, the woman whose first reaction to the idea of launching an investing website was "that's crazy" and whose second reaction was, "oh heck, let's go for it!", thanks without end.