By David Snowball
With a summertime nod to William Butler Yeats, "Sailing to Byzantium," and not so much to the movie that cribbed a line from him.
I
That is no country for old men. The young
In one another's arms, birds in the trees,
—Those dying generations—at their song,
The salmon-falls, the mackerel-crowded seas,
Fish, flesh, or fowl, commend all summer long
Whatever is begotten, born, and dies.
Caught in that sensual music all neglect
Monuments of unageing intellect.
II
An aged man is but a paltry thing,
A tattered coat upon a stick, unless
Soul clap its hands and sing, and louder sing
For every tatter in its mortal dress,
Nor is there singing school but studying
Monuments of its own magnificence;
And therefore I have sailed the seas and come
To the holy city of Byzantium.
We noted, with great sadness, the death of Marty Whitman on April 16, 2018, at age 93. Mr. Whitman was one of a small group of utterly iconic figures. Much like Ralph "The Big Squirrel" Wanger, Warren "I've been semi-retired for decades" Buffett or Michael "The Meanest S.O.B. on Wall Street" Price, Mr. Whitman was resolutely, fiercely independent, a facile writer and greatly admired.
We are less saddened by the fact that he passed away – it's an experience we'll all share, and he led a long and consequential life – than by the shambles around him. The same drive, confidence in his judgment and unabashed independence that made his reputation and his empire also unmade them. Flagship Third Avenue Value Fund (TAVFX) which he managed until he was 88 now receives a "negative" assessment by Morningstar on each of the five characteristics they assess.
His fate is shared by two other legends. Few of us get a gold watch (or a pension) as a going away present from our employers, fewer are given a mutual fund to manage. That, as it turns out, is a good thing.
Bill Miller had a titanic career at Legg Mason, and I mean that in both senses of the world. Morningstar's Bridget Hughes wrote the capstone in 2011, at the announcement of his imminent departure:
The fund's performance record is so remarkable that it's hard to believe the same manager has been in place for the whole of it. Bill Miller, who has been on board since its 1982 inception … led the fund to a record-setting 15-consecutive calendar years of beating the S&P 500 Index. Between 1991 and 2005, the fund was up an annualized 16.44%, compared with the S&P 500 Index's 11.52% gain.

Since then, the fund's performance has been awful. Between January 2006 and October 2011, the fund has suffered a huge setback, losing 36.13% (7.4% annualized), which compares with the S&P 500 Index's 13.45% gain (2.19%).
As a sort of parting gift, Mr. Miller (and his son, also Bill Miller) received the Miller Income Opportunity Fund (LMCJX). Our 2014 profile of the fund was not enthused: "If you believe that Mr. Miller's range of investment competence knows no limits, this is the fund for you." At base, the fund permits Mr. Miller to exercise his genius across an unlimited array of asset classes. The results, to date, have been … mixed. Morningstar gives it a one star rating in the odd "70-85% equity" group, noting high risks, high expenses and low returns. Against its Lipper "flexible portfolio" peer group, it's shown higher volatility, more ulcers and lower returns than its peers.
At the very least, I never suspected that Mr. Miller was crazy. Bill Gross, on the other hand, raised that possibility. (His wife, in a 2016 divorce filing, echoes concerns about "irrational and frightening behavior.") After an exceedingly messy breakup with PIMCO, which he co-founded and for which he'd managed hundreds of billions of dollars, Janus hastily cooked up the Janus Global Unconstrained Bond Fund (JUCAX) for him to manage. That fund charges him with finding "maximum total return" and frees  him to invest in virtually any income-producing security. The fund has attracted billions in assets, quite possibly including more than a billion of Mr. Gross's own money.
Here's Morningstar's picture of the fund's lifetime performance: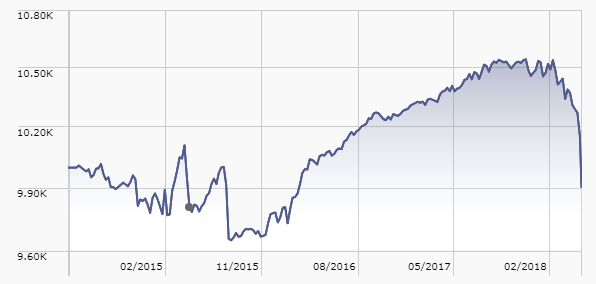 That's sort of hurt in a relative performance way. The fraction of its peers with better performance than JUCAX (as of 5/31/18):
| | |
| --- | --- |
| YTD | 100% |
| Three month | 100% |
| One year | 99% |
| Three years | 91% |
Our 2014 profile of the fund reflected on Mr. Gross's turbulent final years at PIMCO and asked "what risk are you assuming in pursuit of those very modest gains over the relatively modest period in which he's likely to run the fund? Shorn of his vast analyst corps and his place on the world stage, the answer is not clear." We concluded that it wasn't a prudent investment.
The New York Times observed, approaching his 70s and worth $2 billion, Mr. Gross might have taken his separation from PIMCO as an opportunity to step away and pursue new passions. "Instead he chose revenge," with would occur as his new fund trounced his former PIMCO charge. Umm, it hasn't and the ill-timed bet on Italian bonds, which cost JUCAX 3% in a single day, hasn't helped ("Bill Gross, Revered Fund Manager, Is Having a Year to Forget," NYT, 5/30/2018, though this article might be subject to a paywall).
That all makes me a bit anxious of the impending launch of the Seven Canyons Funds, Strategic Income and World Innovators. The force behind Seven Canyons is Samuel S. Stewart, who founded the Wasatch Funds in 1975. Mr. Stewart recently turned 75 and reached an agreement with Wasatch which allowed him to take two of their funds (he manages Strategic Income (WASIX), he and son Josh Stewart co-manage World Innovators (WAGTX)) with him. Seven Canyons was founded in 2017 by Spencer Stewart, another of Mr. Stewart's sons who was previously a portfolio manager of Grandeur Peak Emerging Markets Opportunities Fund (GPEOX). In announcing Spencer Stewart's departure, Grandeur Peak's CEO Blake Walker reported that "Spencer Stewart has decided to follow his heart and pursue a new path."
Unlike the Miller and Gross departures, Dr. Stewart's move to Seven Canyons seems – so far as I can determine from the public record – entirely amicable and long-planned. Their funds will be officially Seven Canyons offerings sometime in the third quarter of this year.
Bottom line: