By David Snowball
This is a first for us. Aspiriant Defensive Allocation Fund (RMDFX) will be reorganized as a newly created closed-end fund called (ready?) Aspiriant Defensive Allocation Fund that will operate as an interval fund.  The change should occur by the end of the first quarter of 2020.
Closed-end funds? Hard to remember that they're alive and well. That slice of the industry originated in the 1890s and they're sort of an open-end mutual/active ETF hybrid. They trade throughout the day on secondary exchanges like ETFs, which means that their price per share can diverge dramatically from their net asset value per share. During the financial crisis, for example, a lot of CEF categories traded at double-digit discounts to their NAV. What does that mean? It means that the manager owned, say, $100 worth of stocks and you could buy those $100 for $85 because owners were panicked and willing to give money away. Weird. There are 554 closed-end funds in operation with about a quarter trillion in assets. Here's a snapshot of the highest YTD returns, through 10/31/2019.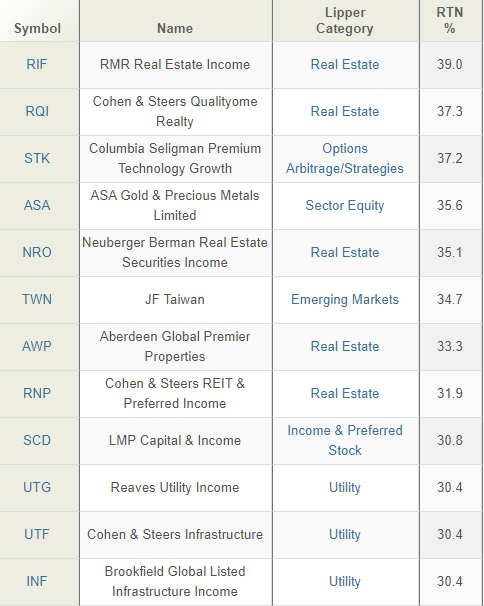 Never mind! The Cannabis Growth Fund (CANNX) had announced a long series of changes: conversion of Institutional shares to Investor ones, liquidation of the Institutional share class, termination of the 12(b)1 plan and a reduction in the e.r. for Investor shares. On November 13, they admitted that they had their fingers crossed when they said they were going to do all that stuff. The plan is now to do none of it.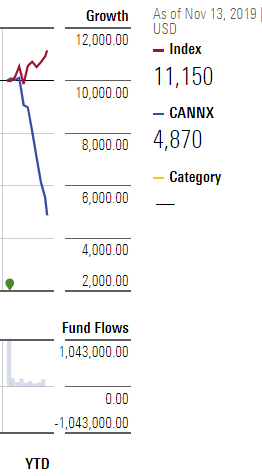 Having lost 10% in the preceding 30 days and 40% in the preceding 90 days, I think we could all agree that neither switching share classes nor rearranging deck chairs gets to the heart of the fund's problems.
Eventide Multi-Asset Income ETAMX assures us that "Boyd Watterson is primarily responsible for the day-to-day management of the Fund's assets allocated to Boyd Watterson for investment." Boyd Watterson is relieved.
On November 14, 2019, the FundX Investment Trust Board of Trustees approved a change in the strategy of the FundX Sustainable Impact Fund (SRIFX) to align with Morningstar's ESG/sustainability methodology. (Talk about the tail-wagging dog.) 
Gator Financial Fund (GFFIX, formerly Gator Focus) just added a new Principal Risk of Investing, viz Large Shareholder Risk. Curious about what might have triggered the addition, I went to the fund's most recent SAI which shows that just three guys, two sharing the same surname, own 67% of the fund's shares. One of those three accounts for nearly half of the tiny fund's shares.
Lazard US Realty Equity Fund has received a second stay of execution. The fund was slated to be dispatched on October 31, which was extended to November 30 and now until January 31. The announcement of the stay contains a perfectly unclear statement of the fund's future: "The Board anticipates that an announcement that the liquidation will proceed, or that another option will be, or continues to actively be, pursued, will be made no later than January 31, 2020." If I wrote the word sequence "will be, or continues to actively be, pursued, will be made," several readers would gently inquire about my health or sanity.
Small Wins
Effective December 13, 2019, the minimum initial investment for Class I shares of Aegis Value (AVALX) is being lowered from $1 million to $10,000 for non-IRA accounts and $5,000 for IRA accounts. They're simultaneously getting rid of the low-load, low minimum "A" shares. It's a fascinating fund: Scott Barbee has been managing it since 1998, it's almost purely microcaps (75%), it has about the highest active share possible (99.7) and periodically explodes:

In the past decade, three years of gains exceeding 35% a year (35, 70 and 91%) and three years with double-digit losses (-26, -24, -17).
Effective as of November 1, 2019, CrossingBridge Advisors reduced the operating expense limit on CrossingBridge Low Duration High Yield Fund (CBVLX) by 0.10% so to not exceed 0.80%.
Effective November 15, 2019, Moerus Worldwide Value Fund (MOWNX) will no longer charge a redemption fee.
Vanguard Alternative Strategies Fund (VASFX) has reduced its minimum investment from $250,000 to $50,000 but appears open only to clients of certain financial advisors. The Bogleheads are, alternately, disappointed by its limited availability and irked by a change in its investment objective.
Closings and other inconveniences
Gerstein Fisher Multi-Factor Growth Equity, Gerstein Fisher Multi-Factor International Growth Equity and Gerstein Fisher Multi-Factor Global Real Estate Securities funds closed to all new purchases as of November 3, 2019. "The Advisor is currently evaluating possible alternatives for the Funds" in the wake of the resignation of manager Gregg Fisher. For now, William Jollie, Sanjeev Pati, and Ashvin Viswanathan have been added as portfolio managers for each of the funds.
In an unusual and seemingly aggressive move, Westwood has opted to increase the minimum initial investment on institutional class shares of Westwood SMidCap Fund, SmallCap Fund, Strategic Convertibles Fund, and Flexible Income Fund (WFLEX) from the current $5,000 t0 $100,000. The difference is small, but the decision is odd.
Old Wine, New Bottles
On November 15, 2019, Aberdeen Global Unconstrained Fixed Income Fund became Aberdeen Global Absolute Return Strategies Fund; Aberdeen adds the helpful sidenote "(the "GARSTM Fund" or the "Fund")."
Advisory Research continues its withdrawal. Sometime in the first quarter of 2020, Advisory Research All Cap Value Fund (ADVGX, three-star, $10M AUM) and the Advisory Research Strategic Income Fund (ADVNX, four-star, $10M AUM) become North Square Advisory Research All Cap Value Fund and the North Square Strategic Income Fund. As the names imply, AR will continue to subadvise All Cap Value but will surrender Strategic Income to a new team. This follows last month's movement of two funds from the Advisory Research to Vaughan Nelson nameplates.
Marketing to the tax-aware conservatives: Effective January 1, 2020, the American Funds Tax-Advantaged Growth and Income Portfolio (TAIAX) will change its name to American Funds Tax-Aware Conservative Growth and Income Portfolio.
The Aptus Behavioral Momentum ETF (BEMO) was very bad at what it did, trailing 100% of its peers. For visual learners, there appears to have been an unmanaged drawdown that looked like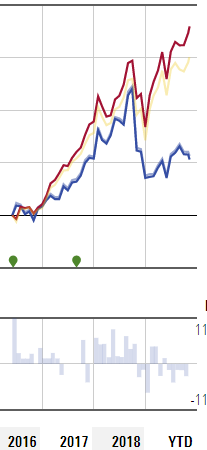 They're the blue line. Fortunately, it's not doing Behavioral Momentum anymore. With the change of name, objective, strategy, status (from passive to active) and enumerated risks, it's now Aptus Drawdown Managed Equity ETF (ADME). May all their drawdowns be managed ones.
Cambria Core ETF (CCOR) is on its way to a new home, the Listed Funds Trust. David Pursell, one of the CCOR's two managers, is leaving Cambria. (As you might imagine, no reason has been given.) to form Core Alternatives LLC. Under the proposed reorganization, sometime in early 2020 Cambria Core will become the Core Alternatives ETF and Mebane Faber will no longer serve as a co-manager for the fund. So far the $100 million fund has had one great year (2018, up 4.6%, top 3% of its options-based fund peer group) and one horrible one (2019, up 3.8%, bottom 8% of its peer group). At base, it dodged its peer group's horrendous crash at the end of 2018 and subsequent ferocious rebound. Measured since inception, the fund has been good but not great.
Effective November 19, 2019, the Leader Floating Rate Fund (LFVFX) is renamed the Leader High Quality Low Duration Bond Fund, currently invests in high quality, low duration investments and will continue to do so.
| | |
| --- | --- |
| Fund | New Fund |
| Equinox Ampersand Strategy Fund | AXS Alternative Growth Fund |
| Equinox Aspect Core Diversified Strategy Fund | AXS Aspect Core Diversified Strategy Fund |
| Equinox Chesapeake Strategy Fund | AXS Chesapeake Strategy Fund |
| Equinox IPM Systematic Macro Fund | AXS IPM Systematic Macro Fund |
Effective December 20, 2019, Highland Long/Short Healthcare Fund (HHCAX) becomes Highland Healthcare Opportunities Fund. At that point, it becomes a balanced equity/debt fund and gives up the business of shorting healthcare stocks.
Just a bit later, on January 31, 2020, Highland Long/Short Equity Fund (HEOZX) will merge into Highland Merger Arbitrage Fund (HMEZX). The explanation is refreshingly straightforward: the funds have the same managers but Merger Arbitrage is working better and the merger will allow them to drop expenses a bit. We ran an analysis of the funds' rolling 12-month averages and a correlation matrix. Merger averages 6% over any given 12-month period while Long/Short clocks in at 3.6% and, measured by the worst 12-month performance, the downside on Long/Short (-9.5%) is far greater than the downside of Merger (-0.1%). The funds don't have much similarity (R-squared of .26) but Merger is the better diversifier and is far steadier, so it looks to be a good development.

Effective January 1, 2020, Marmont Redwood International Equity Fund (MRIDX) will become the Hardman Johnston International Growth Fund. Upon Hardman Johnston assuming day-to-day investment management responsibilities for the International Growth Fund, it is expected that most of the Fund's existing holdings will be sold and replaced by new securities identified by Hardman Johnston.
No problem, I'm planning on living Lifestyle 3.0: Effective December 2, 2019, Putnam Retirement Income Fund Lifestyle 1 (PRMMX) will be renamed Putnam RetirementReady Maturity Fund. As for me, I'm thinking of embracing Lifestyle 3, cheerful indolence, instead.
Effective December 28, 2019, the Tortoise Select Opportunity Fund (TOPTX) will be renamed the Tortoise Energy Evolution Fund. The "evolution" in the title means "investing in companies in the lower-carbon / zero-space business." That's about 180 degrees from its current portfolio which is filled with oil companies which implies a near-complete liquidation of the portfolio and potentially large capital gains bills.
The changing face of Vice: Somehow I missed the fact that the Vice Fund (VICEX) has become the Vitium Fund. From the latest SAI: "From inception to July 28, 2014, the Vitium Global Fund was named the USA Mutuals Vice Fund. On July 28, 2014, the … name changed … to USA Mutuals Barrier Fund. On September 29, 2016, the Fund was renamed the USA Mutuals Vice Fund. Effective September 30, 2019, the Fund was renamed the USA Mutuals Vitium Global Fund." Vice (Chuck Jaffe once opined that the fund might have taken its name too literally), Barriers, Vice, Vitium. Endlessly curious, I consulted the Wiktionary about the meaning of "vitium."

Sort of a kinder, gentler take on vice. The prospectus notes that they target "aerospace and defense industries, casinos and gaming facilities, manufacturers of cigarettes and brewers, distillers, vintners and producers of other alcoholic beverages." The argument in their favor is that such industries have high barriers to entry, low economic sensitivity and customers whose loyalty verges on, well, addiction. The argument against it is that this portfolio, through its various renaming and leanings, trails 69-98% of its over various trailing periods from 3 – 15 years.
In a sort of cautionary tale, there's a move afoot to boot Rampart Investment Management from the Virtus Rampart Alternatives Diversifier Fund (PDPAX). The hang-up is that the fund's rules were written in a way that requires formal shareholder approval for such hirings and firings. The risk isn't that shareholders will disapprove (which happens rarely), it's that they won't get around to vote (which happens a lot). So the shareholders are meetings on January 14 to bring Duff & Phelps onboard, change the fund's name to Virtus Duff & Phelps Real Asset Fund and change the rules to let the Board handle hiring and firing.
Effective December 19, 2019, RARE Global Infrastructure Value Fund (RGVAX) will be renamed RARE Global Infrastructure Income Fund. The prospectus will change to add "income and" to the current mission. It's a Legg Mason Partners fund. Small, mediocre, and no reported ownership by the three RARE fund managers.
Effective November 22, 2019, the Trillium P21 Global Equity Fund (PORTX) became Trillium ESG Global Equity Fund and boldly changed its objective from "capital growth" to "capital appreciation." An article at TheNest.com helpfully explains the significance of the change: "Capital appreciation, also known as capital growth, refers to the increase in the value of an investment over time." Which is to say, there is none. At the same time, the Trillium Small/Mid Cap Fund (TSMDX) changed Trillium ESG Small/Mid Cap Fund. In case you're wondering, the objective here remains "long-term capital appreciation." In case you're wondering about the more consequential question, both of these funds have been ESG funds since launch. The name just highlights that fact.
Dustbin of history
Adalta International Fund (ADAQX) liquidated on November 29, 2019.
AGFiQ U.S. Market Neutral Size Fund (SIZ) will be liquidated on or about December 30, 2019
Based on the judgment that the funds "are not viable on an ongoing basis," AQR announced the impending liquidation of AQR Large Cap Relaxed Constraint Equity Fund, AQR Small Cap Relaxed Constraint Equity Fund, AQR International Relaxed Constraint Equity Fund and AQR Emerging Relaxed Constraint Equity Fund.
BlackRock Large Cap Focus Growth Fund will merge into BlackRock Focus Growth at some point in the fourth quarter. Effective upon the closing of the reorganization, the acquiring fund will change its name from BlackRock Focus Growth Fund to BlackRock Large Cap Focus Growth Fund. Okay … Fund B eats Fund A, whereupon is renames itself Fund A? You can sort it out for yourself by checking the SEC filing.
BMO Global Long/Short Equity Fund (BGAQX) will be liquidated on December 23, 2019 "or such other date as determined by management." (Isn't that always the way?)
Cushing Energy & MLP ETF, Cushing Utility & MLP ETF, Cushing Transportation & MLP ETF and Cushing Energy Supply Chain & MLP ETF were given their two weeks' notice on November 13 and liquidated on November 27, 2019.
In a spectacularly unclear filing, the shareholders of Comstock Capital Value Fund (COMVX), a perma-bear Gabelli fund, voted to be something. Something really big. Read it three times. Mailed it off to Ed Studzinski. Got no real idea except that it will "cease to be an investment company under the Investment Company Act of 1940." They're issuing stock and transferring assets to New Comstock, Inc. and liquidating old Comstock unInc.  While New Comstock "will no longer hold itself out as an investment company," it will be a company that makes investments as soon as the SEC de-registers it as an investment company.
Defiance Next Gen Video Gaming ETF (VIDG) will be AFK for the last time on December 27, 2019.
Equinox IPM Systematic Macro Fund (EQIPX) was scheduled to be reorganized out of existence on November 15, 2019. Its Board now affirms that "certain conditions … were not met as of that date." And so the fund will "continue its operations for the present time." No idea what those conditions were, either.
Franklin Flexible Alpha Bond Fund's reorganization into Franklin Low Duration Total Return Fund (FLDAX) has been delayed until December 6, 2019, but may occur earlier or later if circumstances should change. It was originally slated for October 25, 2019. No hint about what "circumstances" are at play.
The Board of Trustees of Harbor Funds has determined to liquidate and dissolve the $32 million Harbor Small Cap Value Opportunities Fund (HSOVX). The liquidation of the Fund is expected to occur on December 20, 2019.
Highland Energy MLP Fund (HEFAX) will be liquidated on or about January 20, 2020 
InsightShares LGBT Employment Equality ETF (PRID) and InsightShares Patriotic Employers ETF (HONR) ceased operations and liquidated on November 22, 2019.
Lord Abbett Global Select Equity Fund (LGSAX) will be liquidated and dissolved on or around January 15, 2020
The $10 million Morgan Dempsey Small/Micro Cap Value Fund (MITYX) has been closed and will be liquidated on December 12, 2019.
PIMCO 1-3 Year U.S. Treasury Index Exchange-Traded Fund (TUZ) will be liquidated on or about December 18, 2019.
PNC Multi-Factor Large Cap Growth Fund will merge with Federated MDT Large Cap Growth Fund (QALGX), quite likely right about now. The merger has been delayed once and might not occur until "the date of the next effective Prospectus" for the Federated Fund.
Powell Alternative Income Strategies Fund (PAISX) is expected to liquidate on or about December 13, 2019.
Low PSI? PSI All Asset Fund (FXMAX) will be liquidated on December 30, 2019.
Schroder Emerging Markets Small Cap Fund and Schroder Short Duration Bond Fund aren't going to make it to New Year's Day; their liquidation is slated for December 31, 2019.
Timothy Plan Emerging Markets Fund (TPEMX) has terminated the public offering of its shares and will discontinue operations on or about December 27, 2019. The decision came, in part, because of "the general lack of interest among Trust shareholders in the Fund."
The Westwood Strategic Convertibles Fund (WSCIX) is expected to cease operations and liquidate on or about December 13, 2019.