By David Snowball
On 9 December 2019, the longest-tenured member of the MFO Discussion Board passed away. Theodore J. Didesch, universally known as "Ted" though he dearly wished for the sobriquet "The Linkster," died of congestive heart failure.
We mourn his passing even as we celebrate his life. I'd like to share a few words about Ted, interspersed with the comments left by other members of our community on a memorial thread.
FundAlarm launched its "moderated Bulletin Board" in 1998. Ted arrived shortly thereafter. The records of that version of the board are lost now but the Internet Archive's Wayback Machine first began capturing records of the FundAlarm board in late 2001. And when we look at the first captured page, there was Ted.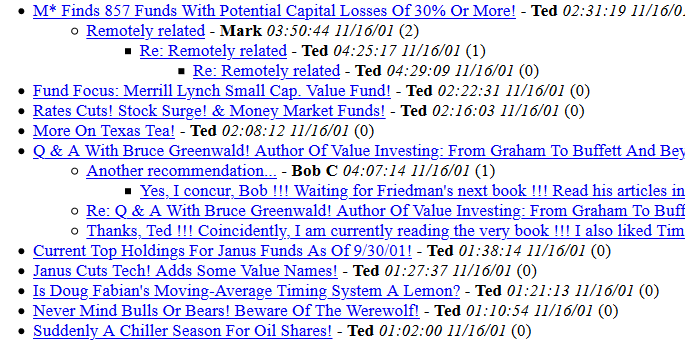 For the past 19 years or so, Ted's daily ritual – almost his devotional – was to rise by 5:00 a.m., set the coffee to brewing, boot up his computer and search the internet for useful story leads. Coffee at hand, he'd spend the hour finding and posting links. He'd return later in the day to see what conversation he'd provoked and to poke the people who vexed him.
There was rather a lot of the latter, then and for the decades that followed.

Mark: Yes we scuffled but all families do. RIP Ted.
Hank: In celebration of Ted – As most here probably know, we were often at odds over the years. He sometimes labeled me "the Trump Basher" (not meant as a compliment) and I often responded in kind – occasionally to excess. Ted was a worthy opponent in any kind of tussle.
But I am so fortunate to say that our last exchange was both cordial and one I will forever cherish as my lasting memory of Ted. It was little more than a month ago, November 12, that I found myself whiling away the hours during a lengthy layover at Chicago O'Hare. I posted some innocuous comment on the board and mentioned my whereabouts. Hours later when I got back home in Michigan and logged-in, there was a warm "Hank: Welcome to The Windy City" from Ted. And he followed it with a smiley emoticon. While Ted frequently used emoticons, readers will recall that he was quite stingy with the smiley ones.:) So I am doubly fortunate to have had the wisdom of his long presence here and also to have had such a memorable and pleasant final exchange to remember him by.
In broad terms, 7,300 days have passed since Ted first started posting. I've been around for most of them. To my knowledge, Ted took one sabbatical – he briefly attempted to retire, but it was making him crazy – and, otherwise, missed only about 20 days of posting.
Simon: His eagerness to look out for us all was unstoppable and I will miss (and am already missing) his breakfast briefings in particular. He was a one-man CNBC. Cheers, Ted.
Ted's last posts to the board came on November 28; not a farewell, not a personal note or complaint, just a full list of stories to follow. His very last, "M*: A Well-Built Balanced Fund for Retirees: (TRRIX)." Few of his sparring partners knew of his illness, none knew of its gravity or could have guessed the imminence of his departure.
That last post was #32,279 for him at MFO. At FundAlarm, he hit 32,000 and was determined to surpass that at his new home online.
And he did. His wife, Lynn, shared with us a bit about her husband.
I am so sorry it took me so long to write you. I'm not that computer savvy and I could not figure out how to get on the MFO site.
I can't begin to tell you how much I appreciate all of your kindness to me. The flowers you sent were so lovely and the transcript from your discussion about Ted meant so much to my son and me.
Ted loved being a part of the Mutual Fund Observer. He would spend hours doing whatever it was he did. I was never quite sure what he was doing but I know it gave him great pleasure. He had his coffee every morning out of his Mutual Fund Observer mug while he was happily tapping away on his computer.
Thank you so much for everything you have done. It does not seem enough to just say thank you, but I do thank you very, very much.
Sincerely,
Lynn
I share the sentiment, Lynn. It does not seem enough just to say thank you, but thank you, Ted. In your memory, I planted a tree (an oak, renowned for longevity, hardness and the ability to absorb lightning strikes without failing) and posted a link.
The stream of characters on a screen can touch a heart, just as surely the words that flow from the poet or novelist. The daily routine of checking in, seeing familiar names, watching the predictable sparring, can create meaning. It can create a space that's important, and a community – perhaps a family – that's very different from our physical ones but no less meaningful.

Anna: Christmas at MFO without Ted pulls at my heart. So long, Linkster, I'll miss you, your leadership, and your banters.
VirtueRunsDeep: I share so many of the same feelings already expressed here. One thing I will add, is that Ted's presence through his many posts (he was a force on MFO, to be sure), his presence is a reminder of how we can be connected to people we never meet in person, how we can make virtual-relationships and impressions because of the internet and places like MFO. It's a reminder (for me) that what we do — even online — might matter. In honor of Ted, I'd like to thank so many of you here who I have read through the years, the ways you've challenged me to do more and better financial research, to think about investments (not just money, but investments in people) as an ongoing lifelong experience. Thanks to all. And to Ted: peace.
I'll leave the closing thought to STB65, whose conclusions I share:
STB65: I want to add my condolences on Ted's passing. His multiple postings almost always had something of value among them, and flat days were never truly flat. I suspect the site will be a bit smaller, unless others step up their postings of relevant articles and columns. Ted looked at multiple sources for his articles and I don't know if anyone really will replace him.
The road goes on, but the company of travelers is diminished.